Continuing my report on my mini getaway to Yosemite, today I'm sharing my recap of the Upper Yosemite Falls hike.  As I mentioned in my last post, Yosemite Falls is the most iconic waterfall in the park–hence the name.  Since the weather had been warm, there was a good amount of snowmelt, which meant the falls were roaring!  The falls can dry up in late summer, so it was an ideal time to tackle this hike.
Upper Yosemite Falls Trail is a totally separate trail from Lower Yosemite Falls Trail–one does not lead to the other, and they don't start in the same place either.  As the names imply, the Lower trail highlights the lower half of the falls (and is more accessible), while the Upper trail highlights the top half and actually takes you to the very top of the falls.  I was excited for the chance to get up above the valley floor to catch some views.  Since the higher elevation roads in the park were closed for winter, rendering famous views like Glacier Point inaccessible, my own two feet was the only way I was going to get an elevated vantage point.
On Friday morning, when my alarm went off, I checked the weather app on my phone and my heart sank.  Not only was it cloudy, they were calling for rain all day, starting as early as 10 am.  Weather had been a big concern with this trip as I'd been watching the forecast in the days leading up to our arrival, so I was a bit upset and worried our hike would get rained out.  But, there was nothing to lose by trying, so I armed myself with a rain jacket and boots and hoped for the best.
We arrived at the trailhead around 8 and set off!
Upper Yosemite Falls is a 7.2 mile round trip that covers a punishing 2,700 feet of elevation gain.  Right away, the trail was pretty steep, with switchback after switchback.  The trail starts at about 4,000 feet above sea level.  Since I live at high elevation, I was feeling good for the first portion of the hike and didn't have to stop for a breather as quickly as I normally would.  All-natural blood doping is pretty great. ;)
All along the hike, we came across places where creeks crossed the trail.  I lost count of how many crossings there were–at least a dozen.  As you get later into the season once the snow is melted, I imagine the trail is much more dry.  My waterproof boots were definitely a good call, not just for the rain, but for crossing the creeks without worry of soggy shoes.
About one mile and 1,000 ft of elevation gain into the hike, you come to Columbia Rock.  If you don't have the time or the energy to hike all the way to the top, Columbia Rock is an extremely rewarding destination, as you can see.  The rock is just slightly off the trail on an outcropping and is a lovely place for a short break and a snack, especially when it's not crowded.  Besides seeing most of Yosemite Valley stretched out in front of you, the extra elevation means you can also catch a nice view of Half Dome, with North Dome visible as well just to the right of my head.
I used my fancy new zoom lens to get a little more personal with Half Dome.  I absolutely love all the texturing on the granite formations in Yosemite.  Toward the bottom of the photo, you can see a little plume of smoke rising from the Ahwahnee, the hotel where we stayed.  The hotel in the photo also gives you a sense of how grand the scale is.
Looking to the right (west, ish), you can almost see toward Tunnel View and Bridalveil Fall behind you.
After a few minutes at Columbia Rock, we trekked onward.  After a little bit more uphill walking, you'll actually reach a dip in the trail and head downhill for a couple hundred feet.  It's a welcome break for your legs, which are definitely "awake" at that point.
At the downhill portion, you'll come to a break where you get absolutely stunning, perfectly framed views of Upper Yosemite Falls.  Since you've ascended a ways, your elevation is basically level with the bottom of Upper Yosemite Falls.
Addendum to what I said a minute ago: if you don't have much time, don't stop at Columbia Rock.  Go just a few minutes further to see this view.  It's most definitely worth it, especially since it's not really anymore of an uphill climb.
The falls positively roared.  It was mesmerizing to watch.  Photos don't do it justice, and frankly even videos don't quite give you the full effect either.  After freefalling of over 1,000 feet, the water crashes into the rocks below, creating a huge cloud of mist.
Unfortunately, this was also a reminder of how much further up we still had to climb!  To give you some context, we ended up to the right of the falls on the flat part of that rock formation.  And of course, we've already climbed 1,000 feet and tons of switchbacks from where I took this photo.
After this point, the trail became quite wet from the spray from the falls.  Again, I was glad to be wearing a water resistant jacket and boots.  All the rocks were wet and water was running across the trail in places for probably 20 minutes.  Eventually, we made our way out of the mist.  This was another of my favorite views from the trail.  It's also one of the only places you can capture Yosemite Falls and Half Dome in the same photo.
After that, we began the final ascent.  At this point, the trail gets very rocky.  Besides that, the trail had now exceeded 6,000 ft, which means the elevation was catching back up to me.  It also meant we were seeing snow in places on the trail.  My legs were absolutely on fire and I wasn't feeling super-great.  It was comforting to know that I was most of the way up already.
At last, we arrived at the top and the switchbacks came to an end.  There was snow all over, which surprised me, since it had been pretty warm in Yosemite the previous weeks.  We followed signs and footprints in the snow to the Yosemite Falls overlook.
It was kind of horrifying!!  The unique part about Yosemite is how sheer everything is.  Instead of rolling mountains, you found yourself on the edge of a dropoff thousands of feet up in the air.  Thank goodness for the guard rails, although I can't imagine how miserable it would've been to haul them up and install them.
These things also make me wonder: who the heck hiked up this trail for the first time and said: "hey, this little 3 foot wide path on the side of a cliff?  Perfect spot for a trail!!"
What?!?!
Anyway, after gingerly navigating the slightly horrifying end of the trail, we arrived at the mouth of Upper Yosemite Falls.  The overlook area is actually quite small.  It's a tiny rock outcropping on the edge of a cliff bounded by rails.  I could imagine it would get very crowded during peak season, since you couldn't fit more than maybe 10 or 20 people in there at a time.  We arrived at the top about 2 1/2 hours from the start of our hike.
We were mere feet from the mouth of the falls.  The speed and volume of water plummeting over the cliff was mind-boggling.  The view actually wasn't that impressive.  Since you're on the top of the falls, you can't see down very well.  I later found out that there's a second overlook somewhere at the top of the trail near the falls, but I assume we missed it because of the snow.
We only lingered at the overlook long enough to snap a few pictures.  There were 4 other people there and that felt like too many.  The night before, we had seen on a map that we could go an extra mile each way to see another vista: Yosemite Point.  Based on the map, it looked like it would have fantastic views.  Since we were already on the top of the rock formation that Yosemite Falls cuts through, we figured it wouldn't be too strenuous to get there.
We returned to the fork in the trail where the sign told us we could reach Yosemite Point.  Footprints led in a couple directions, so we had to kind of guess where the actual trail was.  There's a small foot bridge that crosses the stream that feeds the falls, so I chose a path that seemed like the most direct.  Turns out I definitely wasn't on the trail, because what I thought were footprints faded away, and I sort of clumsily stumbled my way through the dense snow to get to the foot bridge.
The stream that feeds the falls is actually surprisingly small and unassuming.  This was taken from the foot bridge.
After the foot bridge, there was a brief portion of the trail where the snow had melted and our path was clear.  Then, as the trail led away from the stream, things kind of went to crap.
We found ourselves on the side of a hill with no clear way to know where the trail led.  There were some divots in the snow, but they were definitely not fresh footprints.  Maybe they weren't even footprints??  Since we'd seen the map and new roughly where we were supposed to end up, we could more or less guess which direction to go.  We attempted to trudge up the hill, but the snow wasn't packed since it wasn't well-traveled.  The snow was wet, dense, and kind of sharp from half-melting and refreezing so many times.  Many times, my grip slipped or my foot would plunge through a foot or so of snow.  There were also lots of "potholes", i.e., places where there were holes 1-2 feet deep in the snow.  You had to really watch your step so you didn't plunge for foot in a hole and turn your ankle.  It would've been a very long and painful descent with a hurt foot.
We thought several times about throwing in the towel.  We didn't even know if we were going the right way, and the further we went, the less we could tell where to go.
It probably took us 15 minutes just to get up the stupid hill.  Even a few steps was exhausting because of all the snow and the steep incline, and because my legs were tired from the ascent.  At the top, we looked to our right, and there appeared to be a cleared path through the trees.  It also looked like there were footprints leading that way.  We hoped this was a man-made trail, not just a natural clearing in the trees.
I was skeptical whether we had gone far enough yet for the trail to double back toward the cliffs, but we decided to try our luck and follow the clearing anyway.  This part was mostly flat, so we were able to move more quickly.  After a couple minutes, we caught a glimpse of a railing.  We couldn't believe our eyes.  A railing means an overlook the park intended for people to get to, which means we had actually found it!  I was overjoyed.  Later, I googled photos of Yosemite Point to compare, and sure enough, we were definitely at the right spot. (The photo above is from when we were walking back.)
Once we arrived–oh man, I was so glad we didn't turn around.  We lingered for almost an entire hour, and we had complete and total solitude.  There wasn't a soul in sight anywhere and everything was so quiet.  It was clear from the lack of fresh footprints that no one had been there all day.  It's possible no one had even been there for several days.  On the way back, we spotted another pair of hikers crossing the foot bridge, but who knows if they actually managed to find it after that.  On the plus side, they now had our footprints to guide them.  It took us about 45 minutes to reach Yosemite Point from when we left the Yosemite Falls overlook, but I'm sure it would've taken much less time without snow to navigate.
Besides the solitude, Yosemite Point is a MUCH better vantage point than anywhere we had been thus far.  You're not only at the very top, the rock formation is actually sticking out into the valley a bit, so you can get more than 180 degree views.  The overlook area is quite large with multiple areas to explore and sit, so even in the high season, there would be a lot of room for hikers to spread out and enjoy lunch and photos.
That said, being on the top was mildly terrifying if you were anywhere near the edge.  At the place where the rails were installed, the drop off is completely sheer all the way down to the valley floor 3,000 feet below.  It's hard to capture the depth in a photo.  I'm not anymore afraid of heights than the next guy, but the height made my stomach lurch if I got too close.  There was a small medallion installed by the U.S. Geological Survey that noted our elevation was 6,985 feet.
Speaking of terrifying, after I sat on this rock for some photo ops, I got a little bit uncomfortable and literally rolled myself off so I wouldn't somehow magically tumble down the cliff.  Very graceful. #reallife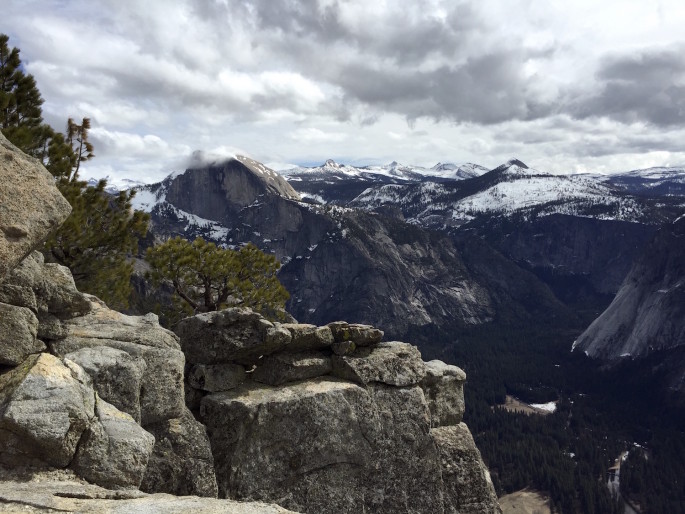 Shortly before we left, a wisp of cloud floated past the tip of Half Dome.  Since we were up so high, we could see beyond Half Dome to some of the other peaks in the Sierra.  I later found out you can also see views of Lost Arrow Spire from Yosemite Point, but I didn't know that at the time–oops.  I'll know for next time!
As you can see from my pictures, the clouds were rolling in and out all morning, but the rain held off!  Although we got some blue sky here and there morning, the longer the day went on, the more foreboding the clouds looked.  Unfortunately, the more overcast weather made lighting quite a challenge for some of my photos, especially since my photography skills aren't exactly at expert level right now. (Photography aside: fortunately, I did shoot everything in RAW + JPEG, so whenever I get around to buying Lightroom, I might be able to breathe new life into them.)
If you do ever find yourself hiking Upper Yosemite Falls, I strongly recommend going the (very literal) extra mile to Yosemite Point.  After such a grueling hike, I doubt many hikers choose are up to adding 2 more miles to their day.  The secret is that the those 2 miles aren't really that hard.  And obviously, the views are spectacular.
Since we were slipping a lot on the way in due to the wet snow, we strapped on our microspikes before heading back.  I wished we had put them on earlier, because they made a huge difference!  We moved extremely quickly and efficiently back to the trail that led us down, then stashed the spikes again once the trail cleared.
As we descended, I was surprised to see just how many people were still coming up the trail.  I didn't feel like we started that early, by hiking standards, and yet we literally only saw 5 people during our ascent (plus 4 at the overlook).  Most of the time, we were alone.  Considering that many people complain about the crowds and we were hiking a flagship trail right out of Yosemite Valley, the amount of solitude we got out of this hike was outstanding.  If you're worried about the crowds, just be sure you start as early as you can manage (and/or go in the off-season like I did!).  Next time I visit Yosemite, I would definitely do this hike again.
P.S. Outfit details: lululemon keep it up jacket in inkwell laceoflage (past season), lululemon runderful 1/2 zip in pique forage teal (past season), Alala chill tights in pique (on sale! review here), and Sorel Conquest Carly boots (also on sale!).