Day 1 | Dublin
I landed in Dublin around 10 am local time after a grueling 20 hours of traveling (and of course, no sleep).  The first of my friends wasn't due to land until nearly 5 pm and I had a ton of time to kill.
For context: my international travel experience is virtually non-existent.  My trip to New Zealand last year was the first time I left North America.  I'd never been to Europe at all.
First emotions?  Overwhelmed.  TIRED.  I had to navigate public transportation in a strange city on a strange continent, alone and majorly jet lagged.  Yikes.
After some initial frustration as I tried to find the office that had my bus pass, I got my bearings quickly.  It quickly evolved into an invigorating, even thrilling experience.  I dropped my bag at our hotel, but couldn't stay since our room wasn't ready, so instead I went straight back out to catch the bus back to Dublin city center.  Those first few hours were some of the best of the trip: just doing my own thing, riding the wave of excitement of being somewhere new.
I didn't really have an agenda besides "stay awake".  First things first, I popped into a randomly chosen cafe for lunch and a much-needed mocha before walking to St. Patrick's Cathedral.  I thought about going to some other popular spots, but I didn't want to "ruin" them in case my friends wanted to go later.  I arrived at the cathedral just in time for the start of a girls' choir performance.  The sounds of the choir echoing off the tall ceilings added a layer of soothing, ethereal magic to the experience.  Not to mention, the cathedral had free wifi (for some reason??) so I lingered for a bit so I could send texts and look things up online since I was trying to avoid paying for international cellular data.
[ezcol_1third]
[/ezcol_1third] [ezcol_1third]
[/ezcol_1third] [ezcol_1third_end]
[/ezcol_1third_end]
After I left the cathedral, I continued my semi-aimless wandering to a charming little flower shop, a design-oriented gift shop with the most adorably quirky felted wool animals, a donut shop for a treat, and finally a cafe for another espresso as my energy flagged.  Mostly, I just walked A LOT and took it all in.  All told, I ended up walking around 7 miles!
Day 2 | Dublin
Still at the mercy of jet lag, I woke up at the ripe hour of 5:30 am with no hopes of getting back to sleep.  I saw through the window that the sun was out, so I snuck out of our room while my friends slept and went for a 3-mile run around the sleepy Rathmines suburb where we were staying.  It was such a beautiful morning and I'm so glad I went out, especially considering I still had an hour to kill before my friends woke up when I got back.
After we had gotten ourselves sorted for the morning, we were off to the city center again.  We went on a tour themed around James Joyce's infamous novel "Ulysses", which I've never read, but found the tour entertaining nonetheless.  It was interesting to hear tidbits and trivia from the novel, but…truthfully I still don't quite feel the urge to read it. :) It drizzled on us on and off throughout the tour, but we didn't mind.
We got some food at a pub afterward, then wandered around the city for a couple of hours.  And I saw a donut shop and insisted we get some.  Thankfully, everyone was on board with that idea.  Some of us were still pretty tired, so we went home, chatted for a couple hours in the hotel room, and called it a night.
Day 3 | Trinity College | Glendalough
Thanks to the advice of a lovely AA reader, we got tickets to the earliest admission to the Book of Kells and Trinity College's Old Library.  I wasn't as interested in the book exhibit as I was in the library, so we went straight to the library and got the place to ourselves (minus a security guard) for a few minutes before the swarms poured in.
Of course, I looked back at my photos and inevitably kicked myself for all the pics I didn't think to take, but pictures aside, the experience of being there was plenty worthwhile itself.
From there, we grabbed some sandwiches from a convenience store and hopped on a bus to Glendalough, about an hour south of Dublin.  After two days in the city, it was a wonderful perfect change of pace.  After a picnic lunch, we meandered the old monastic ruins and cemetery, surrounded by idyllic countryside.  This was basically the only sunshine we got during our trip–it was a beautiful day.
From the old monastery, we walked a mile or so up a path to the lakes and sat by the shore for a bit.  This part of Ireland (as well as a couple other spots) reminded me a lot of the North Island of New Zealand: rolling hills, untouched countryside, and loads of sheep.
On the way to the lakes,I spotted this enchanting little grove of trees with a path running through it, so I had to run down (literally) for a pic!  After the lakes, we walked another short loop around a small waterfall, then headed back to catch our bus back to the city.
After we got back to the city, we picked up our rental car then chowed down on pizza to round out the day.
Day 4 | Cliffs of Moher
After we were up and breakfasted, we hopped in the rental car to leave the city.  We took the M6 west out of Dublin for a couple of hours, and then veered south to drive along the coast line to the Cliffs of Moher.  We stopped in the slightly swampy coastal town of Kinvarra for some lunch.
But, the further we drove, the heavier the cloud cover became.  The worsening weather was disheartening since we worried it meant we wouldn't be able to see the cliffs.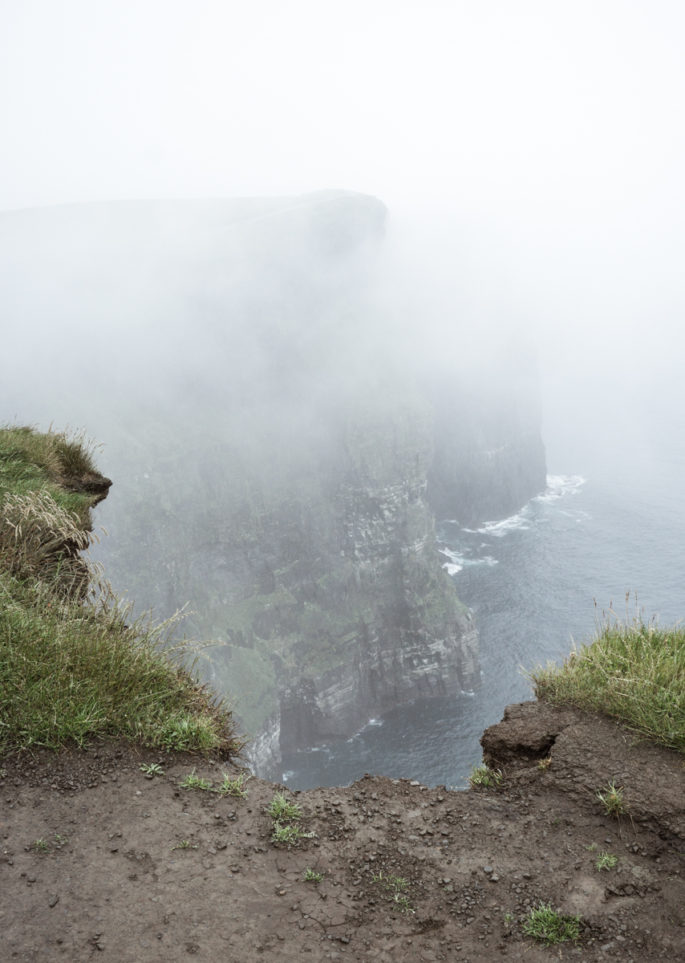 Sure enough, our concerns were spot on.  The cliffs were rainy, muddy, and almost completely fogged out.  As the fog shifted, you could catch dim glimpses of rock and shoreline below, but only for fleeting moments.  Most of the time, it was just a blanket of grey-white in front of you in all directions.  The photos above are the entirety of what we saw of the cliffs.  Don't get me wrong, I wasn't expecting full sun–in fact I think some fog and cloud can make the scenery look pretty cool.  But the dense fog we ended up with was definitely a little disappointing.
We left the cliffs and drove down to Killarney to our B&B.  We spent about 6 hours in the car that day, but sadly didn't have a lot to show for it.
Day 5 | Dingle Peninsula | Killarney
Our last full day was a whirlwind full of just about everything, both planned and unplanned.
To start, we drove out to the Dingle Peninsula.  We considered driving the Ring of Kerry (the other popular tourist to-do in Killarney), but since we had a long drive the day before and the day after, we decided to opt for the less driving-heavy option of checking out Dingle. (And yes, we couldn't help but crack a few jokes about what a ridiculous name "Dingle" is.  Ok, it was more than a few jokes.)
Right before we got in the car, we struck up a conversation with one of the B&B owners who was tending to the horses.  He gave us a tip to take a short detour up to this cool little overlook at the top of a hill right outside Killarney.  We were treated sweeping views of the town as well as the surrounding lakes and mountains.  He was right: it was easily worth the extra 10 minutes!
Our journey continued out to Inch Beach, where we stopped for just a few moments.  It was freezing, raining, and cloudy, so we basically stepped out of the car, said "hey look a beach!", took a pic or two, and scurried back into the warmth of the car.  Next up was Dingle town a few more minutes down the road.  We ate an absolutely delicious lunch at a cafe with some delicious fresh food that, at that point, was a welcome change from the ever-present pub grub.
As we traveled further out to the coast, we stopped at a tourist spot with some old ruins.  We were skeptical at first, but the ruins also happened to have views of the shoreline.  Well, I use the term "views" loosely.  Alas, we got fogged out again.  As you can see in the two pics above, we got to see a little bit of scenery at this one stop, but that was sadly the only time on the entire peninsula drive that we could see any shoreline through the thick blanket of white.
As we drove along, the roads were so absurdly narrow in places that I was pretty much white-knuckling the steering wheel.  The road was effectively one lane even though traffic went both ways, and the fog meant you didn't have much visibility for oncoming traffic.  The photo above is from a pull-out (aka a would-be overlook).  The actual road is to the right of the dashed line and up ahead.  Thankfully, we made it through the worst of it without incident!
Like the cliffs the day before, I was pretty disappointed that we missed out on another major scenery opportunity.  After a lot of city sightseeing, I was craving more nature views.  We made the best of it and stayed positive, but I think we all would've been a little happier if we had actually been able to see more than a brief 200 ft of shoreline out of the many miles we drove.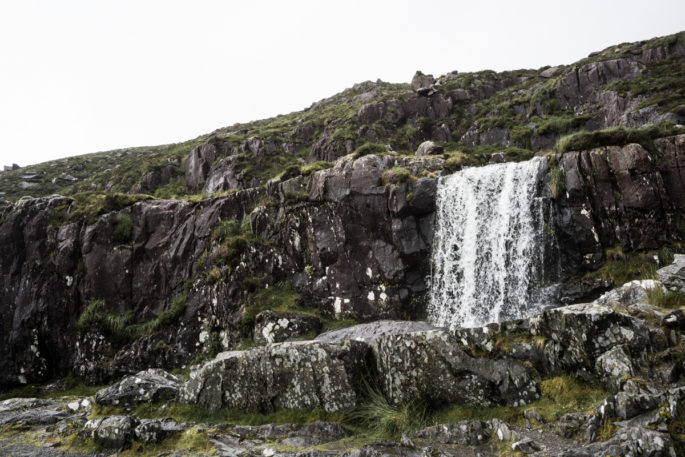 On the way back, we stopped at a pottery shop where I bought my only souvenir, a little teal ombre vase.  The cool little shop was a welcome consolation for us on an otherwise not-so-successful joyride.  We took Conor Pass back to Killarney (again, on the advice from the gentleman from the B&B), which was a little bit further but full of beautiful scenery and, yup, more fog.
After we got back to the B&B, the owner who had given us all the tips took us out on a horse carriage ride through Killarney Park to Muckross House and Muckross Abbey.  During our ride, our guide regaled us with stories about his family and the history of the sights we saw.
The abbey was one of my favorite things.  It was much larger than the other ruins we had visited, with a large network of corridors, stairs, and rooms to meander.  With its violent history, we speculated that it was almost certainly haunted.
In a courtyard in the abbey, a 700-year-old yew tree grew out of the middle in storybook-worthy spirals.  In the words of my friend, the tree "looked like it had seen some s***."  No kidding.
After the carriage ride, we made our way out to Killarney's downtown area to hunt down some dinner.  As we were looking for parking, we found ourselves stuck at an intersection right as a parade was about to start.  I should note: it was July 4th.  It took us a little bit to figure out what the heck was going on, but basically we ended up with a front row seat to a literal parade of American stereotypes.
The parade kicked off with "Let It Go" blasting as children dressed as Disney characters walked by.  A couple folks dressed as US presidents followed behind them.  There was a giant "USA" float with people waving state flags behind it.  A gang of Harley bikers drove by while Dixie music played.  We saw a float with a woman dressed as the Statue of Liberty, a man dressed as Uncle Sam, a man dressed as an NFL player, a child dressed as a GI Joe, and a child dressed as Mr. Potato Head.  A man dressed as a pilgrim walked around and pretended to proselytize while another man dressed as a wild west cowboy walked around with a fake gun.  I kid you not, friends.  Truly a menagerie of American culture.
We could hardly believe our eyes, and laughed more with every float that went by.  I felt suddenly very self-conscious of my American accent.  Ironically, it was more patriotic than anything I would've done at home in the states.
After that, we found some dinner, then made our way to a pub where we listened to some traditional Irish music for a little while before a cover band took the stage.  We lingered for a bit before turning in late that night.
Day 6 | Journey home
Our last day wasn't really a full day.  After breakfast, we ran straight out the door to make the ~4 hour drive back to the Dublin airport to catch our flights.  We had one last lunch together in the airport before parting ways and heading back to our various corners of the world.
Trip thoughts
One of the most surprising things about this trip was just how far north Ireland is.  It was a rude awakening on my first night when I peered out the window to see broad daylight at 9 pm.  Turns out, since it was so close to the summer solstice, last light wasn't til nearly 11 pm, and first light was just after 4 am!  It was a really strange experience for it still to be so bright out so very late.  Since we don't do daylight saving time in Arizona, it gets dark around 8:30 at the latest.  Quite the difference!
It was also pretty chilly in Ireland.  It topped out at only about 65 F, sometimes less.  Plus, it was humid and not the least bit sunny, so I ended up having to work to stay warm.
While I was walking around Dublin, I loved the many flower shops and flower stands all over the city center.  I mean, look at all these gorgeous peonies ripe for the picking!  And there are probably so many places to buy flowers because I noticed lots of people actually buy them.  Why isn't flower culture more of a thing in the US??  So jealous.
When I was planning my trip, I waffled a bit on whether it was long enough.  Once I lost time to travel, I only had 5 days to actually do anything.  Although that sounds really short, I think it was the right decision.  I took the trip with 3 friends, and as much as I love them, I have some hermit-like tendencies.  It's hard for me to handle groups of people for long stretches without losing patience.  With that in mind, it worked well that we ended the trip while we were still having a good time, as opposed to when I had already burnt out or got irritated with someone.  Plus, my vacation time from work is pretty scarce these days and my wishlist of trips is so long.  I got a nice taste of Ireland without overstaying my welcome, so I'm content with that.