K-Deer just launched their new spring collection and I was excited to see a new addition to their stripes collection: Candice. It's been a little while since I've added some more K-Deer stripes to my collection, so I'm excited to have a fresh and new pair for transitioning into warmer weather. Plus, I got to try a couple other styles alongside that, including the pocket crop top which I'll talk about in this post too.
Disclosure: the top and leggings were gifted to me from K-Deer, a brand I've been a fan of for several years. All opinions are my own.
Candice stripe leggings
Over the years, I've accumulated a large number of K-Deer's signature stripes, and Candice is the newest to my collection. This particular pattern has lots of colors that fit right in with my active wardrobe palette, including deep teal, fuschia, aqua, and white.
Each of K-Deer's signature stripes are named after an influential woman and each purchase benefits a charity of that woman's choosing. Candice stripes support Kindness Matters 365, an organization that teaches children the why and how of showing kindness to others.
If you've never tried K-Deer leggings, they feel similar to a pair of very thick pantyhose. The fabric is lightweight with just a little bit of squeeze to them. The fabric coverage is good, but I usually opt for neutral-colored underwear because sometimes bright or printed fabrics can show through slightly in a squat or bend.
K-Deer recommends avoiding rough or abrasive surfaces since it can snag or damage the fabric, so I try to be cautious. That said, I've never had an issue with any of mine becoming damaged over time, and my oldest pair is more than 3 years old.
The leggings are a minimalist style with no pockets or extra seams. One unique feature is that they don't use a front seam and have a unique, long gusset. Both of these design elements keep the leggings from bunching up uncomfortably.
I'm wearing an XS in these Candice stripes, the same size I wear in my other K-Deer leggings. I'm normally an XS or XXS in leggings, depending on the brand. I recommend sticking with your normal size, but if you're in between sizes, you'll likely be more comfortable in the larger size.
Since K-Deer released the sneaker length leggings, they have been my favorite length. At 5'3″, they hit right at my ankles. The full length versions leave a lot of bunching at my ankle, but these don't.
K-Deer has a particularly high rise, hitting right at my belly button. The waistband does not have a seam at the top, so it's comfortable and does not dig in anywhere.
These leggings are very versatile: stretchy enough for low-impact studio workouts, but compressive and pilling-resistant for high-impact workouts. Their versatility is definitely a part of why I've ended up with so many pairs over the years.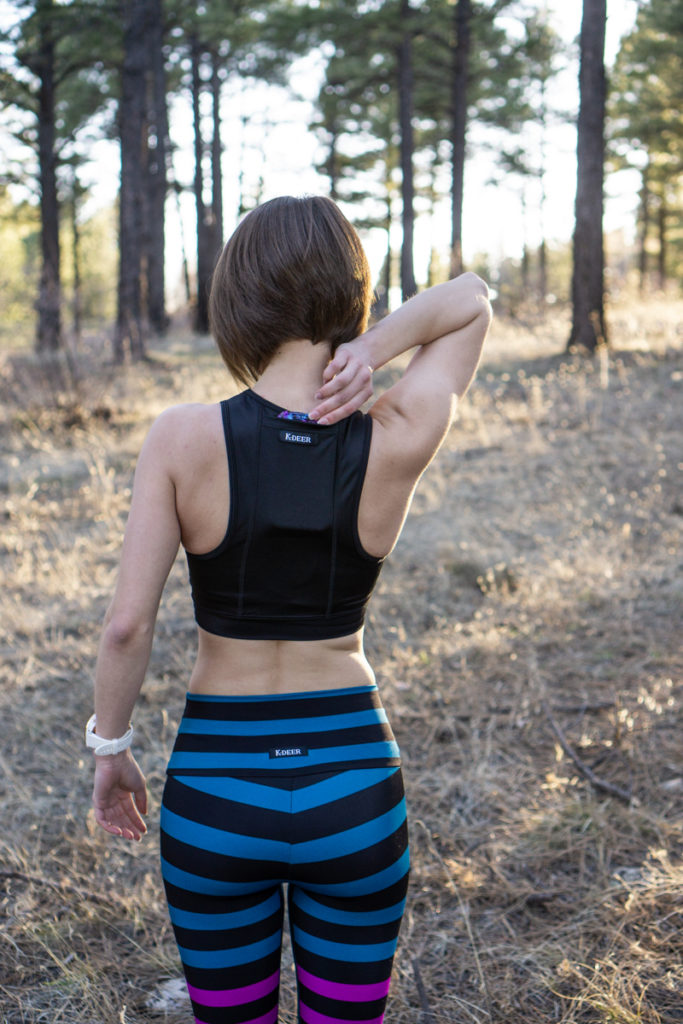 Pocket crop top
The pocket crop top is a new style this season. It could be worn on its own as a bra top if you don't need a lot of support, or over a sports bra of your own, which is how I wore it here. There are no slots for bra cups in the top. The fabric is silky with a slight sheen to it.
I'm wearing an XS in this top and it's fitted, but not tight enough to offer much support (I normally wear size XXS or XS, depending on the brand). If you're looking for a tighter fit or you're between sizes, you may want to consider a size down.
This top has a lot of coverage, so if you're not wanting the exposure of wearing a typical sports bra but still feel too hot in a normal shirt, a higher-neck crop top like this is a great compromise.
Of course, the key feature of this top is the back pocket. The pocket extends halfway (to where you see the seam), which is just right for a phone. My phone, shown in the photos, is an iPhone XS and fits fully inside without sticking out. I found I was able to reach to get my phone in and out of the pocket without any contortionist magic.
I always run with my phone, but it's tough to find clothing that keeps me cool while also offering adequate storage. This one fits the bill and will be great to have in my wardrobe for those truly hot days this summer.
Outfit details
K-Deer Candice stripe sneaker length leggings
K-Deer pocket crop top in black
Nike Metcon 3
Garmin Fenix 5S