If you've been around here for more than about 5 minutes, you've probably pieced together that I'm a fan of the natural world. Being a fan of nature, that means I'm also a big fan of national parks. Heck, I love them so much I even got married in one.
I'm also a fan of K-Deer's striped leggings, so when they introduced a new stripe style that benefit America's national parks, I was on that faster than you can say "public lands."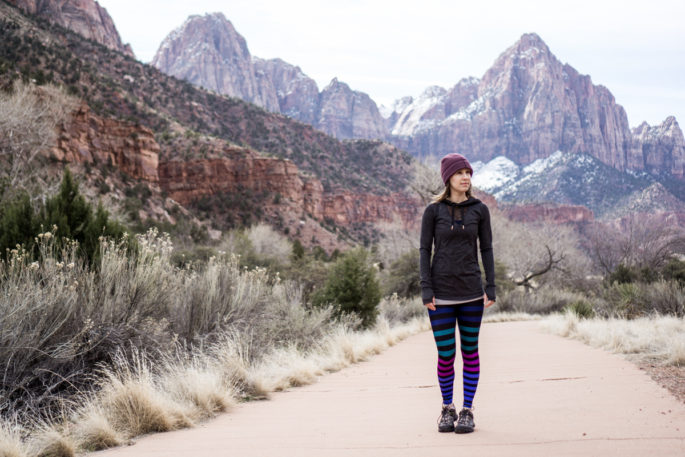 The new stripes on the block are called Izzy stripe, which features an array of slightly muted jewel tones in K-Deer's signature pattern. 5% of the proceeds from Izzy stripe sales go to the National Park Foundation, the nonprofit partner of United States national parks. All of K-Deers stripe styles support some sort of charity, and I was so happy to finally see one that benefits the natural world.
For my Izzy stripes, I ordered K-Deer's new sneaker length. Since their full length leggings are ultra long, these are the perfect solution for shorties like me. I'm 5'3″ and these only have a tiny bit of extra fabric around the ankles. I purchased my usual XS. If you are between sizes, I recommend going with your larger size.
Like other K-Deer, the Izzy stripes are made of a swimsuit-like material. The fit is tight and you have to gradually work the material up your leg like pantyhose when you put them on. The material can snag and is sensitive to abrasive surfaces, but even after more than a year, I haven't had any runs, tears, or other damage to the fabric befall any of my K-Deer tights. Depending on the pair, this material can vary in terms of coverage. For this pair, I prefer to wear skin-colored underwear since they can show through slightly in a squat or bend.
Since these are national park leggings, of course I *had* to wear them in a national park, and I got my chance when I spent some time in Utah earlier this month. These photos were taken in Zion National Park along the Pa'rus Trail. I have a whole bunch more I want to share from my Zion trip, but narrowing the photos down and editing them to my liking takes approximately an eternity. I'll have more for you soon!
I'm also wearing Alala's flyweight hoodie tee in charcoal. The heathered fabric on this top is ridiculously soft, and the dark grey color pairs well with anything. This color is from last season, but it's still in stock at Carbon38 and Neiman Marcus. As you can see in the photos, this version of the flyweight is a bit longer than the original flyweight. This comfy and versatile top ended up being one of my favorite pieces from Alala's fall collection. I would definitely recommend this particular color.
If you'd like to get yourself a pair of these leggings, K-Deer's Izzy stripes are available in cropped length, sneaker/ankle length, and full length.