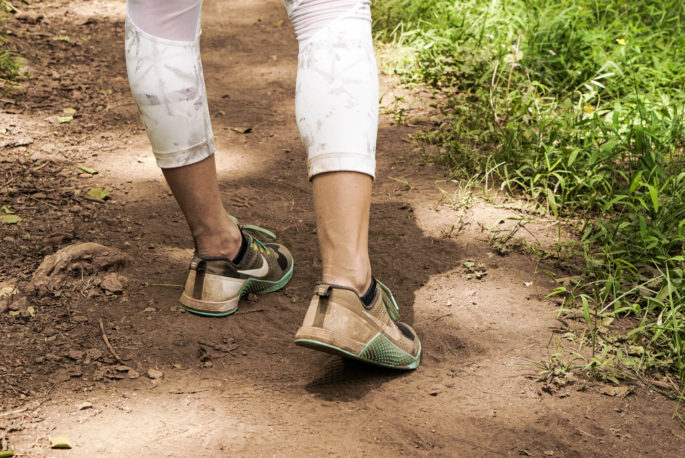 A couple weeks ago, I bought and reviewed a pair of white crops.  Buying white clothing is pretty risky all by itself.  But then I did something even crazier: I wore those white crops on a hike.  Outside.  In the dirt.
Yes, they got dirty, but nothing that didn't come out in the wash.  I wore them because I wanted to, and I tried not to worry about the fact that they're white. (Side note: I also found out that the patterning actually hid dirt marks really well.)
When you buy nice things, it can be really easy to slip into the mindset that your things are "too special" to actually use.  I'm guilty of this all the time.  I bought an expensive candle only to have it sit on the shelf for almost a year because it was expensive and it felt somehow wasteful to burn it.  What??  That makes no sense.  What good does a delicious smelling candle do if it's just collecting dust on my shelf? (If you wanted to know, it was this blue candle, and I did finally start burning it.)
It's easy to do this with clothes, too.  Maybe you bought an expensive pair of heels that you only wear on the most special of special occasions because you're worried they'll get scuffed.  Maybe you bought a pair of lululemon crops that you only wear very, very rarely because you're worried you'll ruin them.
Here's the thing: your clothes are meant to be worn!  Your belongings are meant to be used and enjoyed, not hoarded and untouched.  You own your stuff; don't let it own you.
Yes, if I'm doing something where I think what I'm wearing could be irreparably damaged, I'll choose something replaceable instead of one of my most cherished styles.  I'm not going to wear my hard-to-find, white striped speed shorts on a mud run/obstacle course.  There's at least a little bit of strategy there.  Sometimes I'll go easy on my new items and wait until they're at least a few months old before I start wearing it for the "risky" stuff.
But even if a tank top might get a little bit pilled from wearing with my backpack, that's ok.  Even if my pants might get dirty from doing burpees on the nasty gym floor, I'll wear it anyway.  If I don't wear my activewear when I'm being active, what's the point in having it?
Believe me, you'll get so much more enjoyment out of actually wearing your favorite things than letting them sit on the shelf.
Outfit details
Alala crossback bra in skydiver
Alala captain crops in summer palm
Nike Metcon in black/hyper jade
Lululemon race to win run hat in sketchy palms
Get it dirty