The Lolё haanji bag was one of my favorites that I featured in my recent gym bag roundup, so I decided to order it and give it a try.  I was drawn to this bag because I loved the minimal, clean style, and it looked like it would do nicely as either a larger purse or a gym bag.  Gymwear Guru had posted about a 1-day 40% off deal a couple weeks ago, so it seemed like a great time to give it a shot.  The $180 price tag had me a little trigger-shy, but the big discount brought it down to a much more manageable price point.
The first thing that jumped out at me when I opened the package: man, this bag is HUUUGE.  I love big bags, but this one is really big.  When empty, it's not too heavy, but since there's so much space, I imagine the weight would add up pretty quickly if you filled it even halfway.
The bag is trimmed in faux leather (polyurethane), and most of the bag is made from a slick synthetic fabric–the site says nylon, but I could've sworn the tag said polyester.  The lining inside is polyester.  It seems like these fabrics would wipe clean fairly easily, which is of course important for any white bag.  This close-up shows the difference between the two fabrics on the exterior.  The edging on the faux leather is grey.
On the front of the bag, there's a hidden yoga mat pocket that unzips on either side for you to slide your mat in (it's not unzipped all the way in this pic–oops).  It easily fits an average-sized yoga mat, but you really have to wrestle with it if you want to fit a larger mat in there (e.g., my Manduka Pro).
There's also a zip pocket on the outside in front of the yoga mat compartment.  Inside is a phone pocket (large enough for my iPhone 6) and an attached lanyard.  The lanyard has a clip on the end for you to attach your keys, and includes this little decorative addition for your keychain.
On the back side, there's a zip pocket placed low on the bag, with silver vents at the bottom.  When you open this pocket up, it actually opens up both above and below the zipper, all the way to the top and bottom of the bag.  The idea is that the vents keep things from getting musty if you need to stow damp gear post-workout.
The bottom of the bag has silver feet to keep the faux leather from scraping too much.
All of the hardware is shiny silver with Lolё branding.  The hardware is probably my favorite design aspect of this bag.
The top zips open to the roomy interior pocket.  Zip closures are great since it helps keep your stuff where it should be.
Inside, there's a laptop compartment that's secured by a velcro strap.  There's a thin layer of padding on the interior side of the pocket.  It fits a 13″ laptop.  You'd have to be careful with the velcro since it could damage your workout gear.  I think a snap closure would've been better here.
On the same side as the laptop pocket, there's also a small-ish zip pocket and a 3 elastic loops for small odds and ends like pens, headphones, etc.  In the pic, my fingers are touching the bottom of the pocket, so you can see that it's not a particularly large pocket.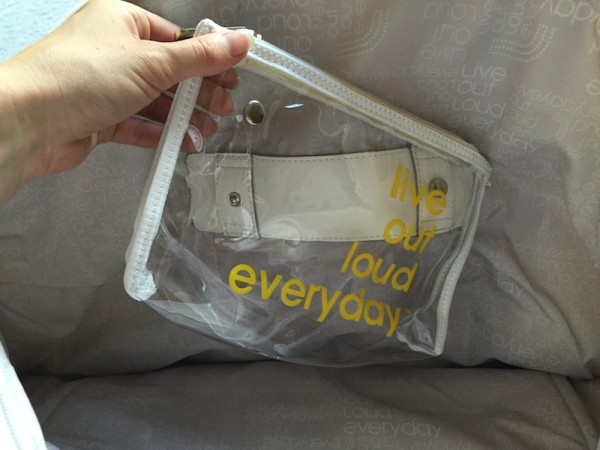 On the other side, there's a removable toiletries pouch that snaps off.  This pouch and the lining have Lolё's mantra, "live out loud everyday".  There is no shoe bag like lululemon and some other brands provide.
The interior organization overall is just kind of "meh".  There's only two pockets, if you count this pouch, and neither are very large.  For a big of this size, it would be nice to have a few more pockets, since if you wanted the bag to be mostly full, 90% of what you're carrying would basically have to be tossed all together in the bottom.  But if you're the kind of person who just throws everything in anyway, this might not matter to you.
To give you some idea of size, here is the haanji bag on next to my lululemon weekend warrior.  The WW is a pretty sizable duffel, and laid out like this, they look pretty similar in size (actual measurements are provided on Lolё's website).  With this in mind, one issue with the haanji is that the only straps are the shoulder straps.  It would help if this had some kind of crossbody shoulder strap since large means heavy, and heavy is not so great on the shoulder.
In my opinion, this bag's best use would be for short trips/as a carry-on or for those who just really want/need a large bag for the gym.  It's definitely a lovely design that seemed like it would hold up well.  But for my purposes, it's too large to use it as an everyday bag as I had hoped, so this one is sadly going back. (Update: I'm impressed with Lolё's return process.  A stick-on return label was included in the package, and my card was refunded only 1 week after I dropped the package in the mail.  One of the smoothest online returns I've done.)
The haanji bag is actually marked down right now for $108, the same price I paid with the friends and family promo.  It's available both in the white shown here as well as grey.  If you like what you see in this post, you can get a haanji bag of your own here.