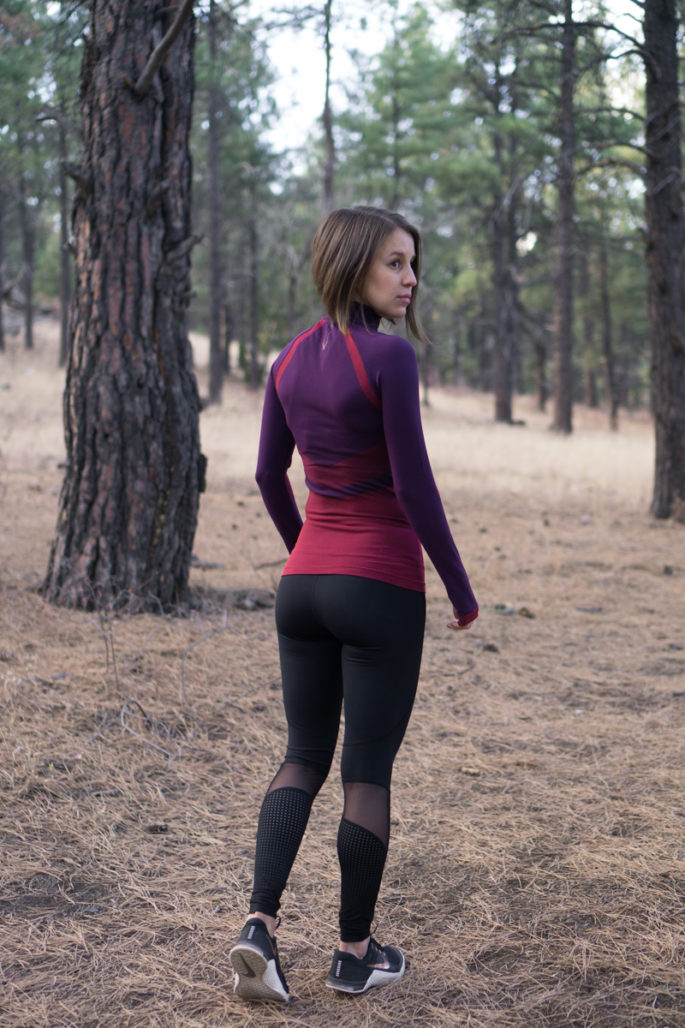 [ezcol_1half]
[/ezcol_1half] [ezcol_1half_end]
[/ezcol_1half_end]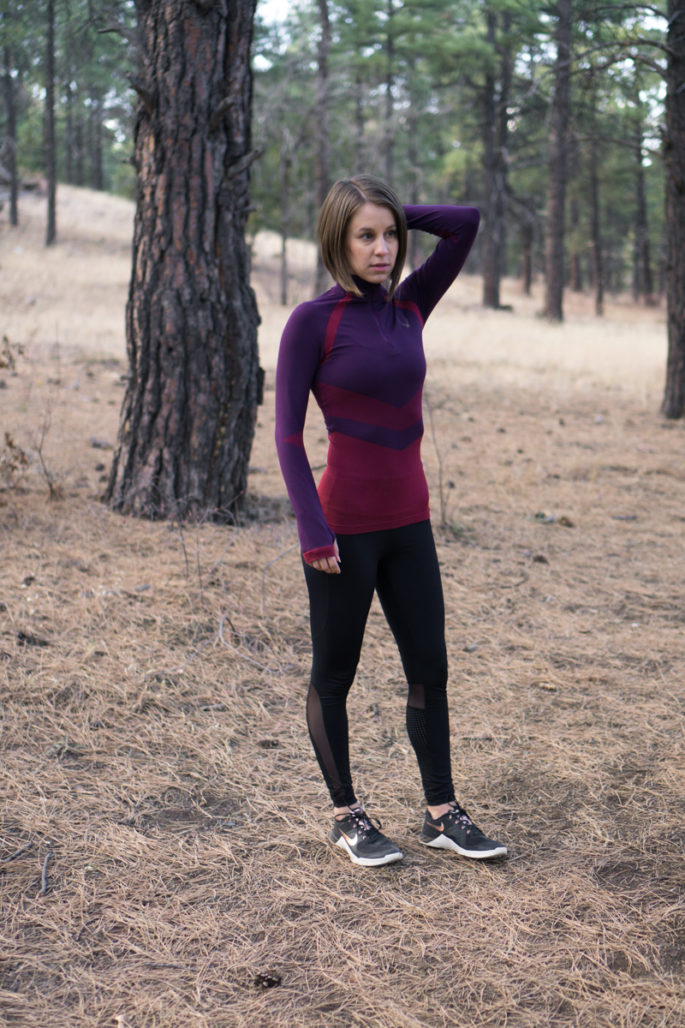 This knit top by Lucas Hugh was love at first sight with its beautiful colors and sleek design.  I hadn't tried Lucas Hugh's tops before, but this one won me over right away.
The design has a fashion-forward, sophisticated look while still being decidedly athletic.  The colors are gorgeous in real life and work beautifully against my skin tone.  Overall, I love the look.  Not to mention, it's seriously flattering.  I feel like a million bucks in this top.  I took the tags off as soon as I put it on–I knew there was no way it was going back.
Besides being flattering, the seamless fabric is soft and extremely comfortable.  It's a mid-weight, best for moderately chilly weather, not a full thermal weight for serious cold.  This particular seamless material has some substance to it and is neither too clingy nor too stiff.  The collar is a moderate length and although it provides more warmth than a crewneck (or less, if you unzip it!), it won't fully cover your neck like serious thermal tops.
Like most seamless tops, the sizing is very fitted.  I purchased this in an XS and it fits like a glove.  It has serious stretch to it, so sizing is pretty easy to get right.  I recommend sticking with your true size.  If you're between sizes or you prefer a less skintight look and feel, size up.
The proportions of this top work extremely well for my shorter build.  The length hits between high- and mid-hip, and the sleeves are almost the exact right length for me.  You can see that there is basically no bunching along the sleeves, which basically never happens for me.  The proportions really surprised me considering the one time I tried LH leggings, they were pretty clearly not made for petites. That said, the sleeves do appear to stretch for longer limbs, because the models shown on websites are quite tall and the sleeves still appear full length.
The only less-than-flawless thing I've found about this top is that the purple fabric versus the red fabric stretch slightly differently when you move around, which sometimes creates puckers.  I didn't actually notice this until I wore it several times, so it doesn't bother me.
For my long runs, I always wear a backpack to carry water, fuel, etc.  As you may have noticed, some fabrics show pilling and abrasion right away from things like purse straps or just the friction of vigorous exercise.  I didn't want to ruin my brand new top, so I emailed Lucas Hugh's customer service to ask them whether this fabric was abrasion-resistant.
Remarkably, they responded by saying they hadn't performed testing on this fabric yet, but were about to.  A couple of weeks later, the associate followed up with the results of the test.  She said it received the highest rating for abrasion resistance.  Granted, most fabrics will eventually degrade when exposed to enough rubbing (it's not steel, after all), but that's a good sign that it won't be shredded to ribbons from one long run.
And a major point here is: when I asked about this fabric, Lucas Hugh literally ran a lab test to find out how well it held up.  How many brands do that??  Not many, in my experience.
Even though it's pricey, this top was worth every penny for me.  It's one of my favorite purchases all year and I would definitely recommend it.
US shoppers can find the deco knit top at Net-A-Porter or MyTheresa.  UK shoppers can also find it on Endource.  The top is also available shipped from the UK via the Lucas Hugh website.
Also wearing: Alala siren tights / Nike metcons