Like most recent weeks, this week's product drops on overseas lululemon sites had more new and interesting than the US and Canada uploads:
There's a new capsule on the block: all meshed up.  This is the all meshed up tank, which comes in clouded dreams cosmic teal, a new print.
Here's cosmic teal on its own on a sculpt tank.  I love all things teal so I think this one's nice.
New all meshed up shorts.  The idea of these is that the tight undershorts prevent flashing while still enabling you to wear shorter shorts, but I just really can't go for the shorts-over-shorts look.
All meshed up 7/8 tights, in new painted animal sprinkler black.  Is sprinkler (the blue) making a comeback?
New up the distance shorts.  These are a lot like the go the distance shorts in that they're a looser-fitting reversible style.  With these, you can roll down the waistband, like in this picture, for a slightly shorter look.
Last week Australia got a little &go capsule, but it seems like this &go everywhere skirt was a bit late (unless I missed it last week).  It has some drapey, foldy details in a similar vein to the other most recent &go items.
New sweat bound tee.  I think the white part is a separate piece, but the black mesh is part of the shirt.  It also looks like there's also some sort of separation between the top and bottom half of the shirt–perhaps for ventilation?
New kris cross crops in bordeaux.  I actually like these.  The mesh is subtle, the diagonal accent complemented by the black panel are both nice touches, and the side zip pocket is a useful feature.  I'll be keeping my eye on these. (But now I have that ridiculous 90s "jump" song stuck in my head–sigh.)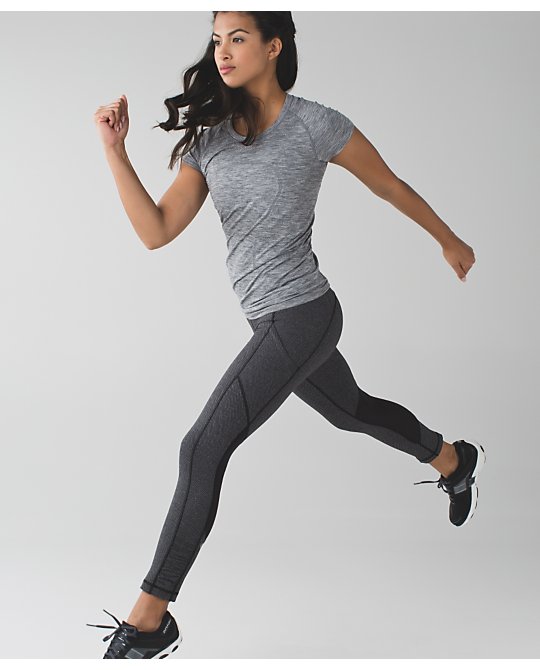 Lastly, speed crops in giant herringbone print.  Where are the speed crops for North America…?
Also: this is my pick for stock photo of the week.  Hehe…