I have tons of lululemon sneak previews to share this week!  Some new pieces are coming, as well as a couple old favorites, and of course, new colors of current styles.  Here's what I dug up:
Pace tights are back, shown here in flashback static with raspberry glo accents.  The color combo makes this is a fun piece.
On a similar note: pace rival crops in flashback static with raspberry glo accents.
Speed shorts from Australia: fleur sombre kayak blue and white/fleur sombre.  I think the white ones are supposed to be a solid white, but they look a bit dingy in the picture.
More new speed shorts, these from the European site.  They are shadow wrap multi, fleur sombre caspian blue, and flashback static.  The flashback statics are my favorite of the bunch, but I would rather have dramatic static.  I'm bummed they haven't uploaded in the US and am wondering if they ever will.  I should note that at this point, there are no guarantees that any of these new speed shorts will make it to North America.
There's a new free flow yoga capsule on its way: here are the free flow tights and crops.  The tights are tender violet while the crops are diamond jacquard space dye tender violet raspberry glo.  Lulu seems to be riffing on the flowy, curvy mesh-accented bottoms lately.
Also part of the same capsule: the free flow tank and bra, shown in bleached coral and flashback static caspian blue.
The new oxygen bra has somewhat similar styling, but is amped up for high support.  This is flashback static again.  I've already gotten the impression that we're going to be seeing A LOT of flashback static.
Tender violet define jacket.  Such a pretty color on the define.
This raspberry glo long sleeve swiftly is a helluva twist on the typical swiftly with herringbone AND floral.  There's also a tender violet version with the same pattern.
Hi-rise wunder under pants in heathered tender violet.  This tender violet looks totally different from, say, the define jacket in the same color.  This version has almost no red tones.  I'm wondering if these are cotton since the heathered fabric looks like it could be in the photos.  They don't do a very good job of marking those sorts of fabric distinctions on the international sites, so they very well could be.
New speed tights in space dye camo tender violet black grape.  Turns out, space dye camo is a type of patterning, the camo doesn't indicate anything about the actual color.  This pattern seems to make the colors appear much lighter, though.
New runderful pants.  These are basically the lovechild of dog runner pants and speed tights.  They're the same idea as dog runners–glyde on the outside, rulu legging liner–but have a tapered leg and ruching on the sides.  I LIVE in my dog runner pants in the winter, so I'll be curious to try these.  I still regret that I didn't get the black grape dog runners, so maybe these black grape runderfuls will be a nice replacement.  They look like they create a bit of a droopy butt in the stock photos, but I'm hoping a try-on will work out.  And if not, I'll continue stalking dog runners on ebay…
Daily practice jacket in jeweled magenta.
Passion crops in flashback static kayak blue.
New tight stuff crops in pigment wind cadet blue.  They have a bit of the same reflective detail at the hems as the tight stuff tights.
The new passage to prana sweater is very similar to the passage sweater released a couple of years ago, except this one has a snap neck that can be worn up as a turtleneck or opened down.  Like the passage sweater, it's a merino knit.  This is the new berry rumble color.
Looks like mind and body kits are coming back.  More flashback static!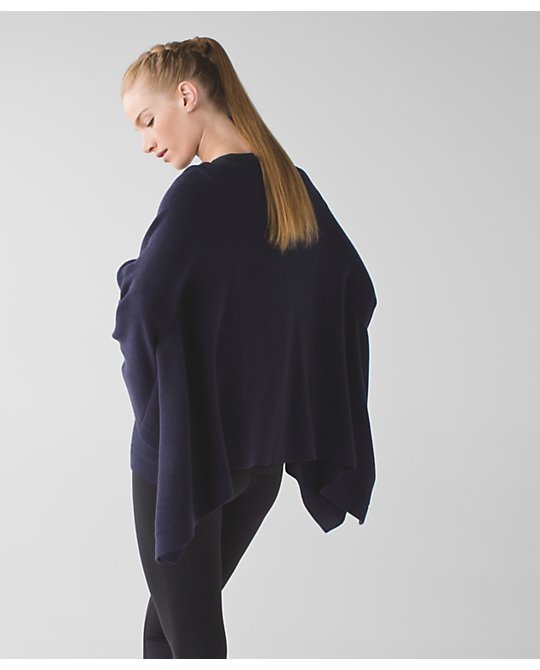 There's another mini-collection of merino knit accessories, including this divinity scarf that's actually more of a poncho. (Color is black grape.)
Lastly, one more accessory: the festival bag making a comeback in pigment wind.  This is a cute one, though I'm sure pattern placement will vary.