Here's this week's selection of what's new around the world of lulu:
New sapphire blue hi-rise wunder under pants.  Love this color.
Another item from the forthcoming sunset salutation capsule: the sunset salutation long sleeve.  It's made of rulu light and has a nice delicate faux-wrap look with a little bunching at the sides.  This is a nice delicate design.
New circadian long sleeve v-neck.  This goes along with the circadian tank and short sleeve that have previously appeared.  Maybe these will be released in North America in a yoga-themed drop along with the sunset salutation line?
New veda wrap in Australia.  You can wear this one  this way, or flip it over.  It's a cotton knit, so I'm guessing it will be a similar thick knit to the post practice cardi.  It has one button if you want to secure it more or less closed.
This week's fail: drop it crops.  Poopy pants, 100%.
Looks like the manifesto script scuba might be making a comeback.  This same one was out last fall around this time. (This is still the scuba ii, like last year's, not the scuba iii.)
Speaking of comebacks, the sculpt tank reappeared in some current colors after a bit of a hiatus.  This is butterfly texture.
The all sport support tank also is returning in some new colors, like pipe dream blue/ziggy snake here.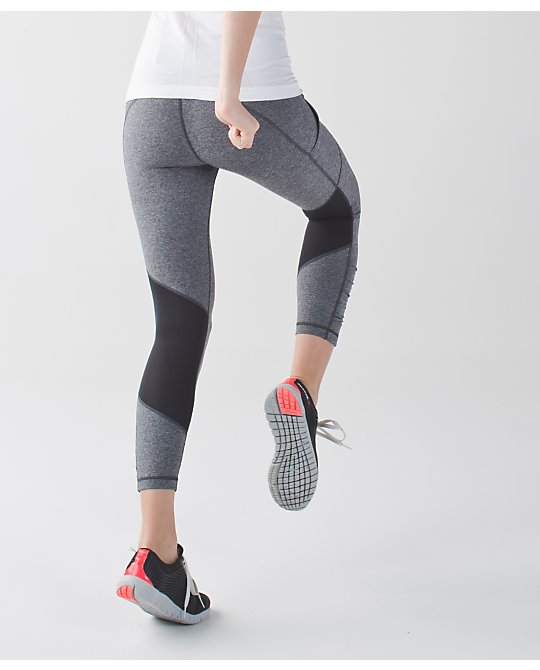 New speed crops, i.e., a slightly shorter version of the speed tights.  They've kept the pockets and ruching near the hem like the full-length tights, but added the mesh at the back of the leg.  At 23″, these are about an inch longer than the pace rivals or inspires, but still shorter than their 7/8 tights like the high times, inspire tights, or recently released run the world crops.
Give me qi pants are back in bordeaux with cranberry accents.  These are a mixture of luon and luxtreme, so they'd work for a variety of fitness needs.  They've been released at least once before, maybe twice.  They were released in plum before, so this pair in bordeaux is really similar.
New gather and sprint jacket.  It's made of swift and has cinching and ruching details, a stowable hood, and a couple small reflective details.  This might go with the gather and sprint crops?
Another running jacket, this one from down under.  It's called the totes light jacket, and gets its name in part from the fact it packs itself into a little bundle via a pocket.  Since it's so lightweight, it might be intended just for spring, i.e., might not show up for those of us going into fall.  I also noticed it's listed as being made from translu, which is a fabric name I don't remember seeing before.