Major preview time!  It looks like most–if not ALL–of the Black Friday special edition stuff dropped on the Asia lululemon website this week.  I'm guessing what you see here is roughly what you should expect to see on Thursday's upload.  I'll go through those pics first, then go on to some other interesting new arrivals.
Based on last week's preview pics, I thought that the 6 items mentioned in the news articles were it.  Wrong!  Here's a pair of speed shorts and a neck warmer I wasn't expecting.  Also: there's some kind of new shirt on the neck warmer pic that looks like it's got reflective stripes.
Here's a photo of the ravish reptile SE ear warmer that the articles mentioned but didn't show.
There's also some special edition gear on core items.  This is the define jacket *shine on in berry rumble.
Cool racerback *shine on in pigment wind berry rumble (also comes in solid berry rumble).  This has a much narrower racerback and a mesh back.
The energy bra *shine on looks a lot like the bra portion of the nouveau limits tank from upload earlier today.
The other portion of the special edition array is this deep dive pattern (specifically, these are wunder unders in deep dive dip berry rumble).  Ugh…there is so much that I don't like about these pants.  I can see how the idea of an abstract print like this might be cool, but to me it just ended up looking kind of cheap.  Not to mention, it looks like lulu is trying to be too much like Nike.
There are two new special edition run tights, the pace tights and speed tights, with weave details at the side leg.
You can check out the full upload on the Hong Kong site to sneak a peek at more pics of these.  Moving on from special edition and back to "regular" styles: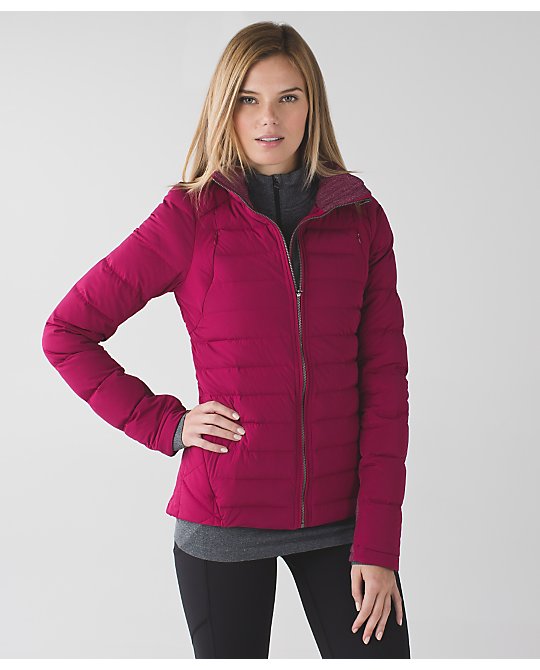 Lulu is hitting berry rumble hard this winter, and they've brought back last year's fluffed up jacket in this color (as well as inkwell).
More berry rumble: new align and define long sleeve, plus an absolutely gorgeous space dye berry rumble swiftly racerback.  I almost never buy swiftlies, but if that color comes in a long sleeve, I may have to make an exception.
Apex stripe accessories: mind and body kit and a festival bag.
Another new accessory: in the present pouch.  The pigment wind part is actually another pouch that slides out of the little pocket and attaches via snap.  It's like a little two-pouches-in-one wristlet.
Pretty run bottoms in pigment wind berry rumble: speed shorts, pace tights, and speed tights.  The berry rumble version of pigment wind is growing on me.
A similar pair of new speed shorts in black with berry rumble and poppy petals trim.
Pigment wind duck sauce print this time, on a new 5 mile singlet and be free runsie.  The model in the runsie looks just about as skeptical of what she's wearing as I am.  I see that little eyebrow raise.  Not sure if cute or absolutely crazy.
All the new stuff was dominated by neutral prints, pigment wind, and berry rumble, but I had to include this last thing even though it doesn't quite fit in.  This is a new runderful long sleeve in space dye camo caspian blue.  At this point, I'm guessing the runderful LS and 1/2 zip will be part of the first upload of December here in North America.