Sorry about the post title.  It had to be done.
If the connection wasn't obvious, the post is so named because one of the features of this week's lululemon product drop was the drop it like it's hot capsule.  That, plus lulu brought more cold weather run/rulu gear to the forefront.  Although tonight's upload was kind of slow, November is the first month of lulu's winter season, so next week's should be one of the biggest drops we've had in a while (well, the biggest in 3 months to be exact).  Brace yourselves.
Before diving into the new lulu: in case you missed it, Carbon38 is offering 20% off full-priced items sitewide, today only!  Use code GRATITUDE20.  If you've had your eye on something, it's the perfect time to snatch it up–these codes don't come up often!  The deal is only good til midnight PST.  Also, returns are for store credit only, so be sure you're ok with that before placing an order.
Anyway:
The new drop it like it's hot capsule is designed with hot yoga in mind, and includes just a handful of items so far, like this dramatic static leotard.
Canada got yet another new color of the kanto catch me long sleeve: menthol.  It's nice to see that they're doing so many non-neutrals.  I'd like to see a different rulu top this season, but the fact that they've released so many colors in the kanto line worries me that they won't bother this year.  But it's still only October, so there's still plenty of time and I'm not giving up hope that something I like better is still to come.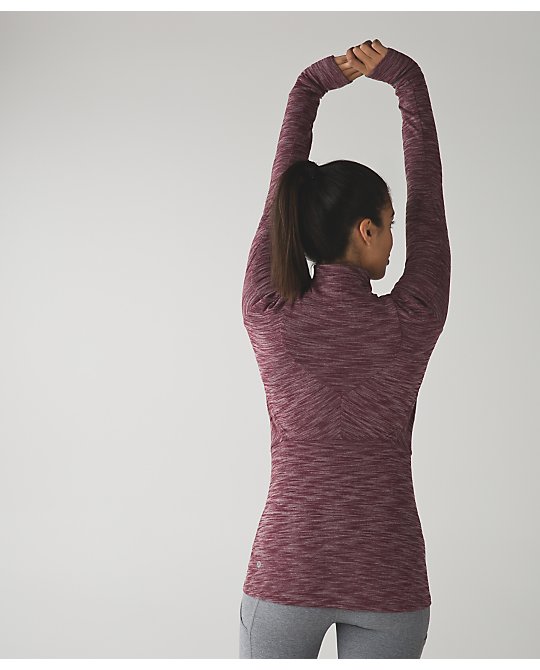 There's also a new heathered bordeaux drama kanto catch me 1/2 zip.
This new wee stripe bordeaux/bon bon CRB is actually rulu!  Only available in the US so far.
There's a couple new colors of the lighten up bra new to the US side.  This dramatic static is cute, plus there are two versions of the clouded dreams print also.
There's a new "lights out" version of both the speed tights (pictured) and pace rivals.  They have the same reflective detail as the tight stuff tight. It looks pretty cool, but I can't see it being worth the $40 upcharge.  That said, even at $128, the pace rivals are $20 more affordable than the tight stuff tights, so they're definitely a cheaper alternative if you really want the reflective detail.
I kinda dig these hot pink (bon bon) evolution leg warmers.  Unfortunately, despite these being marked as cotton online, the reviews say they're wool, which generally doesn't work for me.
There's a new version of the vinyasa scarf on the block: velour. Well, it *might* be velour. In Canada, they have it marked as fleece. Not sure I can get behind this since velour mostly brings back memories of the flared velour pants I thought were super cool when I was about 13. This version will also cost you an extra $10.
You might've noticed this pic from a new flyaway tamer showing a sneak peek a short sleeve tee that I assume is coming soon, featuring some nifty open back details.