Upload was about 3 hours late again tonight due to more server issues.  I'm glad that it ended up still going up at a reasonable hour, not extra late like a couple weeks ago.  Since it's the first upload of the month, it ended up being a pretty big drop of new stuff!  Lots of pretties to see, plus tons more coming in the international upload post that I'll be publishing later on tonight!
New clouded dreams menthol speed shorts in Canada.  Canada also got dramatic static.  I like pink and green separately, but together, the clouded dreams just looks a little too Ivivva-ish to me.  Dramatic static is still on my wishlist, though.
Take note: US got the gator green night fall reflective speed shorts at last!  I know some people had been sad that they hadn't made it to the US side.  US also got sapphire blue speeds.
There was a random upload in the US of a heathered menthol cool racerback.  I say random because these stock photos are OOOLD!  This color was released once before (obviously), but I'm guessing they just had an issue with getting new pics.  This color is pretty similar to bali breeze, which I have, but I think I will order this one anyway, since it's a color I love and wear a ton, and the heathered makes it a little different.  Heathered deep navy also uploaded.
Speaking of old stuff: 6 colors of last year's think fast 1/2 zip uploaded in Canada.  Random old stock they unearthed in the warehouse?  Perhaps they'd been holding onto it to sell at full price, whereas in US they sent these to the warehouse sale.  Both US and Canada also got quite a few colors of the in flux crops, which seem to be quite a bit overdue!
Canada got a special edition printed cool racerback.  These have been getting a lot of buzz on Facebook today–they are also in Canada stores.
The wrap it up sweater is back in mink berry as well as grey and black.  This was a popular piece last year. (Canada side only)
Another nice cozy fall layer: brushed heathered bordeaux high times pants.  Take note they're labeled as brushed in Canada, but not the US for some reason.  The stock pics are the same, so I'm assuming the actual pants are brushed.
The new space dye cosmic teal wunder under crops uploaded in both regular rise and hi-rise.  Note they're luxtreme.
Yet another new shade of teal: desert teal.  These are the ebb to street pants.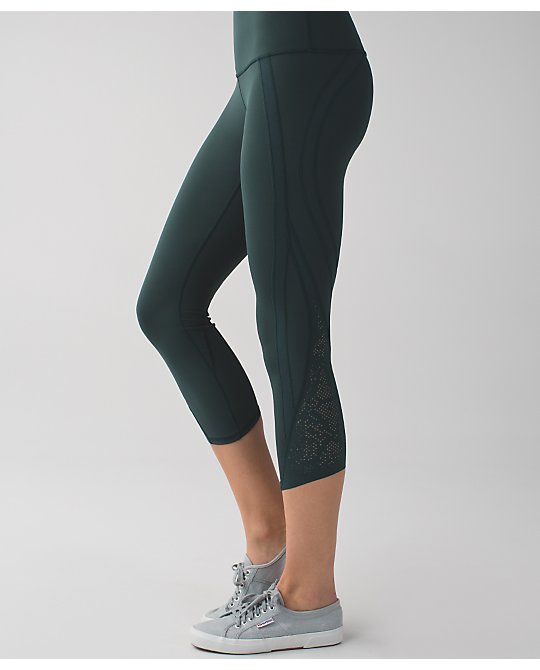 New dark fuel laser dot wunder under crops (this color is US only).  Really liking dark fuel right now.
Cute and feminine new free to be wild bra in butterfly texture/flash light. (Canada only)
New stuff your bras for Canada: cyber stripe sapphire and cyber stripe menthol flash light.  As I mentioned above about the speed shorts, pink and green together looks a bit too girlish for me, though I love menthol and flash light separately.  Canada also got the bon bon stuff your bra.  I would've gotten this one sent to me from Canada, since US appears to have indefinitely gotten the RSYB shaft, but it was not uploaded in my size.  All the sads.  All of them. (#fwp)
As a cobalt-lover, the new sapphire blue define jacket is tempting, but it's in Canada only right now.
New dark fuel daily practice jacket, also in Canada.  The zipper is pretty.  Canada seems to have gotten most of the good stuff tonight.  It's ok, though, the US has gotten the better upload several times lately.  It's only fair. ;)
Align pant lovers: there are two newly uploaded versions with contrasting waistbands.
These new cotton wee stripe special edition wunder under pants actually kind of remind me of Outdoor Voices' style.
Pretty new wine berry mini check pique vinaysa scarf.
More new tonight