Tonight's upload was a little on the smaller side, so not too much excitement on my end.  This post'll be relatively short to reflect that.  I expect we'll see a bigger influx next week with the start of September!  Bring on the new colors.
New heathered fatigue green cool racerback.  US only.  This is a nice color, but I'm gonna pass on it.  No CRBs for Canadians this week.
4 colors of the lighten up bra are up in the US.  There's been a lot of anticipation for this bra, it seems.
Mini pop stripe mink berry speed shorts are in the US.  The more I look at these the more the pizazz accents look out of place to me.
The bolt sweatpants made their North American debut, including coast camo.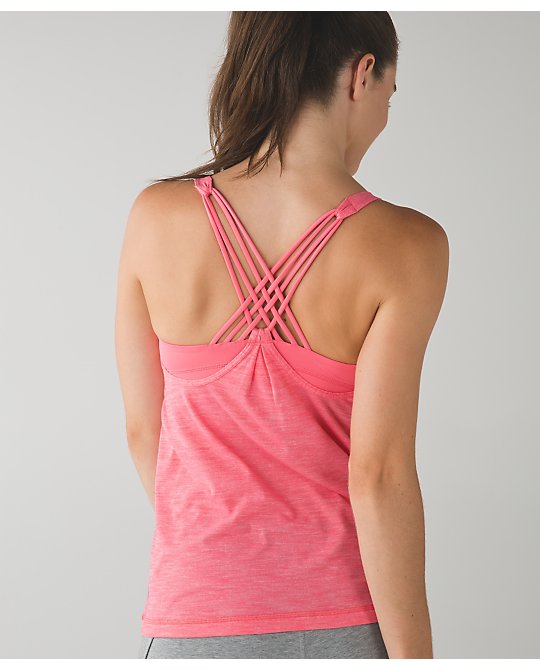 A few sunset salutation things uploaded.  Lots of colors of the tank shown here plus the long sleeve are both in Canada only, plus the crops and shorts are up on both sides.
Canada got the re-release of the ghost manifesto scuba hoodie (that's the ii, not the iii). Still no sign of the cranberry check scuba, though.  Also, Canada got a rocky road sand due/storm grey scuba as well–is rocky road coming back?
Canada also got these hi-rise herringbone wunder under pants.  The crops were up before, but not these pants I don't think.  Canada also got hi-rise cranberry snake and (solid) sapphire blue WUP.
Other upload notes
A couple random "old" colors showed up, including a jeweled magenta in flux jacket and harbor blue seva sweater. It's a shame the seva sweater has received such poor marks, because the blue is so nice. Both of these are US only.
The wine berry/bordeaux tie dye in the flow crops are in the US.  Based on what we love last week, I was expected that the blue tie dye would accompany it, and maybe the ebb to street pants too, but these were the only tie dye to make an appearance after all.
The fluffiest vests are now in the US.
The sapphire blue space dye twist wunder under crops are up in the US.  I thought these were up before, but maybe I'm getting my wires crossed with Canada.
Interesting new ombre (ish?) metallic love tee in the US.
If the store pics last week piqued your interest, the pipe dream blue sweaty or not bra is up.
For run times fans: US got the pipe dream blue snake print on the run times shorts.
The beyond boundaries pants are in Canada now, too (US last week).  I haven't heard much about these.
Scuba iii fans: nice and basic heathered naval blue scuba hoodie iii is in the US.
The butterfly and fatigue snake free to be wild bras are in the US.