Welcome to this week's lulu upload: where everything is made up and the times don't matter.
Upload was somewhere in the neighborhood of noon Pacific today because…why not I guess?  The times have been creeping up earlier and earlier the past couple of months, from the official time of 4:15 to 3:45, then earlier again to about 3:15, and then today jumping back several hours.  My knee-jerk reaction is that it's a little bit annoying for it not to be predictable, but to be honest, nothing really sells out quickly anymore, and even fewer things sell out quickly that I would actually want to buy, so in practice it doesn't make much of a difference to me if I don't see upload the minute it happens.  It's actually kind of nice not to have to stress about the time.
As for upload itself: the new lululemon pants collection/marketing strategy debuted today.  Everything now is based on sensation: held-in, tight, hugged, naked, or relaxed.  I really, really don't care for how they've gone about this feelings/sensation thing.  If I was new to lulu and an educator came up to me asking how I want to feel while wearing pants, I would feel pretty weirded out and uncomfortable, especially if they asked me if I wanted to feel naked.  Uhm, no?  Can I #choosefeeling not to feel awkward about my pants-buying experience? (Side note: why can't it be choose a feeling, choose the feeling, or choose your feeling? "Choose feeling" is not a thing.) The whole campaign feels very wishy-washy to me–it feels like it's been marinated in a little too much lulu kool-aid. (Caveat: I'm a scientist and pleas to "feelings" ring hollow in my cold, dead heart–hah.)
That said, there is some redeeming value to the campaign in that it does help to point out that not all fitted pants are created equal.  That differentiation has some legitimate merit to it, but the language its couched in just comes off as kitschy and lame.  I think what would provide the same valuable information while still sounding a little less cheesy would be to provide two lines for product information: fit and feel.  The fit could be categorized as "tight" for several kinds of pants, but then the feel might be different: lightweight, compressive, etc.
All that said, I do 95% of my shopping online anyway, so I can basically just disregard and move on with my lulu shopping life.
Also: is it just me or do all the thumbnails of the featured pants today look remarkably similar?  I'm having a hard time keeping track of all the new styles, especially since most of the featured photos are black and from far enough away that you don't see any detail.  They're also all yoga poses, which doesn't help to quickly and visually differentiate the use of each new product.
Anyway, enough with the prologue, here are the new pants and such:
The align pants are already getting quite a bit of hype due to the fact that they're made of a brand new fabric: nulu.  So far I've heard that nulu is lightweight, super-soft, and not sheer.  It is not compressive at all, though, so be aware of that.  I'm curious to try this new fabric, but I don't have much interest or need in solid black right now.
The all the right places tight and crop mix full-on luxtreme and regular luxtreme panels and are on the maximally compressive side of lulu's new compression/fit scale.  The full length pants look remarkably like speed tights to me.  I'd be a little surprised if they ditched the speed tights, but they do seem awfully similar.  These are pretty steep at $118 and $128.
The tight stuff reflective tights have a lot of features, but a lot of sticker shock to go along with it.  These 7/8 luxtreme pants will run you $148.  The features include side dot reflectivity, scalloped hem, and the usual running bottom features like the zip pocket, drawstring, and seaming.  They don't have a side pocket and are categorized as "tight", which is a firmer fit than wunder unders but not ultra-compressive.
The zone in tights are another "held-in" fit, meaning they're supposed to be more compressive.  There's also a crop version of these.  They're made of seamless material, so I'm guessing they'll feel similar to the sculpt shorts.  The waistband makes them look a bit like control-top tights, but…I guess they kind of are?  So.
This new daily practice jacket has been in stores for a few days and was also sneakily uploaded to the Canadian side a couple days ago.  It's so pretty in sapphire blue, but I've had poor luck with jackets like this.  Sapphire has already sold through most sizes in the US!
Speaking of sapphire blue: pretty scuba hoodie iii in sapphire from Canada.
Ultra violet is reappearing in more items than I would've guessed.  Here it is in a new stuff your bra for Canada.  Still no stuff your bras in the US.  I can't see the rationale for why lulu's buyers would think Canadians would love this style so much more than Americans.
The regal plum cool racerback is back in Canada.  Ummm huh?  This is definitely not old stock, because the logo on this one is reflective instead of plastic.  It's a bummer that lulu has skipped out on so many beautiful potential CRB colors and has instead done lots of similar (or even identical) colors instead.
Canada also got the windy blooms sapphire cool racerback.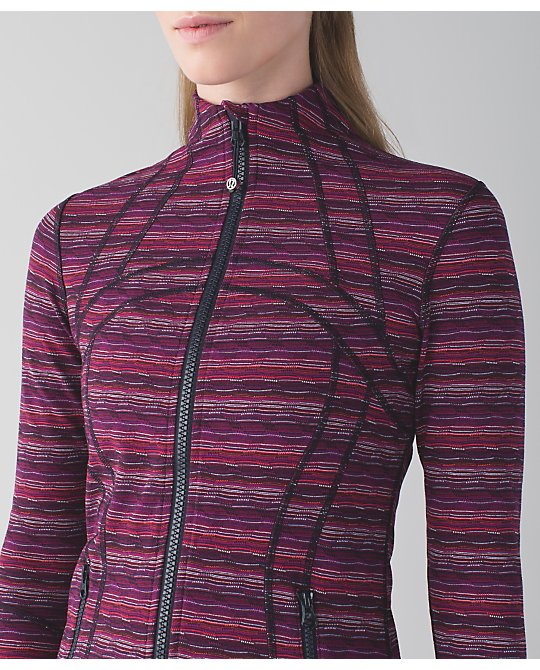 Canada got this new space dye twist regal plum alarming define jacket.
Sculpt tank fans, be on the lookout.  This pic is from the cardio cross trainer headband product page, but shows what looks like a static sculpt tank.
New sweaty or not kit, designed to hold toiletries and other essentials for the gym.
Other upload notes
The lumberjack/cranberry camp check scuba hoodie ii dropped in Canada after a couple weeks of lagging behind the US.
Another thing that Canada was lagging behind on: the herringbone vinyasa scarf.  I felt this in stores and didn't find it to be nearly as soft as last year's.
The lighten up bra is now in Canada.
More in Canada: the heathered ultra violet high times pants.
The stuff that secretly (accidentally?) uploaded a couple days ago is now officially up and in the what's new section.  This includes a new cranberry dot scuba ii and universal wraps in the US.
The bhakti yoga jacket is back in fatigue and black.
New snake pattern in the flow crops: heathered slate on both sides and sapphire blue in Canada.
The twist long line bra is back in Canada in new colors.