Welcome to another week of lululemon upload!  This week we got a weird mash-up of both summer and winter extremes, with everything from bright whites to cozy textures and fluff.
Look what finally happened: white speeds!  I really wasn't expecting them this year.  Not sure if I'll be getting these, but given how many people have been looking for them I'll probably need to decide quickly.  These are only in the US right now.  There are also white run times for those wanting a little more length.
More new speeds: pink lemonade.  These look really long in the back on this model.  Also, the little zipper accent is missing in this pic.  Weird.  Butterfly speeds are up on both sides, and Canada got solid cranberry.
Interesting new high times pants *metta.  Not sure what the metta refers to–another capsule coming with similar styling?  The styling reminds me a little of Michi's hydra crops, just not so colorblock-y.
Textures are back!  Here's some new coco pique hi-rise wunder under pants, dark slate pique high times pants, and hi-rise herringbone wunder under crops.  I've heard that coco piques and herringbone are in stores.  Coco pique and herringbone are Canada only, dark slate pique is on both.
New trail blazer crops–mini pop stripe here.  These have a big mesh panel on the back, a little reflectivity, and pockets at both the sides.  Interestingly, the mini pop stripe is only $88, while the full-on luxtreme blue snake version is $98.  I guess it's an upcharge for the print, but I would've thought stripes would count as a print.  Maybe the full-on luxtreme is the other factor there.
This fatigue ziggy snake/pizazz free to be wild bra really reminds me of hunting gear.  I guess if you're into that kinda thing?  This one's now in Canada along with blue ziggy snake and so fly butterfly.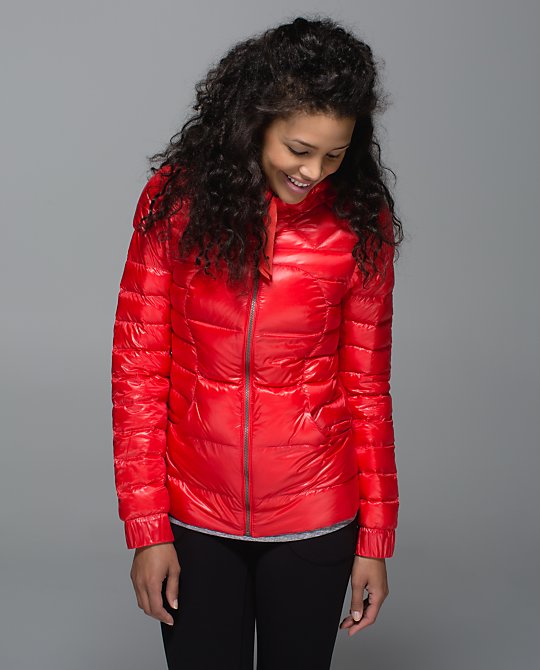 Canada got fluffs this week, including this alarming fluffin' awesome jacket and two other colors.  They also got 3 colors of the fluffiest vest.
New color of the coast wrap: chalky rose.  Just for Canada right now.
Also in chalky rose: new beyond boundaries tank (plus 3 other colors).  You have the option to tie the back.  These tanks are in the US only, and the beyond boundaries pants are up too.
There was a random reappearance of the ace tennis capsule, including this pipe dream ace skirt.  This bit of color is nice since the first release of the ace collection was only black and white, though this is the only pipe dream item right now out of the 3 pieces.
Other upload notes
The pink lemonade and blue snake cool racerbacks are both up in the US.
The go the distance jacket, vest, and 1/2 zip are up.  The 1/2 zip is US only for now.
Cute new pace rivals in black wee stripe.
A mystic jungle cotton vinyasa showed up on the US side.  Where did this come from?  It was around ages ago in Canada.  Literally, more than 6 months ago.
Canada got a new breeze by long sleeve style made of x-static/silverescent.
In addition to the regular rise WUC iii, I was surprised to see that Canada also got space dye twist sapphire wunder under crops in hi-rise.  It's always weird to me when they make a bunch of variations that are nearly identical of some print, but then don't do something that seems obvious like a harbor blue cool racerback.
Still waiting on some of those recent, pretty stuff your bra colors in the US.  Also, still no pretty plume rolldown wunder under pants.