Well…I'm kind of eating my words today.
If you've been following my review posts for a while, you might remember that I hated the align pants when they were first released last fall.  It was hard to find anything I like about them at the time.
But, since they've become some of the most-loved pants in the lululemon world, I decided to give them a second chance.  A few months ago, lululemon updated the align pants plus released a cropped version.  I figured both of those updates would be pretty good reasons to try again.  While I still wasn't a big fan of the revised align pants, I ended up really liking the align crops.  The align pants are loose around my ankles and look a little awkward on me.  The crops, on the other hand, have an elongating, flattering fit that I like.  And, I've finally come around to the comfortable fit and feel of the nulu fabric.
At the time, there weren't any colors that were a must-have for me, so I waited around for something I loved.  Finally, my wish came true when these new alberta lake align crops popped up.  Alberta lake is a gorgeous dark teal shade, though not as dark as nocturnal teal, lulu's other deep teal for the fall.  It fits right in with my color palette.  Just this week, a brand new black cherry align crop came out that I'm tempted to get, too.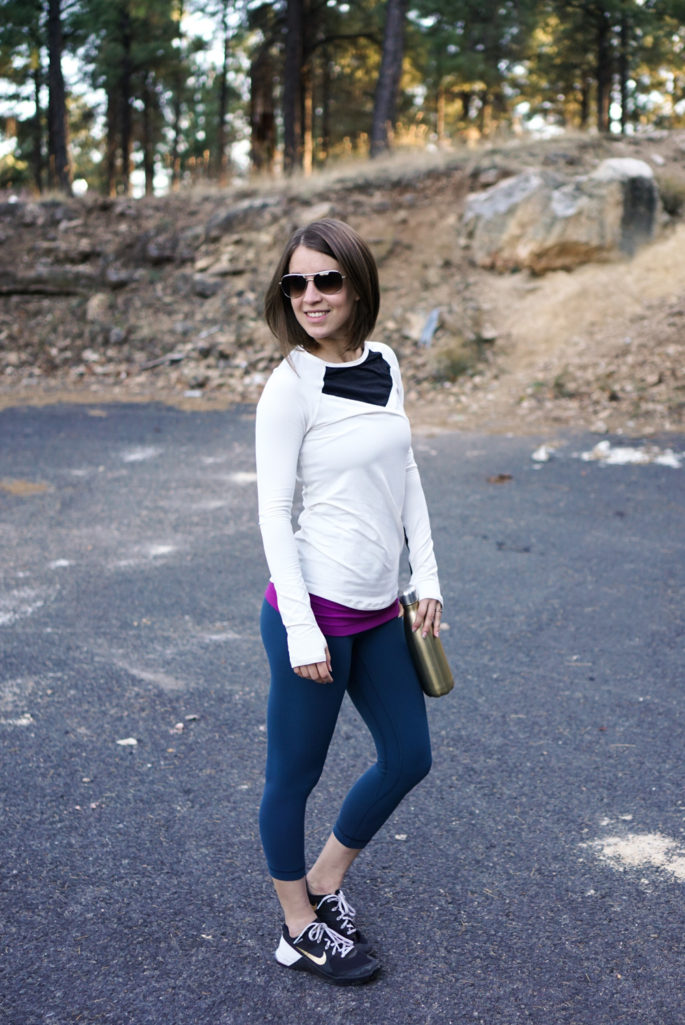 The align crops are a basic pair of crops that work best for casual wear or low-impact workouts.  They have no compression, so I wouldn't wear them for things like running or CrossFit.  Compared to wunder unders, aligns have less compression and a more revealing fit.  While wunder unders are usually luon or luxtreme, aligns are made of nulu.  Nulu is a fabric that has a smooth face that doesn't quite feel cottony, but doesn't feel slick and "athletic" either.  It's thin, lightweight, and very breathable.  One more difference is that the aligns have a gusset that extends down the leg, instead of just a small diamond like wunder unders.
Another key difference is that aligns will show just about everything, which is what I meant by a "revealing" fit.  That means you'll need seamless underthings if you're not brave enough to go without, because anything else will definitely result in VPL.  Wunder unders are generally better for holding you in and smoothing everything over.  Speaking of what's underneath, these were very slightly see-through in a squat or bend on me.  If you'll be getting bendy in these, make sure you check the rear view first.  I'll be sticking with dark or skin-colored underthings.
In terms of sizing, I purchased my normal lululemon size (2) and I'm happy with the fit.  The rise is quite high, landing right at my belly button.  Although the align crops are listed as a 19″ inseam, they stretch a lot vertically when you put them on.  While I'm wearing them, the inseam actually stretches to measure 21″, which hits just past the meaty part of my calf.
Overall, I'm happy with my new aligns so far.  As of this writing, the alberta lake aligns are still available in all sizes.
Also wearing:
Alala run crew in winter white (15% off: AA15)
lululemon cool racerback in regal plum
Nike metcon 2 shoes
S'well water bottle