Lululemon has been dropping a ton of styles in their new special edition print: dottie tribe.  It's a hand-drawn pattern with a ton of detail.  I jumped right on the dottie tribe bandwagon!  It has all the things I love in a pattern: geometric yet feminine, neutral, detailed, and unique.  This pattern is lululemon at its best, if you ask me.
I picked up a pair of the wunder under pants as well as the speed shorts.  Here's what I thought of both.
Dottie tribe wunder under pants
The dottie tribe wunder unders are the crown jewel of the dottie tribe lineup.  While most other items feature the floral print all over, these pants mix sketched horizontal stripes with the flower print splashed across the sides.  The premium print also came with a premium price tag: $128 instead of the usual $98.
This particular version of wunder unders is made of luxtreme fabric.  I like luxtreme because it has a more compressive, cool feel against the skin.  It also repels pet hair, which is pretty important in my house!
I bought these in my normal lululemon size.  If you are between sizes, it's probably safer to size up unless you're comfortable with a very compressive fit.   The dottie tribe wunder unders are a little bit tight to put on, but once they're on, they fit like a glove.  In my true size, these are pretty firmly compressive but not constricting at all.  They are, of course, ridiculously long on me with a lot of ankle bunching at the bottom, but I wouldn't dare hem these beauts.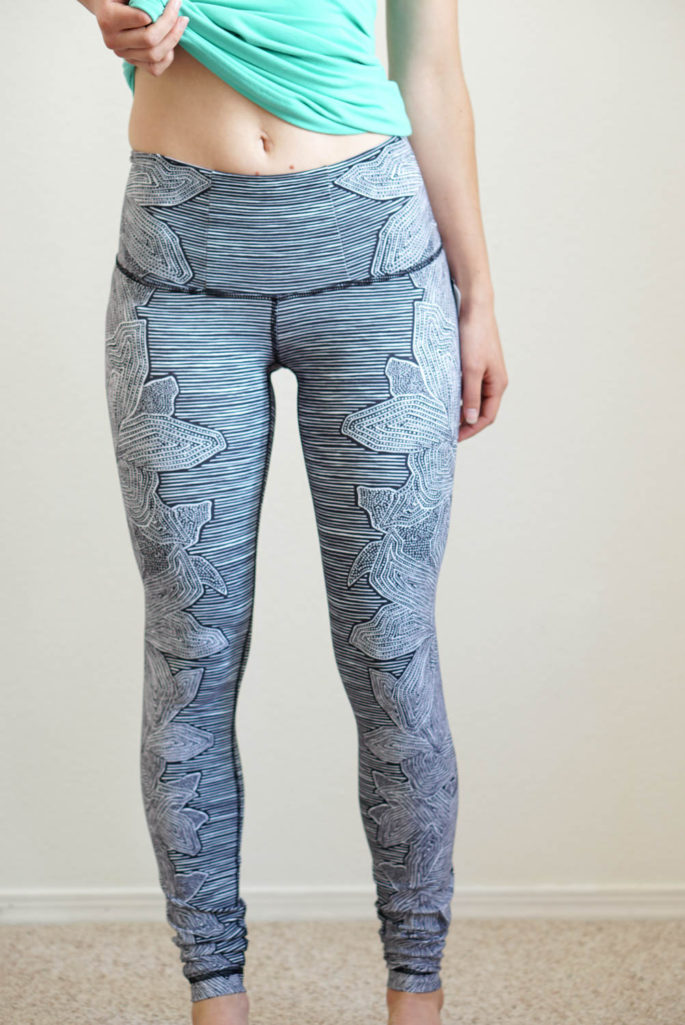 These leggings are a high rise with a wide top waistband.  Instead of the usual seaming at the sides of the waistband, lululemon sewed the waistband seams closer to the midline.  Instead of making the waistband from 2 panels like most wunder unders, these have 4 panels.  This way, you can still get the floral side pattern all the way up the sides.  Clever move, lulu.  The pattern doesn't match up perfectly at the seam that connects the leg panels with the waistband panel, but I'm ok with that.
The high rise comes up just a little bit below my belly button.  You can't really roll these down because there is a pocket sewn inside, which is visible when the waistband is folded over.  There's no seam on the top of the waistband, which makes the high rise especially comfortable.
Here's the pocket on the inside.  The layer of fabric it's made of is pretty thin, so if you put something like keys or a card inside, it might poke you a bit.
I'm guessing that  the higher price point on these is due to the modifications of their usual pattern (which, as I understand, is a lot of extra work for a clothing company), plus the fact that this print is laid out differently on these pants than on any of the others.  Also, because the pattern is on the sides only instead of all over, I'm guessing more fabric had to go to waste in the manufacturing process.  Obviously, more waste drives costs up, too.
Now for the bad news: these are a bit see-through in a bend.  The striped pattern does help to distract the eye, but you could definitely still see some underthings.  I recommend skin-colored underwear for these.  The pattern whites out a little bit when stretched (i.e., in a bend), but since there is so much white in the pattern, it's not as noticeable.
Despite their premium price tag and the opacity issue, I decided to keep these for now.  Since they sold out so fast, I don't think I'll have a problem recouping most of my cost if I fall out of love with these later.  They are just so beautiful and unique that I can't help but love them.
Dottie tribe speed shorts
The dottie tribal print is one of the few pairs of speed shorts that I've loved this season.  I love black and white print shorts, since they look sleek and stylish with just about every color in the rainbow.  And, these are way more fun than just solid black and white.
The fit is true to size compared to most speed shorts, in my opinion.  I got my normal lululemon size and they fit me perfectly.  I didn't have any issues with these puckering, flaring, or pulling anywhere.
These are 4-way stretch, meaning they have a lot of give in all directions.  I love wearing 4-way shorts for casual occasions like hanging around the house on weekends or running errands.  Since I'm on the petite side, I like the short length and tailored fit of speed shorts.  They cover what needs to be covered, but aren't so long and baggy that they makes my little legs look stumpy.
I wasn't at all picky about pattern placement with these.  I think they look great no matter what placement you get.  Since these are monochrome, you don't have to worry about getting the right distribution of color. (Note any variations in color you might see in these pics is just from my perpetual struggle with the lighting in my house, not the color of the shorts themselves.)
It's safe to say I'm head over heels for these shorts.  They're probably my favorite lululemon purchase in a long time, and I'm sure I'll be reaching for these regularly for the rest of the season.
Where to find dottie tribe
Unfortunately, the dottie tribe wunder under pants have sold out online.  As of this writing, a few are still lingering in stores, so check near you if you're interested in a pair.  Otherwise, resale sites such as eBay or Poshmark will be your best bet.  But don't fret just yet!  Many styles were made in the dottie tribe print, so check lulu's website or stores to see if there's another style that makes you happy.
The dottie tribe speed shorts are still available online as of this writing.