Free to be serene bra
Lululemon doesn't offer many sports bras for larger cup sizes, and when they do, the designs tend not to be too exciting.  I like the free to be serene bra since it's a cute, strappy design made with somewhat larger cup sizes in mind.  I bought one to try in basic black since I've found myself looking for black bras in my drawer a lot lately.
Lululemon advertises this bra as light support for a C/D cup, which I agree with.  It's not supportive enough for high-impact endeavors like running.  It's very comfortable, though, which has made it one of my favorite options for low-impact days.  I wore this on on my red-eye flight to Ireland a couple of weeks ago, for example.
Mine is a size 2, my normal lululemon bra size.  I wear a 30DD in regular bras, but because of my small band size, designs for C or D cups usually work for me.  The free to be serene fits just a touch looser than my energy bras of the same size, but not enough that I would size down.  The band is wider than the regular free to be bra, but not quite as wide as the energy bra.
The front of the bra has a subtle V-neck that's flattering for fuller busts.  The bra doesn't dig in at all and is very comfortable.  The sides of the bra under the arms are cut a bit low, though, so watch out for potential spillage.
The one downside of this bra is that the back straps are a bit loose, which is why it's only light support.  I'm not sure if it's because the straps are cut too long, or if they're too thin to firmly hold up the weight of the bust and therefore feel loose.  Compared to my energy bras of the same size, the straps on my free to be serene bra are slightly thinner and stretch a little more easily when you tug on them.  If you find most bra straps are too tight over the shoulders, this one might suit you.
Overall, I like my free to be serene bra and (obviously) decided to keep it.  But, since it only works for low impact, I most likely won't be amassing a large collection of colors.  For that, I'll be sticking with my energy bras.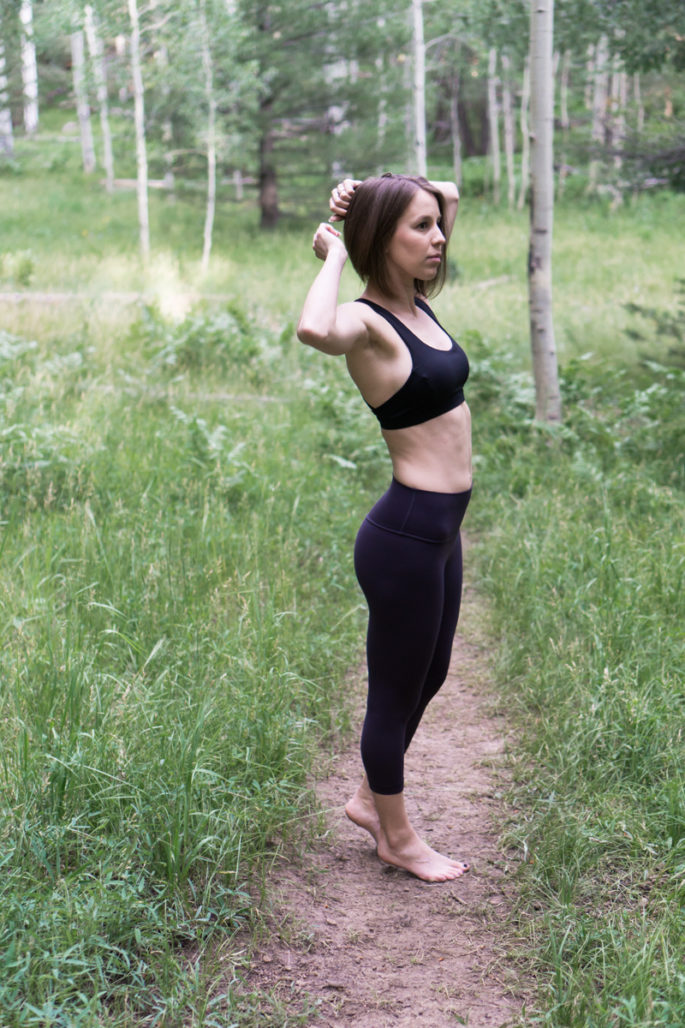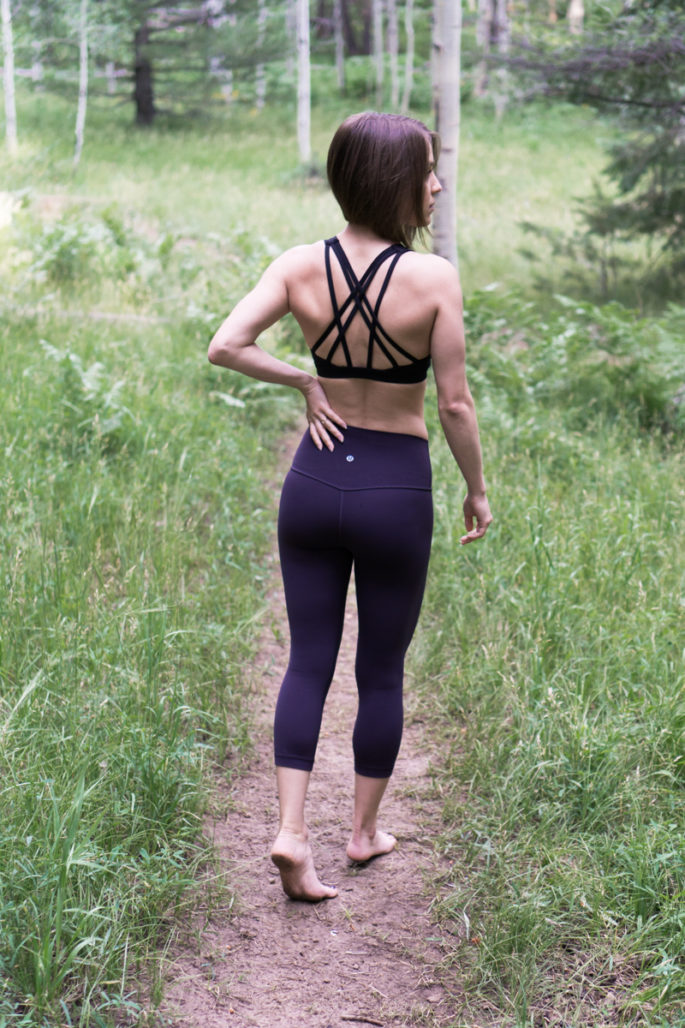 Align crops in boysenberry
It took me a while to come around to aligns.  Even though they'd been out for quite a while, it took me until last fall to finally buy my first pair in alberta lake, which I talked about here.  Now that I've had those for a few months, I felt confident enough about liking them to buy my second pair in boysenberry.  I prefer the crop length over the pant length since I find them more flattering for my body type.
I love boysenberry, which is a deep, rich purple very similar to lululemon's black grape.  Boysenberry is just a tiny bit lighter.  Besides being beautiful, deep, saturated colors like this suit every season.
Like my alberta lake aligns, my boysenberry pair about 90% opaque, but not perfect.  I prefer to wear dark or skin-colored underwear since there's some risk of show-through in a bend.  However, many women seem to find them 100% opaque, so your mileage may vary.
I wear align crops in my usual lululemon size (2).  Some women prefer to size down, but I like how mine fit in my true size.  Sizing down also can worsen potential opacity problems, so I wouldn't size down even if there was a smaller size available.  As you can see, the rise is pretty high, reaching all the way up to my belly button.  The waistband is balanced nicely so that the high waist looks proportional and doesn't create the dreaded "long butt."
As the "naked sensation" implies, aligns don't have any compression.  The fabric is quite flattering, but it isn't going to hold anything in.  Since it's so lightweight, the fabric is fairly revealing, so you'll need seamless undergarments (or none at all if that's your thing).
Lately, my favorite places to wear my align crops has been my aerial silks class and light/moderate intensity hikes.  For hot days, the breathable, light feel of the nulu fabric is fantastic.  I'm glad I finally have another color to rotate in with my alberta lake pair.
Outfit details
Lululemon free to be serene bra – black
Lululemon align crops – boysenberry