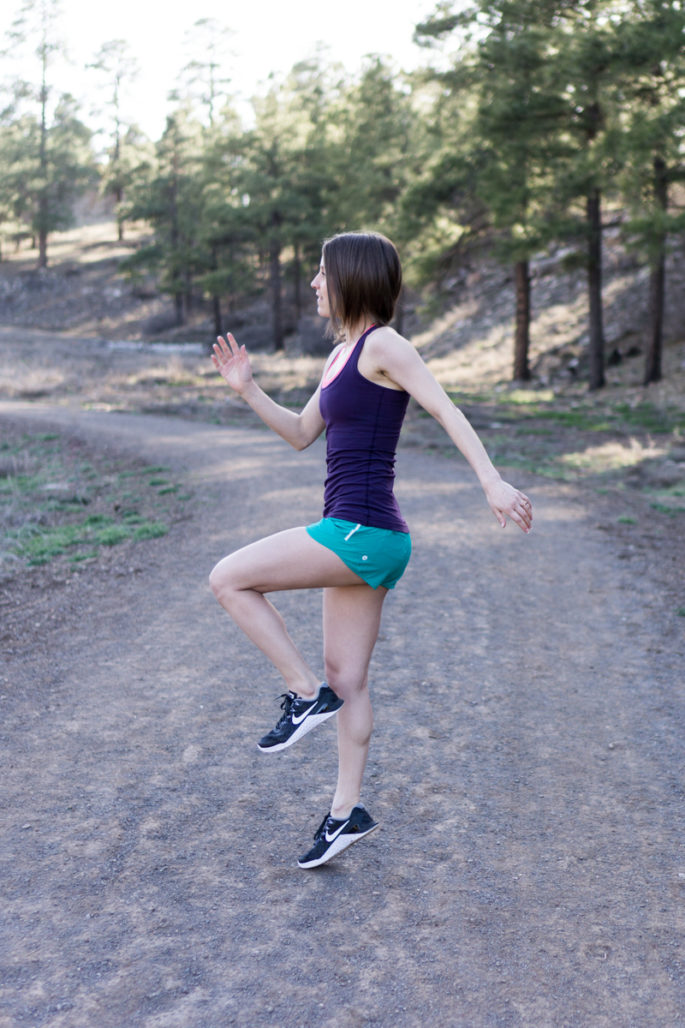 I've been a diehard fan of lululemon's speed shorts ever since I started wearing lululemon.  I have about 20 pairs and seriously wear them non-stop all summer.  Lululemon's shorts category is one of their strongest in my opinion, so I generally expect good things.  Enter the hotty hot shorts.  They've been around for a couple seasons now, but I've admittedly had a hard time breaking out of my speeds comfort zone to give these a proper try.
I finally picked up a pair in viridian green, a gorgeously saturated spring shade.  I absolutely love the color so I decided it was finally time to test these out properly.  Here's my review of the hotty hots as well as thoughts on how they compare to lululemon's speed shorts.
The fabric of the hotty hots is 4-way stretch and therefore completely flexible.  This pair has a very slightly more textured feel to it compared to my solid, 4-way stretch speed shorts, but it could just be this particular color.  The fabric is not noticeably different when worn.  The combination of the fit and fabric can make it prone to creasing/wrinkling when worn, as you can see in the photos, which is not something that happens with my speed shorts but isn't a big deal.
I purchased the hotty hots in the same size as my speed shorts (I'm wearing a size 2), which is the same size I wear in lululemon's other bottoms.  I suggest trying your usual lululemon size.
That said, there are many fit differences versus speeds.  Laid flat, the cut of the two shorts are virtually nothing alike.  Speed shorts have a fairly straight cut that angles outward, while hotty hots have a more contoured, bubble-like shape.  The leg opening of the hotty hots is 2″ larger in circumference compared to my speed shorts (24″ vs 22″ for size 2).
Both shorts are listed as having a 2.5″ inseam, but laid next to one another, the hotty hots are noticeably shorter, probably about 1/2″.  The combination of the generous leg opening and super-short length means these are significantly more revealing than speed shorts.  The contoured sides with mesh details also add to the ultra-short factor.  There is a liner inside (the same as lulu's other shorts) to help with potential wardrobe malfunctions.
All that said, lululemon does offer a longer version of the hotty hots that have gotten a lot of praise.  So if you love everything about these shorts but the length, or if you're quite tall, give the long version a try.
The elastic waistband looks very small when laid flat, but it stretches a ton.  It has a lot of give to it so it doesn't cut in at all.  In my opinion this waistband is less muffin-prone than the speeds waistband.  The drawstring on the waist is not really something you'd use due to the elastic, it's mostly just decoration.
The hotty hot shorts rise is similar to speed shorts.  You do need to be mindful of where you wear the waistband on your hips, because it's very possible to wear them too high and not keep everything covered.  I took these on a hike last week and at first I wore them too high, so I had to adjust the waist a bit.  They need to be worn medium/low for coverage, as I'm wearing them in the photos.  If you want to wear them any higher, you'll probably need to try the long version.
Lululemon also recently released the hotty hot ii, which ditched several of the design elements.  There's no drawstring on the updated version, the side reflectivity detail was switched to a more subtle stripe on the leg, and the back zip pocket was moved to the side.  It's not clear whether the original hotty hot will be phased out in favor of the new version, but if you like the details on the original shorts, now's your chance!
In my opinion, the fit of the hotty hots is particularly flattering to athletic figures.  The bubble shape accentuates the hips, so if you want the appearance of a bit more booty, these shorts might deliver.  And on a more practical level, if you have a straight, muscular figure, the extra room through the legs might be a big plus.  On the other hand, if you already have a curvy figure or full hips, don't expect these to downplay that feature.
I have a petite yet somewhat curvy figure and my hips are my most full feature.  The fit of the hotty hots is a totally different look versus speed shorts–definitely not what I'm used to!  The effect is a little less elongating.  That said, they're still very cute.  For comparison, you can see how speed shorts look on me here or here.
In terms of color, viridian green is a gorgeous teal shade that's basically a creamier version of emerald.  It's quite a bit darker than lulu's menthol and bali breeze.  I would call viridian more of a jewel tone.
Functionally, the hotty hots are very lightweight and therefore excellent as running or training shorts in hot weather.  Due to the low coverage, I would not recommend lifting or anything where you'll be bending or squatting.
Overall, these are a great pair of shorts that are popular for good reason.  I'll be honest, I'm still partial to my speed shorts for their fit and look, but if you're not a speeds gal, give these a try!
Outfit details
Lululemon hotty hot shorts – viridian green
Lululemon run stuff your bra – classic stripe/flash light (past season)
Lululemon cool racerback – deep zinfandel
Nike metcon 3