Lululemon first released neon pink two years ago, but not much was made in the color.  I remember thinking, man, I'd love some speed shorts in that color.  Sometimes lulu dreams do come true!
I've tried a couple of speed shorts this season, but none of them quite worked out.  Neon pink is the first pair this year that I've bought and kept!
Let's start with the fit.  Neon pink is made of lululemon's 4-way stretch material.  Initially, I found that they felt slightly tighter than my older 4-way speeds, but not enough to size up.  After wearing them, they seemed to relax very slightly.  I purchased these in my usual size 2.  I also tried a size 4, but they looked droopy and sad.  4-way material is comfortable even when it's a little tight, so I prefer to err on the side of slightly tight than big.  After having worn them, I'm definitely glad I went with my true size instead of sizing up.
Also: shout out to lululemon Biltmore in Phoenix.  Since the fit of speeds generally varies slightly from pair to pair, the educator at the fitting room, who also happened to be a knowledgable speed short junkie, grabbed every single pair of neon pink they had in a size 2 and 4 for me to try (including the pairs in the back!).  I ended up trying on 9 pairs!  I don't mess around when it comes to speeds.
Neon pink is an awesome, bright shade of pink.  It's in the warmer, coral-toned family of pinks.  If you have a little bit of a tan, this color will accentuate it.  Note that the color appears slightly washed out in these photos.  The color comparison photo at the end of this post is a more accurate representation.  Lulu's stock photos are also pretty accurate.
I already wore these out for a trail run and washed them afterward.  I washed them in a load with other pinks only since bleeding is always scary with brights (I have a lot of pink).  I didn't have any issues washing it that way.
A frequently asked question about neon pink is how it compares to other pinks.  I lined it up with a few of mine: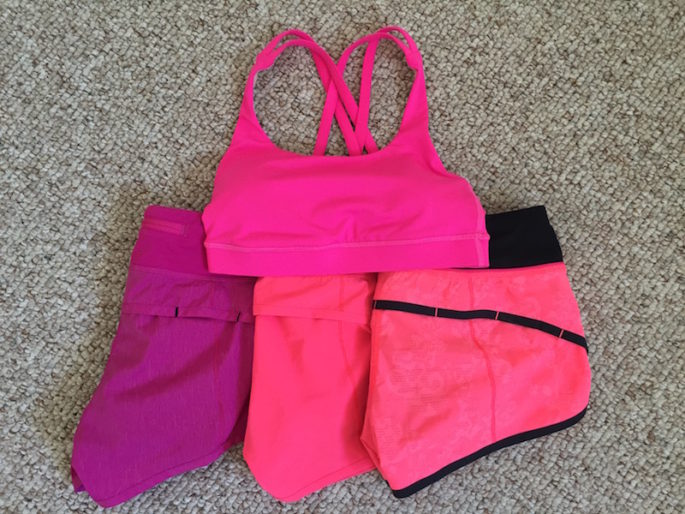 You're looking at (L-R) heathered paris pink, neon pink, flash jacquard, plus an energy bra in raspberry glo light on top.  This photo was taken in natural light.  I saw boom juice speeds next to neon pink in stores, and although I don't have a photo, boom juice is much more reddish than neon.  In my opinion, neon pink is closest to flash than any other color.
The true color is a bright coral-pink.  As you can see in the comparison, it doesn't have the purple or red undertones of other pinks.  Instead, its more of a warmer pink with strong orange undertones.  That said, when you look at these by themselves, they do look undeniably pink, not orange.
As of this writing, neon pink speeds are still available online in all sizes.  You can also find them in lululemon stores.