Happy New Year!!  I hope you all had a great time celebrating.  I popped inside a lululemon store this week to check some things out.  Here's a rundown of a few recent (ish) releases.
Reviewed in this post:
Pace queen tights – bordeaux drama
Sunshine coast LS – heathered medium grey
Sweet savasana pullover – bordeaux drama
5 mile long sleeve – tiger space dye black/white
Runderful 1/2 zip – mini check pique hunter green
For reference, I am 5'3″ and typically wear a lululemon size 2 in both tops and bottoms.
Pace queen tights
The pace queen tights are mostly basic technical run crops, but with some nice details.  I like the contrast piping they added in around the waistband.  I also like the side stitching and ankle accent.  These tights incorporate some nice detail without going over the top.  As far as function goes, the one thing these are missing is side pockets; the side accents are just plain seams.
These luxtreme crops fit just about like any other luxtreme run crop; I'd say they're true to size and provide light to medium compression.  I really like the mesh and reflective ankle accents, but the ankle didn't fall quite right on me.  It was baggy and wrinkly from being just a bit too long.  These are designed to be full length, but aren't as long as something like wunder unders.  I think these would be ideal on someone a couple inches taller than me, since they'd fall just above your ankle.  If you're quite tall, they'll definitely be 7/8 on you.
Sunshine coast long sleeve
As others have noted, the boolux fabric on this one isn't all that thick.  It's thicker than a plain tee, but I wouldn't go so far as to say it's in sweater territory.  The fact that you can see the outline of my sports bra drives home this point.  That said, it's very soft.
The fit is pretty good.  It's a tad loose in the waist, but that's not that weird or bad for a sweater-ish top.  You could probably size down if you want a tighter look.  I thought the curves at the bottom hem looked really nice, and I really liked the length.  The whole look is similar to the cabin yogi long sleeve from last year.  This year's is a little less form-fitting, though.  It's cute, but too thin and too expensive to be worth it for me.
Sweet savasana pullover
In contrast to the sunshine coast above, this immediately felt noticeably heavier.  Not only is it literally much heavier (in part due to the longer length and added hood), the boolux fabric is a bit thicker too.  This is good, considering it's $20 more than the sunshine coast.  The fit on this is quite relaxed, but I didn't think it looked bad in my true size.  I'd say try a size down if you want it to be a little more fitted.
The thumbholes on these are covered by a second layer, which is a nice feature for when you're not using them.  The length is quite long, enough to almost totally cover my bum.  There's a little bow at the bottom hem, which isn't for me, but it's a cute detail for those who like it.
Overall, not a bad choice if you're looking for a cozy lounging or post-yoga layer.
5 mile long sleeve
I've never been a huge fan of seriously light luon tops, so my expectations going into this try-on were really low.  That said, I was pleasantly surprised by this top. The fit is great: form-fitting and flattering without being too tight.  The length is comfortable, hitting at the high hip.  It's shorter than a swiftly long sleeve, which is fine by me since swiftlies tend to ride up and bunch on me.  The back seaming, side hem contour, and ruched detail are nice touches.
When I felt the solid colors that they had in store, they were like the usual seriously light luon found on tops like the what the sport singlet.  I'm not a huge fan of that look or feel.  The tiger space dye, on the other hand, is just wonderful.  It's lightweight but so very soft.  It doesn't look or feel as much like a technical long sleeve as the other tops, which would make this easy to wear anywhere, and just makes it feel really nice.  The light color I'm wearing here is a bit see-through (you might be able to notice it's a bit darker where my sports bra is), but not so bad I wouldn't wear it on its own like this.  Also: this color looked really nice with bordeaux.
Overall, I really liked this top, but not a $78 kinda like, so I left this one at the store.
Runderful 1/2 zip
After a disappointing first round of rulu with the kanto catch me line, I had been hoping for an improvement with the runderful line.  When the runderful first came out, I admit I was pretty underwhelmed.  But, I'm pretty much always up for trying on rulu things, so I grabbed one anyway.  Plus, it was on the markdown rack, so I was basically obligated.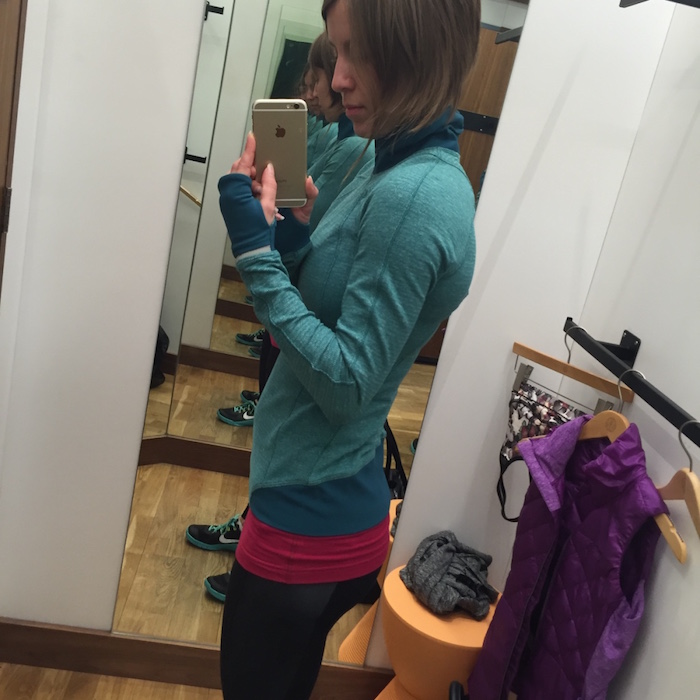 My main beef with rulu tops this year is that almost all of them have felt thinner and scratchier than the rulu of years past.  Fortunately, the mini check pique is actually not too bad.  It's very, very soft, and while it might be a little thinner than previous iterations, it's not egregiously thin.  Overall, I was pleasantly surprised with the fabric. (It's kind of sad that I'm pleasantly surprised when something doesn't suck, but I digress.)
The design of this top is basically like a cross between this year's kanto catch me 1/2 zip and the old inspire 1/2 zip I have.  The top panel around the chest uses a lot of the same seaming details as the kanto line.  The seaming is my least favorite part of this top, partially because I don't think it makes the top look any nicer, and partially because it's just too many panels.  And by that I mean it seems like the general chest area doesn't sit quite as nicely flush and is just slightly lumpier when it's fully zipped.  It's subtle, but just seemed ever-so-slightly off.  Likewise, I noticed the area at the small of the back can sometimes pucker out.  Not a big deal, just something I noticed.
Another important functional note: there is no zipper garage.  They used an invisible zipper, which may have something to do with that choice.  To compensate for the lack of garage, the zipper does not come up all the way, making a small "V" at the collar.  I didn't find the zipper to be noticeable or rub anywhere in the time I've worn it yet.  The one nice thing about the zipper ending lower is that the "garage" doesn't bump up against the bottom of my chin all the time when fully zipped.
I actually ended up buying this one since it was on markdown.  I'd be hesitant to pay full price for this, but $69 was good enough for me.  Apparently my resolve against markdowns is much worse when I'm in a store and have a gift card.
Slight aside: I also caved and bought the snow amazing mittens on markdown, too.  The sherpa is magnificent.  I don't really have a properly warm pair of gloves, not to mention gloves always seem to fit weird on me anyway and are almost always disappointingly Not Warm.  Fuzzy mittens it is!  This is reason #2 I'm not to be trusted when cold and in the presence of markdowns while armed with a gift card.