SeaWheeze weekend is in full swing!  The SeaWheeze store opened up early this morning for runners and other shoppers to get their paws on some lululemon goodies exclusively available at SW this weekend.
A lot of this year's styles were very similar to last years, just different prints.  There were only a handful of prints this year: stripes, squiggles, the confetti/bacteria/pill shape, plus the oh-so-divisive beetle print.
Speeds haul plus a really cute squiggle stuff your bra. [Thanks to Agent A #1]
What the sport singlets made their SeaWheeze debut this year.  You're also looking at a lightened up singlet and a white/grey squiggle textured swiftly.  Also, quite a few version of striped inspires showed up too. [Thanks to Agent E for this one]
Cool racerbacks in prints/stripes and more bug things. [Thanks to Agent S for these]
And a couple more scuba hoodies in squiggles and stripes. [Thanks to Agent S again for these]
Another nice haul, showing some more speeds, another stuff your bra, a green cool racerback (probably one of the best items of the bunch imo), and a tuck and flow long sleeve. [Thanks to Agent A #2]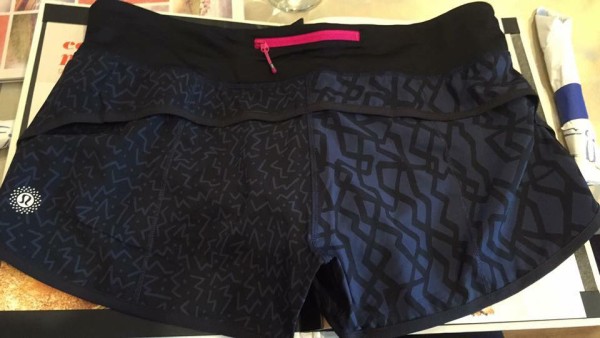 Lastly, quite a few more speed shorts pics.  Lulu always seems to like to do franken-speeds (different pattern on both legs) at SeaWheeze, but I've never quite understood the appeal, personally.  A few people also noted that there were no plaid speeds this year, which have been a SW tradition for years.  I assume this is because lulu has phased out the 2-way stretch fabric, and plaids are *always* 2-way. [Thanks to Agent A #2 again for these pics]
For more SeaWheeze, check out Lulu and the Box's Instagram roundup, or head on to the infamous, inevitable barrage of eBay listings to see lots more styles.
Good luck to anyone running tomorrow!!!