I've been a die-hard wearer of lululemon's 2.5″ running shorts for what feels like forever. This hot pink pair of high-rise 2.5″ speed ups is one of my favorites in a while. I previously wrote a comparison of lulu's original speeds vs speed ups here, which features the low-rise 2.5″ version. Today's post focuses on the high-rise speed ups.
Speed Up Shorts Pockets, Features, and Fabric
The shorts are made of 4-way stretch, a slick-faced fabric that feels more silky and technical to the touch. The stretch offers full range of motion, whether you're running or lifting. Keep in mind that lighter colors, like this pink pair, can show sweat marks. Darker colors or prints are best if you want to avoid visible sweat.
There are two slit pockets in the front of the waistband and one larger zip pocket in the back. The slit pockets actually connect in the front, technically making one super-large pocket with two openings. The pockets are the same width as the low-rise speed ups, but since the waistband is taller on these high-rise shorts, the pockets are significantly larger. With a bit of effort, the back zip pocket is large enough to accommodate my iPhone 11 Pro.
The waistband features a continuous drawcord if you need to tighten down the fit. The shorts also have a brief liner–we'll get back to some notes on that in the sizing section.
As an ultramarathon runner, I have run and hiked untold miles in lululemon's speeds and speed up shorts, including my longest run of almost 9 hours. They have held up to every challenge I've ever thrown at them. These shorts are also very durable: I have pairs that are 10 years old and still going strong. The waistband can sometimes start to get a little bit of a suede texture after many cycles through the wash, but I have never had issues with pilling, snagging, or tearing with the shorts.
High Rise and 2.5″ Inseam Version Notes
I am 5'3″, and I strongly prefer the 2.5″ over the 4″ inseam. With my proportions, I feel like the 4″ just looks a bit odd on me. Some taller gals find the 2.5″ to be a bit uncomfortably short, so proceed with caution if you're long-legged. With the short inseam, you might experience some inner thigh chafing, depending on your body type. I personally use and love Squirrel's Nut Butter for runs over 90 minutes or so.
The high rise version of the speed ups lands a little below my belly button. Laid side by side, the high rise is about 1″ higher than the low rise speed ups. The only difference between the high and low rise versions is just the taller waistband, there are no other modifications. I like the high rise when I want to run in just a sports bra but want a little more midsection coverage.
Choosing the Right Size Speed Up Shorts
Regardless of inseam and rise, speed up shorts generally run a little smaller than other lululemon bottoms. If you are between sizes, I recommend sizing up. I also recommend a size larger than your usual size in lululemon aligns or other nulu bottoms, since those tend to fit more generously.
Beyond that general guidance, sizing in lululemon's shorts is highly dependent on preference. Some prefer a baggier, breezier fit, while others (like me) prefer a more fitted look and feel. Speed ups are designed to fit a little more close to the body compared to hotty hot shorts or track that shorts. If you prefer a seriously breezy fit, I recommend trying one of those styles first. In these photos, I'm wearing a size 4. As you can see, this pair is on the fitted side–a size up would also be comfortable. Fortunately, the shorts allow for some body size fluctuation.
In my experience, you should not choose a size based on how the liner fits. Lulu's liners are cut small, so whether it does or doesn't fully cover your bum is mostly dependent on body type. Personally, even in shorts that are baggy, I still do not get full coverage from lulu's liners. As a solution, some people cut small nicks in the elastic part of their liners to reduce the "quad butt" effect. I'm personally not brave enough to alter my shorts, so I just accept that quad butt happens. Like sweat marks, the visible lines from the liner is less obvious in darker colors and prints.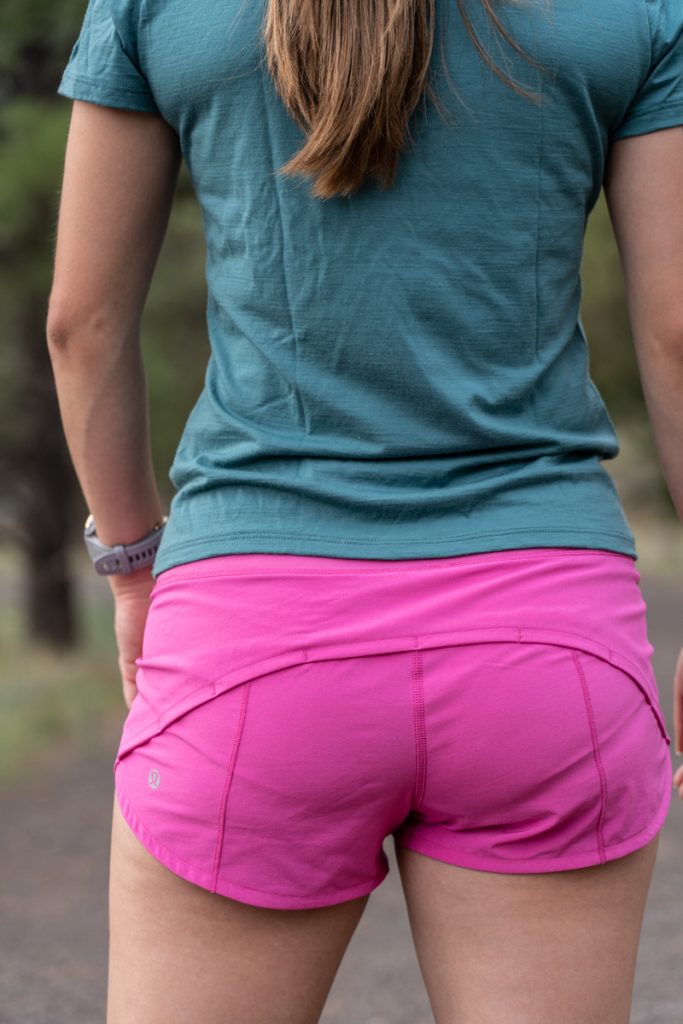 Are Speed Up Shorts Worth It?
In a word: yes.
Lululemon's prices have continued to rise over the years, with speed ups listed at $68 as of this writing–speed up shorts were $58 when they were released in summer 2017, and remained at that price until 2021. Even at the higher price, I believe they are still worth the money. Their superb durability and exceptional performance make these an excellent investment for your running wardrobe.
If full price is a bridge too far for you, I recommend trying them on to be sure of your size, then shopping secondhand on Poshmark. There is a huge market for pre-owned lulu shorts, and many of the shorts in my collection were purchased on Poshmark at about half of retail price.
As a devotee of the original fit, I wasn't expecting to like the higher rise as much as I do. Even out of my vast collection of lululemon shorts, I am constantly reaching for this pair, especially in such a beautiful color. Especially now that lululemon offers 4″ high rise, 4″ mid rise, and the original 2.5″ low rise versions, there's really a speed up short for everyone.
Outfit details
Lululemon speed up high-rise 2.5″ shorts – sonic pink
Tracksmith harrier tee – sea pine
Hoka One One all day hat
Garmin Fenix 6S
New Balance Fresh Foam Vongo v5