Ok, I'll admit it. Despite the few years they weren't popular, I've always had a soft spot for flared pants. I like how they look on me, and so I wasn't exactly mad when more and more of them started popping up. Or, flared leggings, as they've apparently be re-branded by Gen Z? Whatever you call them, I'm wearing them.
I decided to pick up a pair of lululemon groove pants, which have been revamped from the last time groove pants were a staple in lulu's lineup. There have been a couple key changes in the groove redux. First, they're now made of nulu fabric–the same as align leggings–instead of luon. Second, they now sport an ultra-high rise instead of the mid-rise of years past. There is currently no groove pant available in any other rise. Along similar lines, lulu veterans will also recognize some minor changes in seaming. The old groove pants featured a multi-piece blocked waistband plus a seam down the back. The waistband on the updated version has been simplified and streamlined, and the back seam has been replaced with a simple back yoke and side seam.
Without further ado, let's get into the details of the pros and cons of lulu's updated flared pants.
I'm wearing a size 4 in this review, my current lululemon size. I am 5'3″ and normally wear a 29″ inseam. For the purposes of this review, I simply folded the hem underneath itself to an appropriate inseam length for my height. This gives you an idea of what these would look like if they were hemmed.
I bought these pants in bronze green, but didn't love the color in real life. I was hoping for more of a sage green, but these are definitely more of a muted yellow-green. It didn't really work for my skin tone or preferences, but it was still perfectly adequate for reviewing other aspects of the pants.
The sizing fits true to size in my opinion. Nulu fabric has a ton of stretch, so if you're between sizes, you can size down and still be comfortable. I tried the size 2 as well, and while both sizes fit, I preferred the 4.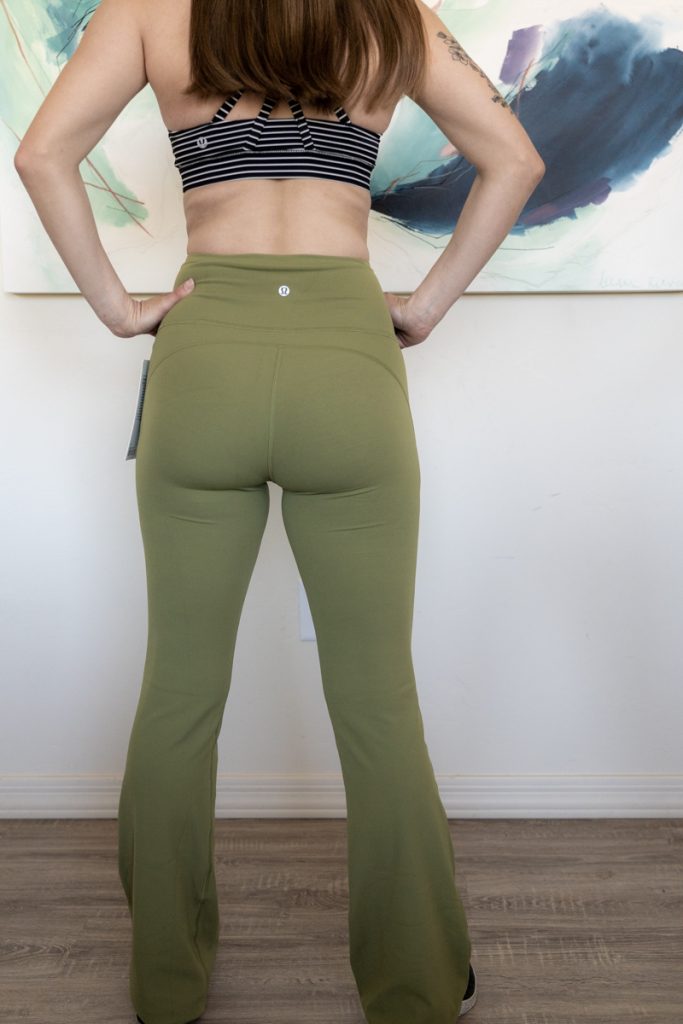 The downside of sizing down, though, is you run the risk of the fabric being more see-through as it's stretched further. This was a major issue I had with these pants. Even without sizing down, they were very much see-through in a squat/bend test, and not in a way that I felt I could work around with skin-colored underwear.
That said, if you luck out with a pair that is fully opaque, the fabric is exceedingly comfortable. It has a ton of stretch and feels light and breezy to wear. That said, nulu is a more delicate fabric that can pill easily and is sensitive to abrasive surfaces, so bear that in mind as a tradeoff for its ultra-comfy, lightweight feel.
In addition to mediocre opacity, I had a couple other fit issues with these pants specific to being petite.
Do the super high rise groove flare pants work for petites?
Lululemon doesn't offer petite sizing since they offer complimentary hemming. For most bottoms, this makes sense, but for something like flare pants, this logic really falls apart. There are two issues with these pants that can't be fixed with hemming.
First, by hacking off this much of the pants, you lose most of the flare silhouette. As a result, these pants end up being more of a bootcut. If that's what you like, then great! But if you're a petite lady looking for a true flare, you won't find it here.
Here's a photo showing how long they are on me without folding the hem, which helps illustrate just how much of the flare I'm losing.
The second issue is the right. These are categorized as "super high rise", but for someone with a shorter frame like me, in practice that means "comically high rise". The rise hits about 2″ above my belly button, nearly at my natural waist. I'm a fan of a good high rise as much as the next gal, but this was a bridge too far. It's just so much fabric and felt bulky to me. (For reference, align leggings with a standard high rise hit just under my belly button, as shown in this photo.)
As is probably obvious by now, I opted to return these pants. Even if I got a different color, it wouldn't solve my issues around fit and opacity. Of course, if you're a taller gal, many of my negative comments may not apply to you, so take my comments with a grain of salt.
Overall, I strongly prefer Athleta's elation flare pants and recommend those over lululemon's groove pants. Athleta's come in petite length and still have a comfortably high rise that is significantly more flattering to boot. I'll post a review of the elation flares in full soon with all the details on why I believe they're the winner in the flared pants content.
If you want to give lululemon's flared groove pants a try, there are currently plenty of colors and sizes to choose from on their website.