Mara Hoffman, a fashion designer for "regular" clothes, recently brought her signature bold prints to the world of activewear.  The second season of Mara Hoffman Active is here, and I tried out two pieces: the botanica leggings and her new gym bag.  Here's my review.
The botanica leggings were an instantly popular style.  When I bought them a couple weeks ago, several sites were very low stock.  The checkered pattern is fun and the leaves break the pattern up while also adding some color and contrast.  They're definitely unique!
The material is a polyester blend.  It's thin and quite light.  It feels very smooth and slippery to the touch, not cottony at all.  They were only lightly compressive on me.
As for fit, the first thing I noticed is that they are LOW rise.  I'm usually a fan of lower rises, but these were a bit low even for me.  The rise is ok in the front, but in the back it doesn't offer a lot of coverage, which is definitely not ideal for working out.  If you have some junk in the trunk and/or a long torso, I recommend steering clear of this style.
The lower legs were a tad tighter than my other leggings, but nothing that big of a deal.  The hips and thighs fit decently well, but the waist didn't feel all that secure (perhaps also because of the rise issue).  If you're uncertain about your size, I recommend going up.  Overall, the fit was ok, but not great.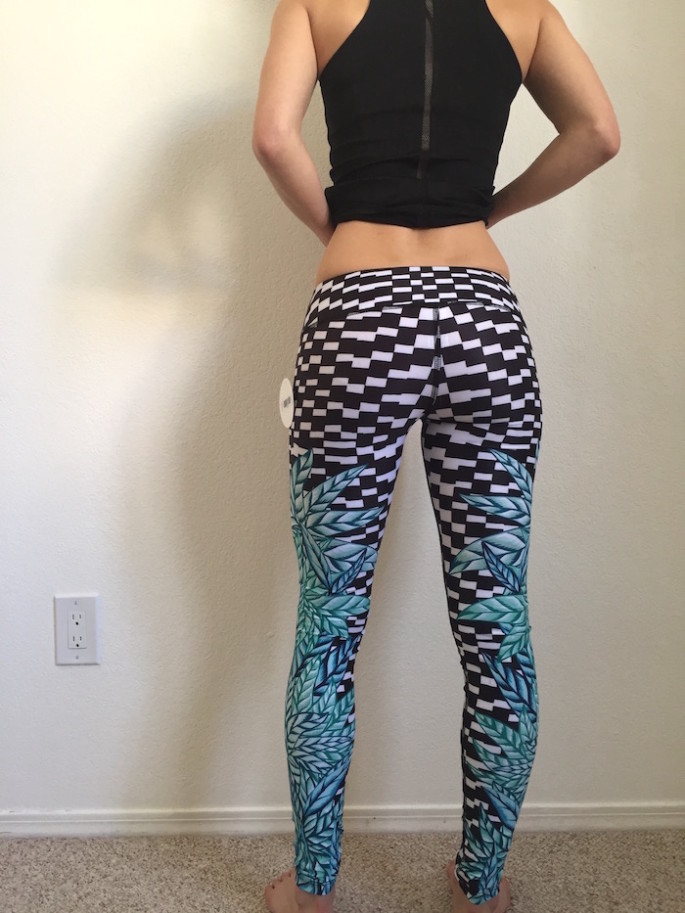 As far as opacity goes, they are a bit sheer.  You can see the tag through the pants upright or in a bend, and the black part of the pattern does fade when stretched (they're white on the inside).  That said, since the pattern is very busy, so you can't see as much as you might think.  I wouldn't have trouble finding something to wear under these that was decent.
The pants are flat seamed throughout, but there is no gusset.  There is a small pocket inside the waistband–not your usual slit pocket, but an extra bit of fabric sewn inside.  There is also no drawcord.  Aside from the slit pocket, they are pretty basic leggings.
Although they look cute on and the pattern is all kinds of fun, I ultimately decided the fit and the fabric quality weren't good enough to justify keeping these, especially considering the price I paid.  If they were $50 or $60, I probably would've kept them, but at $136, I felt like my money would be better spent elsewhere, so back they go.
If you're still itching to give them a try for yourself, you can grab them for 25% off during Bloomingdale's friends and family event, which includes free shipping and free returns.  If you can't find your size there or are just looking for other options, they're also available at Zappos (where I got mine), Evolve Fit Wear (PERFECT10 will get you $10 off), Backcountry, Nordstrom, and Revolve.  Net-A-Porter also has a capri version.
On to the bag!  The color scheme and print on this bag is so incredibly vibrant, which is part of what drew me to it in the first place.  The material is thick and sturdy, though unstructured.  It's made a synthetic fabric that would be resistant to scratches and water.  Unlike the other gym bags I have, this bag would be perfect for an outing to the beach or pool, too.
In addition to the top handles straps, an adjustable shoulder strap is also included.  Both are made of a seatbelt-like material.  The hardware is all a subtle pewter tone.
The top zips shut, but I was surprised to find that the bag is sort of triangle-shaped, instead of more rectangular like most duffels.  You can best see what I mean in the overhead view.  There is no top panel, which means the bag has to pinch shut at the top.  Because it tapers off like that, the bag is actually a little bit smaller in terms of capacity than the measurements suggest.
There are two external zip pockets, large enough to kind of fit a water bottle or most of a phone.  Mostly, they're best for keys or other small knick-knacks. (The loops above the zip pocket are where the shoulder strap attaches.)
The interior only has one pocket.  It's medium sized–not large enough for a notebook, but bigger than the external side pockets.  I also noticed that the interior fabric lining, which is on the stiffer side, makes a slightly crunchy sound when you move things around in it.  There is no shoe bag included, so you'll have to use your own.
The bag will fit a pair of shoes, plus 1-2 outfits and various accessories.  It's smaller than a weekend bag, but big enough for daily gym use.
This photo: Kylie Pond Photography
I love the pop of color this bag adds, as well as its versatility for rougher pursuits like the beach, so I kept this one.  I got mine with a coupon code, which definitely made the price a lot more appealing.  I bought mine from Carbon38, but it's also available at several other retailers like Revolve, Nordstrom, Backcountry, and Net-A-Porter.