Olympia Activewear has just debuted their sophomore collection for 2015.  Although this collection is bigger than their first one last year, they're still a small, up-and-coming brand.  The brand is designed in Hawaii and is woman-owned (isn't it weird how many women's activewear brands are founded/run by dudes??).  I haven't yet tried anything from Olympia, but I've been keeping my eye on them since discovering their first collection last year.
Olympia is notable for the different vibe their brand has compared with most premium activewear out there.  The designs fuse elegance with minimalism and add on a heaping dose of classical motifs.  Generally, they focus on neutral tones and clean geometric lines, which they accentuate with their signature custom elastics.
For 2015, they've introduced their first non-neutral hue, an orange-red called tomato.  Tomato is featured alongside jet (classic black), nude, iron (grey), and bone (white).  Olympia has also followed along with the major mesh trend, incorporating mesh panels into several of their bottoms and tops as well as some all-mesh tanks and tees.
One of my favorites from 2015 is the moto leggings.  The moto detail on the knees is just the right amount of flair without being too overdone.
As promised, here's some of that mesh.  These titan leggings have a mesh panel that goes all the way up the side to the waistband.  The height of the mesh might create some peek-a-boo issues with certain types of underthings, especially anything low-rise.
On the other hand, these phoenix 3/4 leggings keep the mesh down low with just a bit at the calf.  The back seam adds a little extra rear-view flattery.  Their grey color shown here, iron, looks like it might have a blue undertone.  In other pictures it looks like more of a true grey, so I'm not sure.  To reiterate, these are billed as 3/4 leggings, although for shorties (like this model, it seems) they're more like full length.
Speaking of which, I like that the model they chose for this shoot appears to be athletic and petite.  Well, ok, the petite part may be my own personal bias, but in any case, it's nice when activewear brands don't get caught up in using the typical model body type to showcase their products.
I like the styling of the X bra, a fusion of the classic over-the-shoulder and cross-back styles.
Although a lot of their bras (including the X bra above) are lower-coverage, the bronte bra looks like it might accommodate a somewhat fuller bust.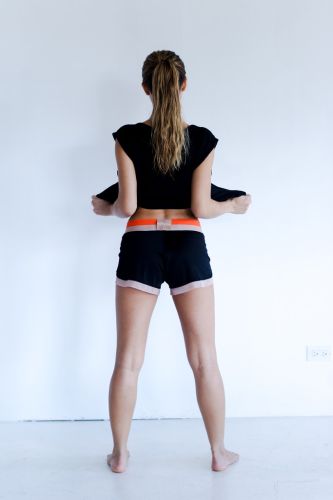 The calypso shorts are a really cute short-short with raw mesh trim at the hem.
Speaking of short shorts, the theo shorts are an even more daring option.  The colorblocking helps balance out the high waist.
The naxos crops are my favorite style from this collection.  I love the nude contrast and the simple geometry.  I might like the jet version better, though, it's a tough choice.
In addition to their active bottoms and bras, their line features cotton basics that complement their other designs, like this 3/4 sleeve thebes tee.
I also like the sion tee, a basic sleeveless tee with a little pocket.  Their cotton tops are mostly designed to fit long and loose.
Olympia also likes to throw a little silk loungewear into the mix, like these lyra shorts.  They're high-waisted and *very* short, so unless you're really bold, they're definitely best for lounging inside the house (or for using as very fancy pj's).
I've been seeing more and more one-pieces lately, like this nymphe jumpsuit.  The strategically placed colorblocking is a clever trick to flatter the waist.
For more Olympia, you can shop their whole 2015 collection on their website.
You can also find some of Olympia's new collection (and alternative pics of some of these designs) at Carbon38.