My activewear buying habit has quieted over the last couple of years, and this year was no exception.  I ended up returning a lot of things or buying old favorites, so my list of new loves isn't incredibly long this year, but they are still worthy of the year-end hall of fame.  These 5 are my absolute LOVES that I wear over and over and over.
Athleta stripe contender 7/8 tights
These tights check ALL my boxes: stripes, large side pocket, perfect fit, moderate compression, and not even slightly see-through.  I wouldn't change a thing about them!  I paid full price and they were absolutely worth it, but right now they're marked down as part of Athleta's semi-annual sale and the price is an amazing deal if you ask me.  I'm guessing they won't make them anymore once they run out, so if you want to try them, grab them before they're gone forever!  Get the stripe contender tights here.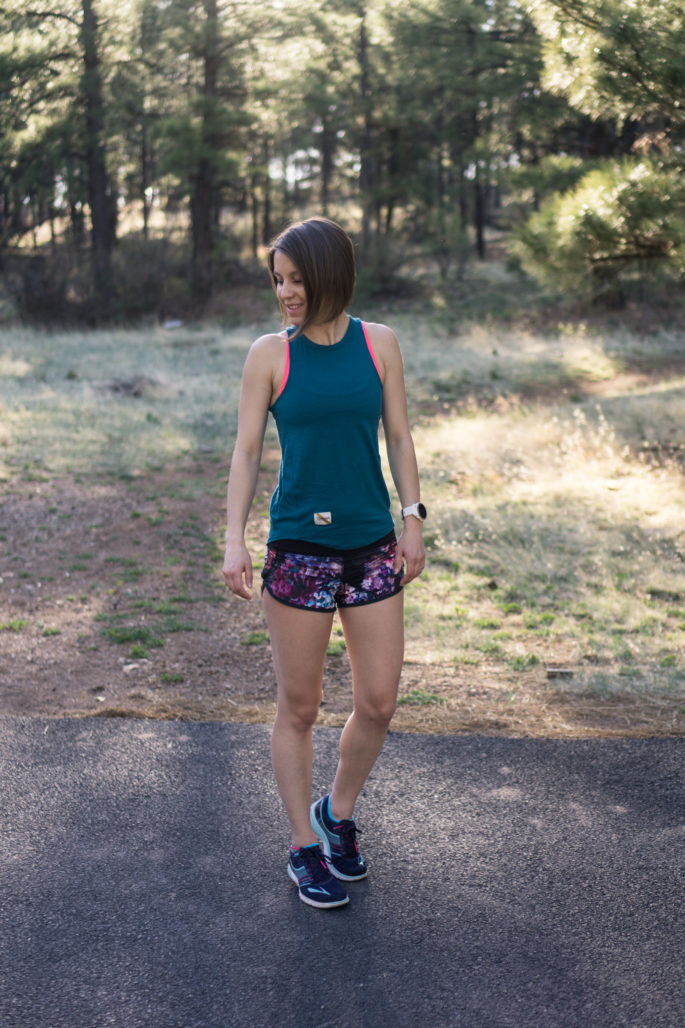 Tracksmith Harrier tank
I'm constantly doing laundry to manage my piles of sweaty clothes, but I'm never doing it often enough because this tank is always dirty when I want to wear it.  I reach for this before almost any other top I own.  The only time it doesn't shine is ultra-hot days, when I prefer something mesh or ultra-lightweight.  I love the higher coverage across the chest for longer runs with a lot of sun exposure.  I'm hoping more colors come out before next summer!  Get the harrier tank here.
Machines for Freedom jaded rose jersey
I started dabbling in mountain biking this past spring, and far be it from me to to not dress the part!  While I'm not at a point where I want to build out a huge cycling wardrobe, a few sport-appropriate styles are a good start.  I sprung for this jaded rose jersey by fashion-conscious cycling brand Machines for Freedom.  It fits me better than almost anything else in my active wardrobe.  The sleeves and torso length are both petite-friendly in the size XXS I bought.  And of course, the print is to die for.  Since I love this one so much, I recently bought the short sleeve avant jersey, which I just received and haven't had a chance to test out yet.  I haven't published a full review on the jaded rose top yet, but both that and the avant jersey are in the works!  Get $20 off Machines for Freedom cycling gear with my link here.
Lululemon time to sweat bra
I went out on a limb trying this bra, and I'm so glad I did.  It's ended up being my absolute favorite.  As a testament to how much I like it, I ended up buying a total of 7 over the summer.  It's a fantastic running bra with exactly the right amount of coverage for me.  Unfortunately, it seemed to have been short-lived, because it's no longer available on the lululemon website.  I'm hoping it comes back or something equally fabulous takes it place.
Athleta elation tights
I bought these in both 7/8 length and capris over the summer and I adore them.  The fabric feels like a dream–like a gentle hug while also being incredibly soft and never constricting.  For lighter activities like hiking, they are absolutely fabulous.  There are a bunch of colors on sale in the capris and 7/8 length for Athleta's semi-annual sale right now!  Get the elation tights here.
Bonus round: other winning buys
Besides activewear shopping, there were a few purchases that stood out this year as particularly good decisions.  Here's my top 5 in the "everything else" category.
Yumi Kim woodstock maxi dress
It's been ages since I bought a nice new dress, but this one made me break that streak.  It fits me perfectly, the prints are gorgeous, and the flowy skirt is so much fun.  I ended up buying it in two prints!  Now I just need more places to wear it.  This print, botanical garden, is on sale right now and still available in all sizes!  Get the woodstock maxi here.
Herbivore blue tansy mask
I have acne-prone, oily skin, and the fact that I spend so much time sweating doesn't help the state of my face.  I love AHA/BHA products for keeping the breakouts to a minimum, and this mask by Herbivore is one of my recent favorites.  It has a unique smell that I actually like.  It has a thick, gel-like texture that goes on and washes off easily.  Most importantly, it's very effective!  If you deal with breakouts, I'd definitely recommend giving this one a whirl.  Get the blue tansy mask here.
Billie subscription razors
I know, I know, this is a bit of an odd shout-out, but stick with me.  Somehow I always manage to forget to buy razors since I can't get them at my grocery store.  I went out on a limb and decided to try one of the subscriptions I kept seeing ads for.  I'm so glad I did, because I love it.  I'm not usually into subscription products, but the subscription model is one that actually makes tons of sense for razors.  The razors are way better quality than what I used to buy at Target.  And at $9 every 3 months (for 4 cartridge refills), it's quite affordable.  If you'd like to give it a try, you can use my invitation link to sign up.
Tularosa trento cardigan
My daily work uniform is jeans, a nice sweater, a knit cardigan, and some sleek boots.  It's tough to find a thick knit cardigan that doesn't look incredibly bulky on my petite frame, so I was delighted to find this little number in XXS.  Sure enough, it fits perfectly.  The varied knit pattern is lovely and adds beautiful texture to any outfit.  Admittedly, the price is not super cheap for a fully synthetic knit, but it looks great.  The color is listed as "grey", but it's really more of a beige or oatmeal (the model photos are fairly accurate).  Get the trento cardigan here.
What were your favorites this year?  What do you love about them?