I'm sure it won't come as a shock to you when I say that I bought a LOT of activewear this year.  Over the months, I've probably tried on something in the hundreds.  Out of all that, I've boiled down a list of my 9 most favorite buys from this year. (Note that these aren't my top 9 out of my whole closet, just the new purchases from this year.) These are the pieces that get worn disproportionately more than everything else.  They're the ones that, out of everything, would be the hardest to let go.
Trying to rank this list would be too stressful, so in no particular order, here are my big winners of 2015:
Lululemon toasty tech tights
I've been crazy about thermal leggings this season, and lulu's toasty tech tights are one of my favorites.  The tech fleece makes these just about the warmest way to still wear leggings without adding another layer on top.  I like these so much that I got two pairs: bordeaux first, followed by black grape.  I have a slight preference toward my bordeaux pair, because the details are just fantastic.
Toasty techs are available here →
Lululemon cool racerback in bali breeze
The cool racerback is a staple in my wardrobe, but there are certain colors that always get a disproportionate amount of wear.  Bali breeze is one of them.  I missed out on the original 2014 release of bali, but I pounced when it was re-released earlier this year.  So glad I did.  It matches pretty much everything, and the creamy shade of aqua is just perfect.
Bali breeze is currently unavailable from lululemon, but there are several on eBay →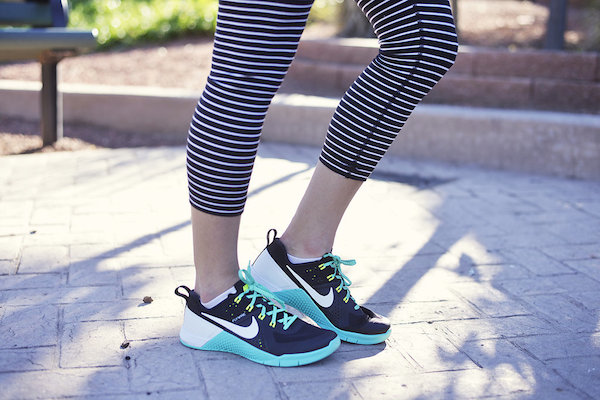 Nike women's metcon 1
Ok, I'm cheating a little bit here, but shoes are still something I wear to workout, so that's good enough for this list.  I love pretty much everything about these shoes.  They fit perfectly and function so well for my crossfit workouts.  Not only that, they're better-looking than just about any other crossfit shoe out there.  I've worn these pretty much non-stop for the past 5 months.  I'm hoping they come out with more colors I love before I wear this pair completely into the ground!
Alala fast track pants
When you don't want to go for leggings but you want to be just as comfortable, fast tracks are the ticket.  These pants pretty much have it all.  They're comfortable, they look super cool, the fabric feels luxe and fantastic, they can be worn alone or layered for warmth, they have handy zip pockets… You get the idea.
Fast tracks are available here → (15% off: AA15)
Vimmia python speed pants
This pair is one of my more recent purchases.  They're my first Vimmia buy, and they did not disappoint.  They fit me like a glove.  The jacquard fabric holds everything in, plus is thick and opaque to boot.  The python print is perfectly executed: subtle, but fierce.  Although they'll probably be too thick once it gets hot outside, the sturdy fabric definitely makes them great for this time of year.
Speed pants are available here →
Alala blanket jacket
This jacket is statement-making, luxurious, and just plain cool.  Whether I'm going to the gym or not, I wear it all.the.freaking.time.  Technically, this wasn't a "buy" since I was gifted this jacket from Alala, but I would've been just as happy to drop my own $$.
The blanket jacket is available here → (15% off: AA15)
Lululemon run: stuff your bra
Although I love lulu's energy bras, some of the newer releases just haven't fit as comfortably.  RSYB to the rescue!  This bra is not only super-comfortable, it's supportive and flattering, too.  The RSYB is also well-loved for its functionality: the pockets are pretty useful if you're running in pocket-less bottoms.  The classic stripe/flash light version is almost too cute to cover up, especially paired with my flash jacquard speed shorts.
(The stuff your bra is, sadly, not currently available!)
Alala flyweight tee
This hoodie is so easy to wear.  It looks amazing with just about any outfit I can come up with, which means I end up wearing it pretty much all the time.  The lightweight fabric is soft and perfect for layering just about any time of year.  This tee has come out in several colors over the seasons, but in my view, nothing has topped heather grey.
The flyweight is available here → (15% off: AA15)
Werkshop x Ghost and Stars catstronaut
The most recent purchase to make the list, my catstronaut crops are already getting a lot of wear.  I can't help myself.  They're definitely in the top 3 as far as most out there (literally), unique pieces I have in my workout wardrobe.  Plus, the fit and function of Werkshop crops is top notch, which means I reach for these for a lot more than just the quirky humor.
Catstronauts are available here →
Honorable mentions
A few more wardrobe workhorses that were just a hair shy of making this list:
Koral Activewear gauge capris: crisp white bottoms look good with everything, especially for spring/summer
Werkshop dragon: black, grey, and badass all over
Alala rolldown sweats: besides being great for lounging, these are the perfect travel companion
Sweaty Betty thermal run leggings: flattering, functional, and cozy to the max
Now it's your turn: what's in your 2015 hall of fame?