New dream rose deep coal speed shorts and run times shorts in Australia.  They're 4-way stretch.
New wild tank color: toothpaste/neutral blush.  I would've thought toothpaste died, especially now that menthol is around, but apparently not.  I think this would've been prettier in menthol.  Oh well.  At least they finally bothered to make a colored wild tank.
New stash it crops.  The plain black version has some sort of odd tribal stamp on the left thigh, then there's a stained glass love waistband version with no stamp.
Yoga camp crops from a couple years ago returned in slate, inkwell, and black.
New seamless bang buster in ultra violet.  I'm not sure what the contrast color is, it's just listed as "heathered ultra violet".  Note that this version has a wide back, which for me at least is probably a deal breaker.  These are also more expensive than the regular bang busters: $25 AUD versus $19 AUD.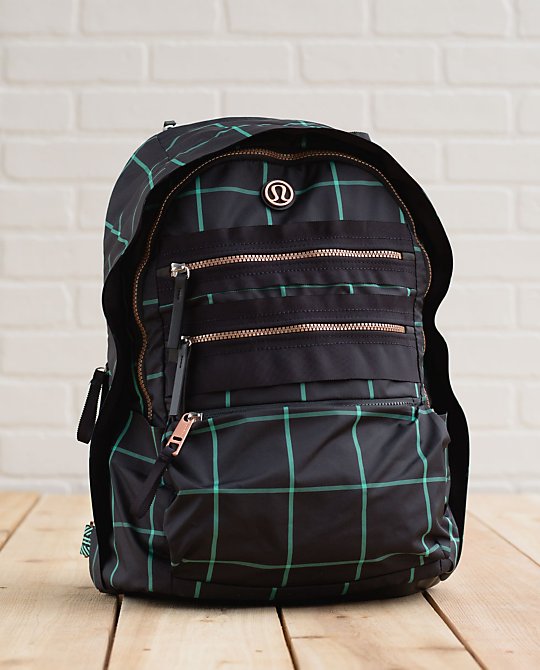 New pack to reality backpack in pacific check deep coal/menthol.  It also comes in bold stripe vertical deep coal, which mostly just looks like plain black but has some subtle stripes.
The pack to reality backpack has a preview of this sweater.  It looks like a cross between the old rest day pullover and don't hurry be happy.  Looks like cotton, and if you look closely it doesn't appear to have thumbholes–boo.  I like it, but I also liked the rest day PO and literally anything with a cowl neck so I guess that shouldn't surprise me.
More pics of the forthcoming stretch it out hoodie in the pics of the black backpack.