All the SeaWheeze goods made it down under today, and there is a lot.
The official colors are:
Rad red
Gusto blue
Iced mojito
Vintage pink
Concord grape
The patterns/stripes are:
Which way sway
Sky to seawheeze multi
Zoomer stripe
Sugar rush stripe
Seawall stripe
Deenie stripe
Pass me plaid
On to the goods!
Sugar rush stripe cool racerback, plus 4 other CRB colorways.
The lightened up singlet came in sky to seawheeze multi (shown here) and which way sway.
The vintage pink tie dye swiftly racerback–this was the only tie dye to show up, although there was more at SeaWheeze itself.
Seawall stripe/deenie stripe tuck and flow.  There's another tuck and flow in deenie stripe with black sleeves.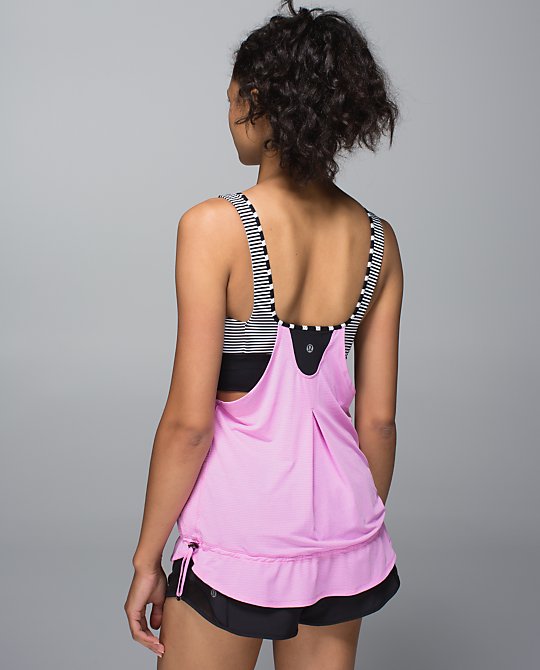 Run times tank in vintage pink/zoomer stripe, plus two other colors.
Stuff your bra in vintage pink/zoomer stripe.  There are 4 other stuff your bra colors as well.
The eye-popping zoomer stripe downtime jacket.  This one has been extremely popular on the resale boards and is already sold out in all sizes but 8.  There is also a which way sway downtime.
Inspire crops went up in rad red and zoomer stripe.  The zoomer stripe inspires have been very popular also.
Which way sway speed tights–only the front has the pattern, the back is solid black.
Pass me plaid speed shorts are the only new 2-ways.
Sky to seawheeze and which way sway speed shorts were uploaded for 4-ways.
Which way sway tracker shorts, plus sky to seawheeze is also up.
Pace rival skirt in gusto blue, concord grape, and iced mojito.
See everything from this upload here.
Some new solid colors:
New gusto blue swiftly racerback and energy bra.  There's also a rad red swiftly.  Since we've seen hints of these colors elsewhere, North America might end up getting these too.