Woah, big Australian upload happened this morning!  Lots of goodies to go over:
Let's start with shorts.  LOOK AT THE INKY  FLORAL SPEEDS JUST LOOK AT THEM.  A pic taken from a store of these actually surfaced yesterday, but I wasn't able to find the owner of the photo to get permission, so I didn't post.  But fret no more because here they are!  They are 4-way stretch and I'm pleased to see that the trim is inkwell–I couldn't tell from the first pic I saw.
Diamond dot rugged blue speeds were uploaded also.  These are 4-way stretch too.  I'm kinda disappointed in these because there is a dearth of true blue speeds out there (sprinkler, wish blue, and pigment is it, and those are very hard to find), and these are kind of a faded blue too.  Ah, well, 1 new pair is good enough.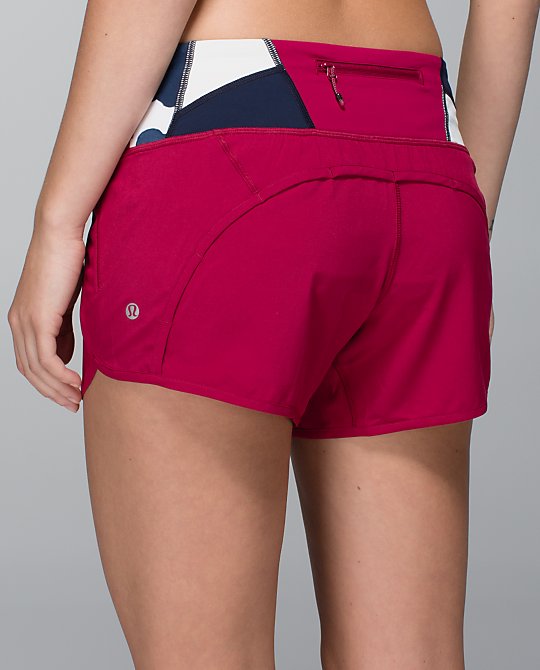 Solid bumble berry run times shorts.  Very pretty.  Rumor has it speeds will also come in solid bumble berry?
New what the sport shorts.  I don't like these at all.  They totally look like boxer briefs with slash pockets.  Nope.  Luxtreme, sizes 2-10, this color (heathered black), and solid black.
Hop to it run crops.  Reflective tape wraps around to the front of the legs and mesh panels at the backs of the knees.  Sizes 2-12, inky floral waistband (in pic) or all black available.
Track to reality pants are back, in sashico cross inkwell.  The texturing on this is interesting, but the pants, not so much. :)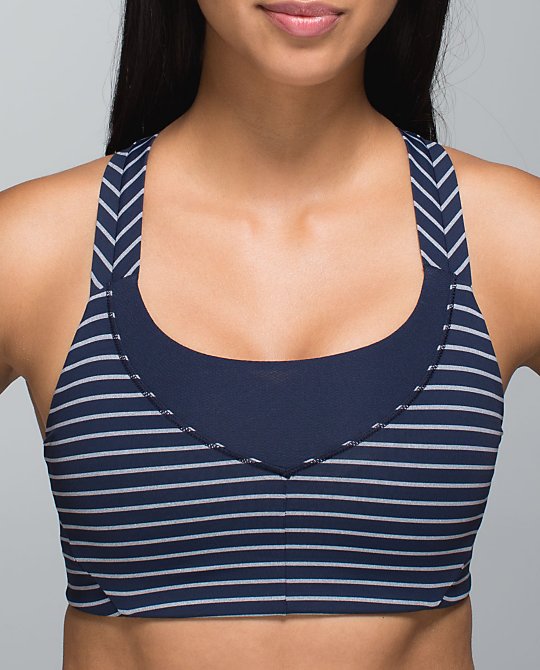 New on the run bra.  Comes in west2east inkwell/heathered slate stripe, inky floral, and black.  It reminds me a lot of the in a flash bra from a few months ago.  Notice, though, that on the front, the panels aren't broken up at the bra band–there's no real seam there on the outside (except the one that goes vertically), so that's interesting.  Medium support, sizes 4-12.
This is the new wrapper's delight tank we saw on Britt's picks a couple days ago.  I wanted to point out the new print: plush petal.  I believe this is the black/white print we saw on the fall sneak peek video.  The wrapper's delight comes in 4-12, colors are this, solid black, and solid bumble berry.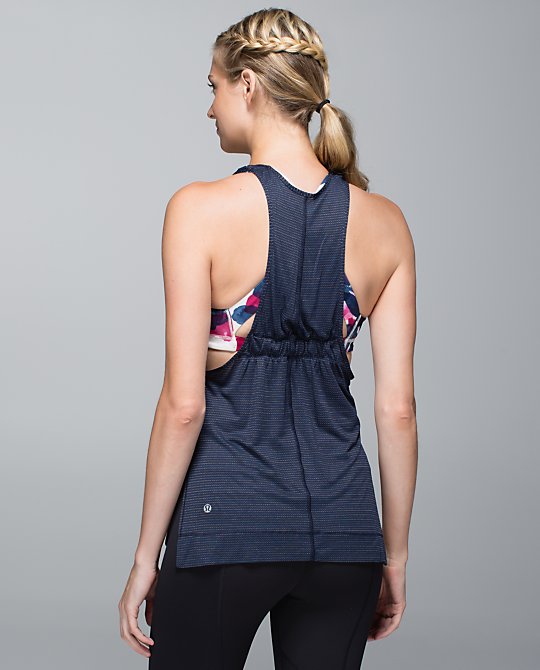 Another new tank: stash it tank.  It literally looks like they sewed a singlet on top of the on the run bra.  Not particularly impressed.  Also comes in solid bumble berry.
New run for gold LS.  It's light luxtreme and silverescent, so it has those lines on it.  This is jeweled magenta, only other color is black.  Sizes 4-12.  The run for gold 1/2 zip was uploaded too, and the miss misty pullover, but since we already saw pics of that I didn't include them here.
New chilly chill puffy vest.  This was in the sneak peek video.  It's reversible, which is neat: you can wear it with the solid side out or the printed side.  Looks a little poofier than last year's fluff off vest.  It comes in ghost/inky floral, inkwell/sashico star (on video), and black/gin gingham mojave tan.  Sizes 4-12.
Last thing: rebel runner vest.  It has glyde fabric panels with "embossed petal camo", and the rest is balck wee stripe rulu.  I think it's kind of rad, yes?  Sizes 2-12.
Alright, that's all the new stuff!  PREPARE YOUR WALLETS.  Tomorrow's gonna be interesting…