New Balsa bags showed up this week in marble print.  Here's the boxing bag from Carbon38.  Marble has been having a moment, so this bag is kind of the epitome of fitness style.  Plus, monochrome is always a good idea.  I love it.  I was almost sold on this one, until I spotted…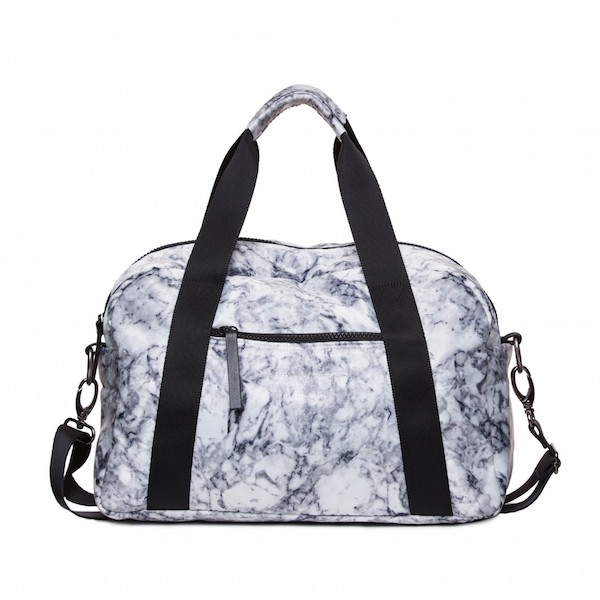 The easy tote, from Bandier.  This one is by Balsa as well.
I really like both of these and would like to get one.  But how to choose???  Bandier's version is slightly smaller, but also less expensive, and they're offering free shipping this weekend (code: RESOLUTION).  But, I do like the black accents on the boxing bag from Carbon38, and I might like the bigger size.  Maybe I'll have to get both and decide when I get them?  ACK.  I would say this is #luluproblems, but more like #balsaproblems, apparently.
Btw, there's also a backpack via Bandier and a large tote style via Carbon38 in this print, too.
Speaking of Bandier, they dropped 3 new pairs of monochrome reversible leggings from WITH (Wear It To Heart).  This is broken slate and cloudy dots.  The dots remind me a little of lululemon's dottie dream from last year, minus the flowers.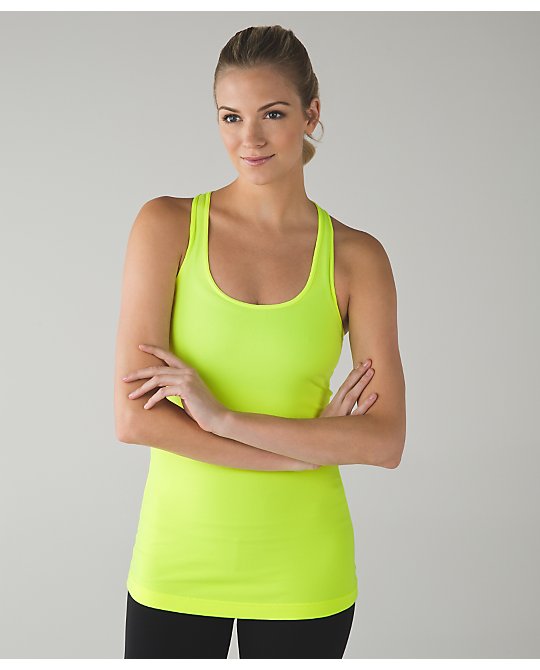 Lululemon dropped some nice colors this week, including an old favorite: ray!  Here's ray in a CRB.  I have speed shorts in ray, which are one of my favorites.  In real life, it's a vibrant highlighter yellow, much nicer in my view compared to its cousins split pea, antidote, etc.  That said, I'm skipping out on the CRB because I feel like I can't do a color like that so close to my face.
Another beautiful color: black space dye swiftly short sleeve in peacock.  Gorgeous.
One more from lulu: a new mini check pique vinyasa scarf in aquamarine/peacock blue.  Although textures are usually reserved more for winter weather, this particular color transitions well into spring.
Glyder dropped a capsule collection this week, their first in a little while.  It's called Indigo Odyssey, and is very nautically inspired.  This new nautical space dye legging in shades of blue is beautiful.
Speaking of leggings, they released a nice grey herringbone version, too.  I'm curious what the fabric is like, namely if it's thicker or similar to Glyder's space dye fabric (which I'd call a medium weight, cottony fabric).
Going off the nautical theme, they incorporated some white and navy stripes into their core performa tank as well as the new divine henley.
Lastly from Glyder: this new wrap bra is something else. (This color, blood orange, tops off the nautical palette.) I almost missed it because it's pretty unassuming from the front: just a wrapped, v-neck silhouette.  But then you look at the back–BAM.  Strappy to the max, and definitely a statement maker.
You can see Glyder's Indigo Odyssey collection in its fullest here.  Code AgentAthletica15 works for 15% off your entire order!
Last thing… Do you remember these chameleon print leggings by We Are Handsome from a few months back?  Probably not…but I do, because I kind of like them, in some weird way.  Well, they turned up on Gilt this week for $105, discounted from the original price of $175.  I'm trying to resist… They're final sale, so it's definitely a risk.  There's more where that came from on Gilt's active sale, which includes Vie Active and Prismsport, in addition to We Are Handsome.  The sale ends tomorrow, Sunday night.