TONS of new stuff was uploaded to the Europe/Asia Pacific sides today.  New colors, new patterns!
New floral print called inky floral.  Colors are inkwell and bumble berry.  This is reminiscent of the blurred blossom print from a couple years ago, but darker.  I'm not gonna lie, I really like it.
Here's the full print of inky floral. (This is the hot towel mat.)
From a store, it looks like inky floral also comes in soot. [Lululemon Knox Street]
Rugged blue with an overlaid pattern: "sashico star inkwell rugged blue".  This is the 50 rep bra.
This energy bra is similar, but the patterning is different.  It's called "exploded sashico cross inkwell rugged blue/kanoko twist inkwell rugged blue".  LAWD.  I'm gonna need a shorthand for that.  How about we just cut the crap and say "rugged blue".  Maybe "sashico cross rugged blue" if I'm feeling generous.
Speaking of rugged blue, here's the hyperstripe rugged blue/inkwell quilted vinyasa.  Lots of people like this one but I can't say I'm a fan.
Another new color: spicy pumpkin. (Not to be confused with "pumpkin spice" as in Starbucks.) This is the sweater life, which so far comes in black, bordeaux, and this color.  Why no rugged blue?  Would've been much better in rugged blue IMO.  This color sort of looks like a smear of unfortunate diarrhea.  Too far?  Ok, let's move on.
MORE weird color names!  New cool racerback in "west2east stripe bordeaux drama".  "West2east"?  I don't get it.  Whatevz, lulu.
Last new print.  Blossom stripe bumble berry/ghost.  Looks like some spicy pumpkin, jeweled magenta, and bordeaux in there too. (This is the refresh racer.)
Runner up tee in bumble berry–just plain, no writing on this one, as it turns out.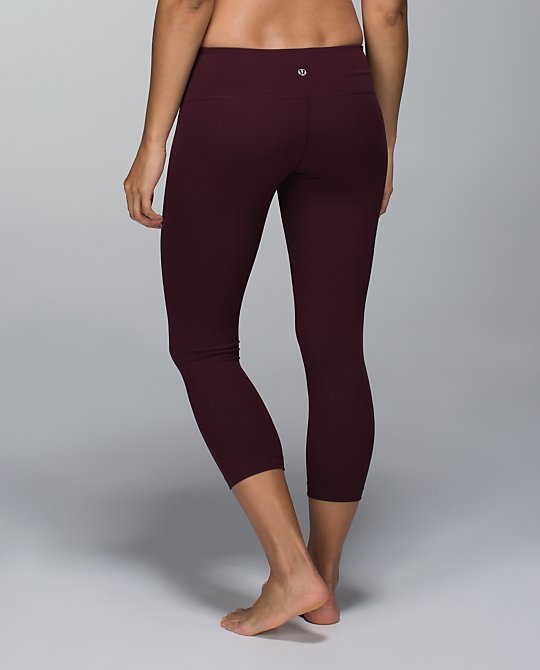 New luxtreme bordeaux drama wunder under crops.  Gawd.  I don't know how I'm going to manage to not order these. <twitch>

New bumble berry wunder under crops.
Now, time to open up a can of rant.
These aren't just wunder under crops.  They're "wunder under crops II".
From the description: "this updated version is a little longer for more coverage" (Inseam: 21 1/2)
Really lulu?  Really?
Who the eff is complaining about their crops being too long? (Sorry if it's one of you.  Just let me get on my soapbox for a minute.) THEY'RE SUPPOSED TO BE CROPS.  As in, NOT full length!  I get that some of the knee crops–like the 16-17″ running ones–are too short to be flattering or practical for some taller ladies.  Go ahead, make those longer!  But really, 20″ is too short?  Moreover, WUC are extremely popular as is, why would you go and mess with a good thing?  You know, if it ain't broke…?
I'm 5'3″ (28.5″ inseam), and in the grand scheme of things, I'm really not THAT short compared to a lot of women, and yet, the regular WUC are already only a couple inches off my ankles.  I do like the length of the regular WUC, but another 1.5-2″ will make a BIG difference on my not-very-long legs.  They'll basically be ankle pants.  Women who are closer to 5′ will be REALLY screwed, unless they just want to start buying WUC in place of WUP (hey, on the bright side, it'll save you 10 bucks!).  Not to mention, I already have issues with the hem of crops being too baggy, and I foresee that being an even bigger problem as the hem creeps down to the narrowest part of my leg (i.e., my ankle).
Now I know what lulu would say: "we offer complimentary hemming!"  Well, good for you.  Have a gold star.  Guess what?  1) Most people don't appreciate the hassle and having to wait an extra week to wear pants they already paid (a lot) for. 2) It still costs TIME, and time is money. 3) I live 2.5 hours from a store.  Not only do I have to haul my butt to a store, I have to drive there twice (about $50 in gas each time), or pay $9 to get it shipped back to me.  Not so complimentary anymore, eh?
Alright, I'm climbing off my soapbox now.  Must've built up too much adrenaline from my WOD today.  Carry on, ladies.