Brace yourselves for today's massive Europe product drop!!
Heathered poseidon define jacket! (Btw, why aren't her thumbs in the thumbholes?)
Dashing purple inspire crops–these are gorgeous!!
Speed shorts in jeweled magenta with black trim and a dashing purple waistband.  There was one random pair of these seen in a store a week or two–distribution fluke?  Anyway, as pretty as jeweled magenta is, I'm personally a little disappointed by these. I don't like the contrast vertical seam, it doesn't look as clean.  Also, I don't like the dashing purple waistband all that much, it seems to clash somehow.  There's one too many things going on in these shorts, basically.
New all sport crops in a new print, palm party naval blue.  Unfortunately, these only have one side zip pocket, no large thigh pockets.
The same print also comes in top speed crops, as does the new dottie dash fatigue green (also on inspire crops, which are in US stores as well as on this upload).
Official pic showing the color of the new diamond jacquard space dye jeweled magenta/naval blue rolldown wunder under crops.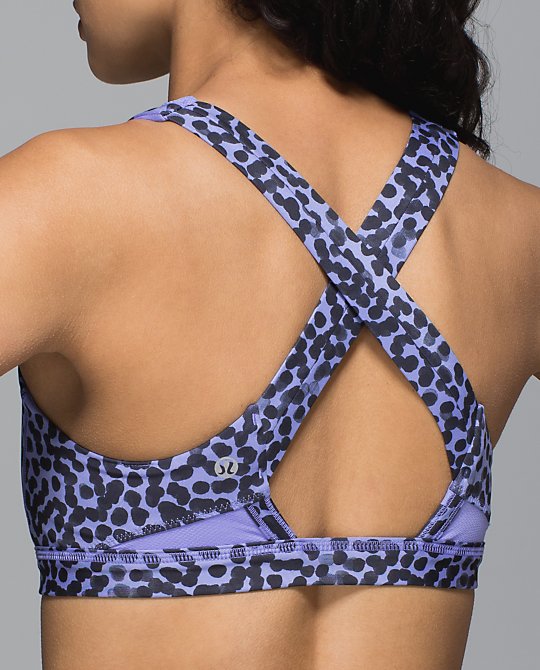 New stuff your bra colors: clarity yellow, ace spot lullaby, and new palm party naval blue print.
New energy bra colors: ace spot lullaby, jeweled magenta, and crosscourt petal.  I'm glad I didn't buy regal plum yet, because I like JM better!
New splendour bra, designed for C/D cups.  I'm intrigued, though not sold.  It reminds me a little of the inner heart bra from the front.  I'm glad to see lulu finally coming out with a creative design for bustier ladies, although it looks like this model is overflowing a bit, so the jury is out on whether it's truly functional for larger cup sizes.
This free to be wild bra is indeed peach fuzz, as I predicted.
Jeweled magenta all you need bra.  I hadn't seen the back of this yet, it's cute.
Swiftly scoops are back in clarity yellow and jeweled magenta.
New what the sport tee in gator green, a new color seen in Aus yesterday.
Pretty purple tracker shorts with iris flower striped waistband.
Ace spot lullaby run times shorts.  I think these were the ones in the summer sneak peek video.
New on the daily colors: heathered black/heathered dark grey and heathered jeweled magenta.
Yes, more miss misty colors!  White with gold hardware and the dottie dash from the video.
Inspiration tanks are back, lullaby shown here.
HOLY fug, Batman!  Om pants are back in new mini art pop white multi.  Looks like peach fuzz and clarity yellow are the colors in there.
More fug.  These long story shorts, as seen in Canada yesterday, look just awful.
Another weird short design, the pleat to street shorts.  These are a bit longer at 3.5″.  Also, looks like the logo is gold, is that gonna be a new thing?
New cotton version of the warrior scarf in jeweled magenta.