Lorna Jane
The new bold blooms print has been a big highlight for LJ.  Cobalt and coral seem to be the main themes, which have both been popular colors for activewear lately.  Right now in the US, there's only these tights in the bold bloom print, but there are a few more items in Australia that presumably will be released in the US too at some point.
The back of this candice bra reminds me a bit of lulu's new just breathe tank.  The front reminds me of a top by Triangl swimwear.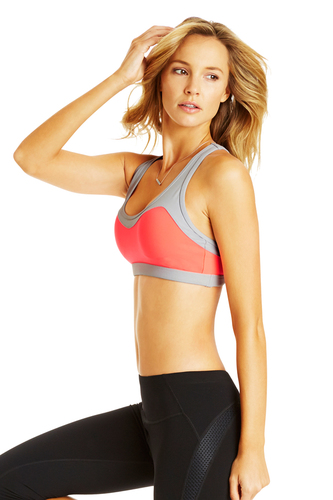 This melbourne bra in calypso is another cute addition.
I am loving this dragon fruit marl color. (These are the lizzie 7/8 tight.) It reminds me of lulu's heathered flash.
More dragon fruit love: the heather tank and tahli long sleeve.  I love swoopy low backs like this.
This liberate excel mesh tank is in new in another nice shade, hollywood pink.  The mesh would be a nice lightweight option for summer, and the color is pretty.
I've become mildly obsessed with my LJ puffer vest, and I love the ruched styling on this new georgia puffa vest.  It looks overall very similar to the one I have, with the some overall basic shape and features like the plush fleecy lining and faux fur detachable hood.
---
Albion Fit
The new cobalt antigua print uses cool tones versus their original red antiguas.  These new ones come in full length and crops.
New sweet stripe extend leggings remind me of lulu's tonka stripe wunder unders.
Another neutral option: summit leggings in graphite zigzag.
---
Zella
Much like lulu's recent drop of reflective gear, Zella has their own version.  These engage tights incorporate both reflective and animal print details, but there's a more understated alternative pair of reflective tights.  The all-over reflective jacket unfortunately won't save you any cash versus lulu's options–Zella's rings in at a cool $345.
Another way Zella is following the same trends as lulu: animal print.  This print is incorporated into quite a few items, like these live-in streamline capris.
Their new scroll print almost has more Nike-ish vibes and comes on a bra and mesh-adorned capris. (There's also a matching half zip not shown here.)
Guess what?  More mesh bottoms!  These optic mesh leggings in blue radiant or black are a bit more affordable than a lot of similar styles at $68.
Zella's space dye leggings have generally been popular, and these new black cosmic space dyes are pretty unique.  From the closeup, you can see the print incorporates numerous neon shades.

Another cute new leggings print: pink cosmos blur.  This reminds me a little bit of lulu's mirage print from 2012.