SO WEIRD YOU GUYS.
I was literally just thinking YESTERDAY: "why doesn't lulu have a shopping app?"  The mobile site is usually fine, but  as such a big brand I thought it was weird that they didn't have a dedicated app.
Well, lo and behold, I get an email today saying they launched an app.  Must've been a premonition.  Hah.
(The app is Apple products only right now, though.  Non-Apple users, carry on!)
I didn't order anything off the app so I can't speak for how smoothly that process is just yet, but here's a couple in-app shots from my test drive.
For starters, the app asks a couple questions designed to target the homepage better:
(I selected all 3 because duh.)
You can change these selections later via the in-app settings if you so desire.
(…Also: is "street" a way to sweat?)
The home page looks really sharp, and what's new is conveniently featured prominently.
If you scroll down on the main page, you'll see a "gear for you" page is based on your answers to the questions above.  When I tapped through (see pic above), it was a selection of a dozen items in all 3 of the categories I selected, showcasing a mixture of core pieces like inspires and wunder unders and more seasonal things like the straight to class pant and run with me toque.  I imagine this semi-personalized feature will be leveraged to help push through slow sellers.
Just like the mobile site, there's a sidebar menu for finding other categories (it's cleaned up a little versus the mobile site).
When you scroll through products, you'll see each product taking up virtually the entire screen:
Versus the mobile site that's a smaller, tiled view: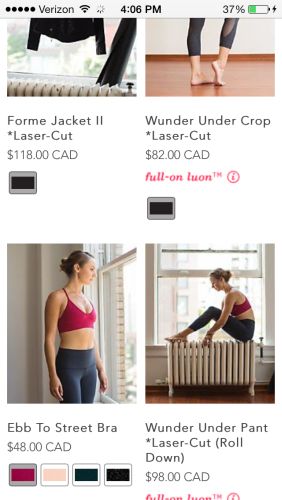 It'll take you much, much longer to scroll through everything in the app than on the mobile browser version.
The individual product pages are very, very similar.  The "add to bag" button is conveniently more prominent (it's pinned to the bottom of the screen no matter where you scroll) and you may have to scroll right/left to see all sizes/colors in some products.
And lastly: the shopping cart view.
Advantages of the app: it's fast, it's clean, it's easy to use, and it has a nice aesthetic.  It might be faster for making purchases.
Disadvantages of the app: if you're checking upload and need to be speedy, it might be tedious to scroll through versus the mobile site.  Also, if you want to check the selection in another country, you won't be able to do that from the app, except maybe switching US/Canada. (Granted, the mobile site can be glitchy with this too.)
So, do you need the lululemon app?
Meh, not really.
It's quite nice, yes, but at the end of the day, doesn't fundamentally offer anything that the mobile site doesn't do just fine.  Also, if you're like me and are constantly running out of disk space on your phone, the space might not be worth it.
I mean, 64.1 MB is, like, 30 pics I could be storing of my dogs.
Anyone else download the app today?  What were your impressions?