First up, my favorite new arrival this week: this voyager blue gym bag by Mara Hoffman (found via Carbon38, though it's at other retailers as well).  I'm loving the saturated blue and the bright colors in this print.  It fits well within my color palette and is a great accent to punch up an outfit.  The $163 price tag is not cheap, but not totally outrageous.  Based on the measurements, it's a similar size to my Balsa bag, though the Mara Hoffman is just a couple of inches longer.  I might have to pull the trigger on this one… Stay tuned.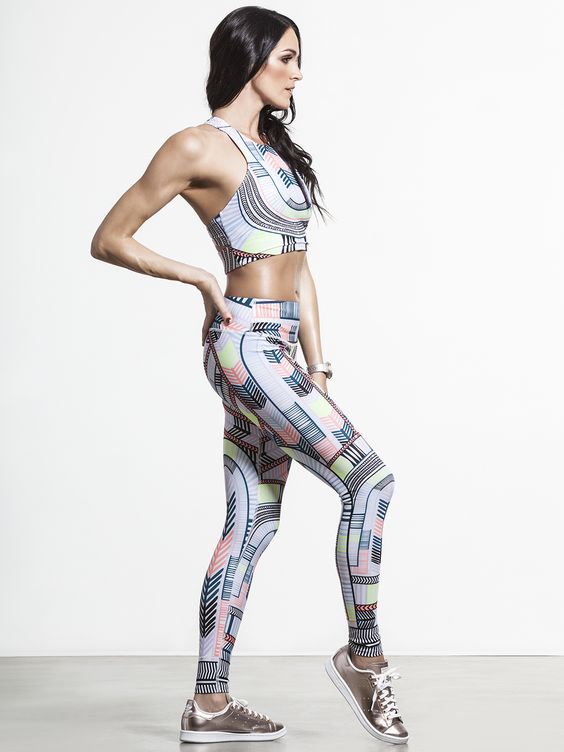 There's also quite a few new clothing options from Mara Hoffman, like this voyager white print on Carbon38.  I wasn't a huge fan of the initial Mara Hoffman stuff, but my interest is piqued this season's collection.
And lastly from Mara Hoffman, this time via Evolve Fit Wear, these totally outrageous botanica print leggings.  They're already selling out on other retailers, but Evolve has all sizes available, and–bonus!!–you can get 10% off with code EVOLVE.  I suppose I can understand how fast they're selling, because I would probably wear these.  Pair it with a neon pink tank for ultimate crazy factor. ;) I also found a capri version via Net-A-Porter.
Alala has already come out with their second capsule collection for spring: electric stone.  It's a marble-inspired print with strong blue and purple tones.  It reminds me a bit of lululemon's sugar crush print, although Alala's coloring looks decidedly less moldly (thankfully).  I really like the swell crop paired with the captain tights or blocked crops for some matchy-matchy goodness.  I haven't nailed down what I want from the new arrivals just yet
Also: their flash tee is back!  I got this one from their fall '14 collection and, although I was initially skeptical of the style, it's ended up getting a ton of wear.  It's my go-to lightweight layer over shorts and a tank when I'm about town (example here).  That said, the fabric has changed this year versus my older version so it looks like this year's drapes a bit differently than mine does.
I'm also a fan of their new simple draped cardigan with mesh accents at the sleeves and hem.  I always have to wear a cardigan or pullover at work since it's so cold in my office, so this cardi is another simple style that would likely be a wardrobe workhorse.
See all of Alala's latest capsule here.  As usual, don't forget to use my code, AA15, at checkout to get your haul for 15% off.
Lululemon released this new restore wrap this week.  It seems to have gotten a lot of interest as a nice transitional spring layer.
Lulu also dropped several new speed shorts as warmer weather approaches.  That's paradise pink and paradise camo above.  The paradise camo are H2O edition, though the only change appears to be in the back zip pocket.  These have been very popular and are already sold out online after they dropped just last week.  They added a hole in the zip pocket for water to drain as well as changed the zipper style to an invisible zipper.  Not surprisingly, these tweaks mean a $14 upcharge.  Ouch.  I don't like the puckering around the invisible zipper, and I prefer the contrast of the traditional zipper, so I hope that isn't the direction all speeds will be moving.
Also, the model photos lately make the shorts look kind of unflattering lately–definitely not inspiring me to buy.  The paradise camo look alright, but the paradise pink and most others on the site just look a bit droopy. :\
Speaking of speeds, I spotted these new goal shorts by Body Language on Bandier's site this week.  The cut is almost a dead ringer for lulu's speeds, though they do look a tad longer.  Unfortunately, these are quite a bit pricier at $78 a pair.
Another find from Bandier, by brand HPE: this interesting white oak print, which is a bit like an exploded tree ring look.  These are exclusive to Bandier.  I like the look, and the description states they feature "anti-sheer fabrication", which is nice for a predominately white print.
Heroine Sport launched their new collection for spring/summer '16.  They've added their boldest color, cobalt, as shown on the studio capris above (found via Revolve).  The cobalt color is also available on their racing capris, which I reviewed in 2 other colors here.
Another motif in the new collection is the new print, chalk, which you can see on the new cycling pant as well as the performance bra shown above.
On the more mellow side of things, Revolve also added a bunch of new styles from Strut This, including these grayson leggings.  They have a high-waisted style and an understated but still interesting side panel feature.  The price is more mellow than most of the stuff on this list, too, ringing in at $78.
And lastly a heads up: Werkshop's second round of their Under the Sea collection drops this Monday!  We've got seahorse, orca, angler fish, and mermaid scales on the docket this time around.  Everything except the mermaid scales will be available in crop length in addition to the full length shown here.  You'll be able to find the new prints here once it goes live.