Not too many new and exciting things to see from this week's Australian, European, and Asian uploads, much like North America's upload wasn't too earth-shattering this week either.  Here's the scoop:
Official pics of the grapefruit cool racerback have surfaced.  It doesn't look as bright in these pics as it does on other items, but still pretty.
Another bleacher stripe cool racerback, but this one in the black/white version.
The breezy crops first showed up last week, and here they are again in iris flower.  It's unclear what purpose the "ladder" of loops serves, besides being a vehicle for some reflectivity.  Also, I feel like the vast majority of new bottoms style lately are high rise.  They are really running with that trend.
New veda wrap made of cotton.  Bathrobe status right here.
Another new wrap, the to and flow wrap.  The shape of this one also turned out a little oddly.  In general, I don't feel like lulu's new wrap styles (i.e., not repeats from previous seasons) have been as strong for the past few month.  While they're definitely trying different things, most seem to be misses rather than hits.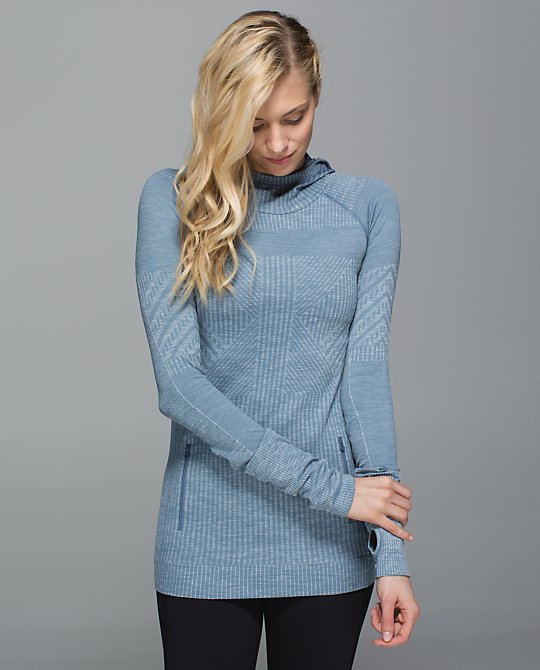 New rest less hoodie.  Where did this come from??  This was in Hong Kong, surprisingly, not Australia where it's winter.  It's kinda nice, though, despite the seasonal inappropriateness.
High times pants in shady palms black/white.  This print was on a pair of groove shorts in Canada last week.  It reminds me of some of the prints Athleta had out a few months back.
Along somewhat similar lines, new banana leaf print on rolldown wunder under crops.
Ebb to street pants getting the print treatment in gator green.
New hot and sweaty tank with back detail.
Happy strappy tank, kind of like the new bra, but in ace spot grain dottie dash.


Looks like we might be seeing another dose of swim soon.  There are a couple new colors of existing items, and here's a new sun runner 1/2 zip in texture twist.
And a new salty swim paddle top in white.