Lots of new stuff on international uploads this afternoon to help break up the rather boring week of news we've been having so far:
These new trail bound shorts are really interesting: they are styled a lot like speed shorts, but significantly longer with a 3 1/2″ inseam.  So far they've appeared in clear mint, bark berry, and black.
Speaking of shorts: 2 more new speed shorts!  These are deep navy and clear mint.  Both look like 4-way stretch judging from these pics.  I prefer the old ray speed shorts over clear mint, and the deep navy look almost black, so thankfully my wallet is safe.
Moody mirage bark berry wunder under pants, completing the quartet of moody mirage lengths and colors.
White moody mirage cool racerback.
Heathered slate/blue tropics wild tank.
Devi crew in a striped grey.  This is a cotton knit sweater.
The perfectly perfed tee is yikes.  It has lots of those laser cut perforations lulu has been all over lately.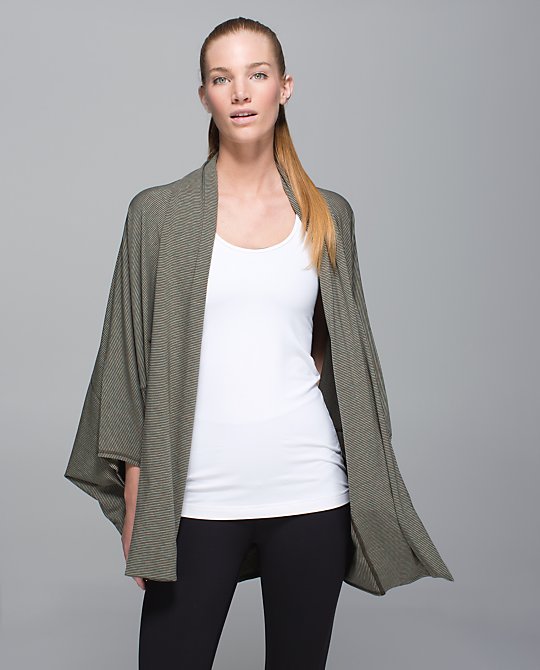 Another potentially interesting piece: the post yoga wrap.  It looks a bit frumpy in some of the pics, but the flowy design could work.  The jury is still out on this one.  It's made of cotton and cinches up the back like the old transformation wrap.
The stuff your bra went up a couple months ago in Australia, and even more colors showed up in the int'l uploads today, which could be a sign we'll get them in North America.  This is deep navy with silver fox/electric coral straps.
Wunder under crops in hawk blue.
A few bottoms appeared in deep navy and naval blue, like these naval blue cotton rolldown WUC. (Side note: it's so confusing to keep these colors straight, I wish they hadn't put them out at the same time.)
Although it's hard to make out, these new high times *patch have a section of shine fabric down the front beginning about mid-thigh.


Stash it crops are back in a few colors, including star crushed black cherry of course.
Deep navy and bordeaux drama on the daily hoodies.  So we have bordeaux in this hoodie, plum in the in flux jacket, and black cherry everywhere else.  Strange.
The traveling yogini rucksack is back too, although just in star crushed and black so far.