Since it's the first week of the month, there's a pretty gigantic chunk of stuff in Australia, Asia, and Europe that didn't make it to North America this week.  Here's a summary of what we Americans and Canadians can most likely expect to see soon: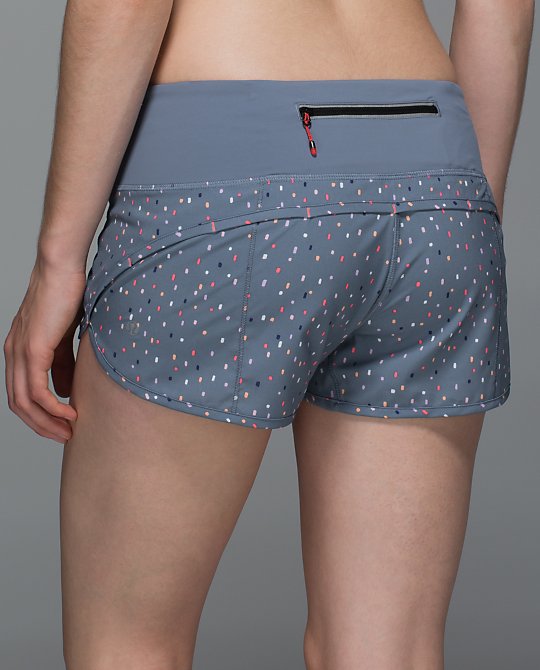 As I posted on Facebook earlier today, THREE new speeds appeared: classic stripe iris flower/pretty purple, sunset stripe blush quarts, and confetti cake blue denim.  The confetti cakes are block-it pocket, which make them a little more expensive than regular speeds.  There was also a swatch posted in the block-it pocket speeds page of grapefruit, but the pics are definitely run times.  So, grapefruit speeds probably exist, but no pics of them yet.
New running in the city capsule collection that features–wait for it–mesh!  Who knew, right?  Anyway, these 7/8 tights have a hefty swath of mesh along the back and are pictured in net pop and floral backdrop blue denim.
There's also a tank for the running in the city collection (floral sport here), but just those 2 so far, not sure if there will be more to come.
New hotty hots, too: net pop and pistachio.  The pistachio is a lot of fun.  It reminds me a bit of the zippy green speed shorts from a couple years ago, though these are more of a bright will zippy is more of a neon.  The hotty hots have been taking their sweet time in North America.  There are only a couple of colors over here, even though there are quite a few overseas.
These floral sport black multi tracker shorts are very pretty.  Much nicer than the green-ish versions of floral sport that kinda look like someone threw up half-digested summer colors on them.  The color scheme on these actually seems reminiscent of the old spring has sprung pattern.
One more pair of shorts: new super squad shorts in black with gold trim.  These seem like a more classic shorts design.  They have subtle mesh trim near the hem and they do have a liner inside.
Two new stuff your bras: floral backdrop and floral sport.
Iris flower energy bra with blue denim and silver spoon straps.  This is pretty but I think I have enough energy bras for now.  There have been too many nice energy bras lately, which is actually a good problem to have compared to years past where I've had a helluva time finding anything I liked that also came in my size.
More sunset stripe on a miss misty.  This one's pretty cute.  Since the pattern is a bit sparse, I think it works well on the whole jacket.
Another cool racerback in mini pop stripe heathered slate/black.  A good do-everything neutral.
New floral backdrop run all day backpack.  Too bad this isn't one of the prettier versions of floral backdrop.  There are so many versions of floral backdrop and floral sport I'm having a hard time keeping them straight, especially since the names and the prints themselves are awfully similar.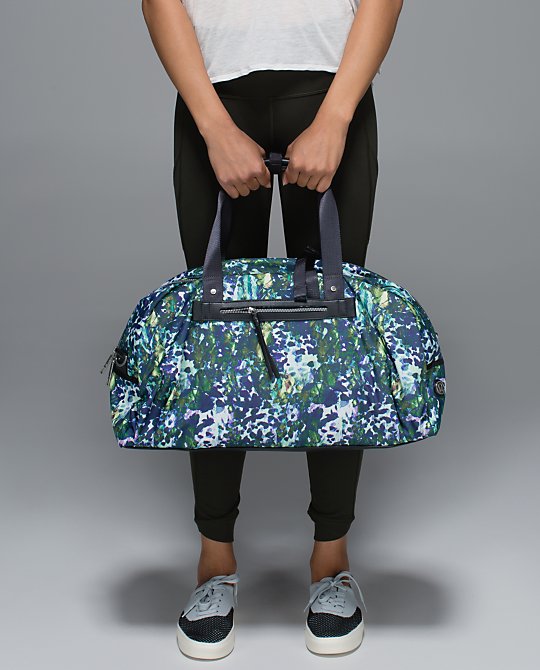 All you need duffel in floral backdrop.
And rounding out the new bags, a gym to win duffel that's also floral backdrop, but the pretty kind.  If this was a weekend warrior I would just die.  The gym to win isn't bad though.  This would've earned a place on my cute gym bags roundup earlier this week.
Rolldown wunder under crops in iris flower.
More iris flower: new situ tights.  These are luon, so they're designed to be for yoga, but they have cool side pockets.  These are a pretty design, not too overdone.
Wunder under crops in gingham black/white, also rolldown.  I'm surprised they brought back gingham (which first appeared a couple years ago) because I think I remember most gingham items languishing on markdown for quite some time.
Several grapefruit bottoms showed up, including these rolldown wunder under pants, reversible regular rise wunder under crops (reverses to slate), and reversible high times pants.  In practice, the high times wouldn't be very good reversed because the slate side shows through to the grapefruit side pretty badly, but at least the extra layer will mitigate butt-exposing sheerness on the grapefruit side.  The WUP are listed as "grapefruit/slate" as well, though there aren't any pictures of the slate side, so I'm not sure if those are double-layered as well or not.
Top speed crops in floral backdrop blue denim.
Another new skirt style: hot times skirt (in floral sport).  This a higher rise skirt, so perhaps the hot times name was a riff on the name of the high times pant.
New dancing warrior tank in bleacher stripe iris flower.  This is pretty.  Some of the other colors look like grapefruit and pretty purple and…other stuff.  Apparently there will be several versions of bleacher stripe, too.  So far there's also a monotone version and bleacher stripe black iris flower.
New straight up singlet with a pleated back.
The amala tank is also a new straight-strapped style, though this one is tight-fitting with a built-in bra.  It's made of light luon and is supposed to be for C/D ladies.
New billowy, babydoll-ish style rain jacket called the sun showers jacket.
New city summer pants.  Pretty see-through in white.  These aren't as bad as the overly exaggerated relaxed pants that have come out lately, but they still don't appeal to me.  There's still something slightly granny-ish about them, even if it's not as bad as others.
New city summer dress in floral sport.  This looks like a style that will take a certain body type to make the proportions look right.  Lulu has been doing lots of dresses this summer, it seems, and there's lots of summer left to go.
Lastly, rounding out the new styles: city summer skort.  These came straight from Fugslyville to pick up the Fugliest Item of the Week award.  There is something about those pleats that just looks super-wrong to me.