Here are a few new items that were uploaded overseas, perhaps a little glimpse of what's to come for us North Americans:
From the UK, the serenity hoodie in cadet blue.  It's made of modal french terry and comes in sizes 2-12.
Also from the UK, the rollin' with my 'omies tank in aquamarine.  It's made of swift ultra light and comes in 2-10.
Heathered opal power y tank from Hong Kong.
Curious jungle free to be bra from Hong Kong.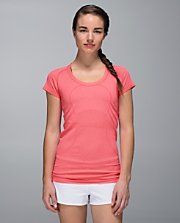 Heathered neon pink swiftly scoop short sleeve, also in Hong Kong.  Those are white speeds in the pictures–wonder if those will be coming too?
Also, from a product notification: 2 new cool racerbacks are coming in heathered ocean hue (a vibrant blue) and white/very green/cove, (cove is dark blue) which I imagine will be striped.  No pics of these yet, just text in a PN.