There were two product drops I was anticipating this week: Athleta's collaboration with designer Derek Lam, and Alala's second upload for the FW15 season.  Here are some highlights from each.
Athleta x Derek Lam 10C
This is one of the first activewear collabs I've seen from a mainstream fashion designer, excluding designers who have launched their own collections, so I was curious to see the results. (Technically, this is a collab with Derek Lam 10 Crosby, an offshoot of the main Derek Lam fashion line.)
The collection is heavy on colorblocking, and utilizes sapphire blue and viridian green next to neutral tones.  These are the block studio capris and block studio leggings.  I was a bit disappointed to see that most of the capsule is only available in XS-L, while Athleta's main collection is available in XXS-XL, often with plus, petite, and tall on top of that.
Adding to the geometric aesthetic, a couple of pieces feature this geometric pattern, like this corner road top.
Going along with the colorblocking theme, the block avenue top uses seamless fabric with thumbholes and silicone grips to keep everything in place.  Besides this long sleeve, there's also a tank version made of the same fabric.
I was surprised to see several items made of leather in this capsule.  Though faux leather pops up occasionally, leather definitely isn't a popular activewear material.  Not to mention, it could end up being something that vegan consumers take issue with.  And of course, the leather items come with a much more elevated price point–this downtown leather jacket is $498.
Speaking of jackets, this 2 in 1 town parka is an interesting piece.  The sleeves are part of a zip-up sweater underneath that's actually part of the jacket, though the pieces are separable.  I'm actually kind of liking the layered sleeve look lately.
This downtown dress is my favorite item from the capsule, and is incidentally the only one available in XXS.  It looks pretty short on the models, but it's listed as 36″ long (at least on a size medium), which is actually not that short.  The one odd thing is that the white bits are around the armpits, which is an area that's especially likely to become stained.  The dress is made of french terry.
Overall, I'm not going crazy over this collaboration, but it's certainly not bad either.  You can see the whole collection here.  It's available in a few stores, too, so if you're lucky you might be able to try some of this on there.
Alala Fall '15 Part 2
Alala's product drop for September primarily featured a new shade of deep blue, poseidon.  This color is pretty similar to lululemon's poseidon from last fall–here's an example of lulu's.  I think Alala's is a bit deeper and a bit more blue, but it's hard to tell from pics.
Here's poseidon on captain crops, one of Alala's core styles.  I like the look of this, but this particular fabric has been a bit hit-or-miss with opacity lately, so I'm a bit nervy about it.
The fractal tee is another returning style, again in poseidon.  I really like that the loose fit through the body is balanced by the fitted look at the sleeves.  It also means this would be easy to throw on over a workout tank.  I've seen this style a few times over the past couple seasons and I finally broke down and ordered this one to try.  I'm a bit nervous about sizing, but there's only one way to find out!
The chill tight is a new style for this season with a contrast accent and a handy side zip pocket.  It's made of tactel, which is a type of nylon that has an extra-soft and cozy feel.  It's not compressive, but it feels wonderful on the skin and I've had good luck with opacity.  I was tempted to try these out because I really love tactel, but I decided to hold off and see if another color is released later.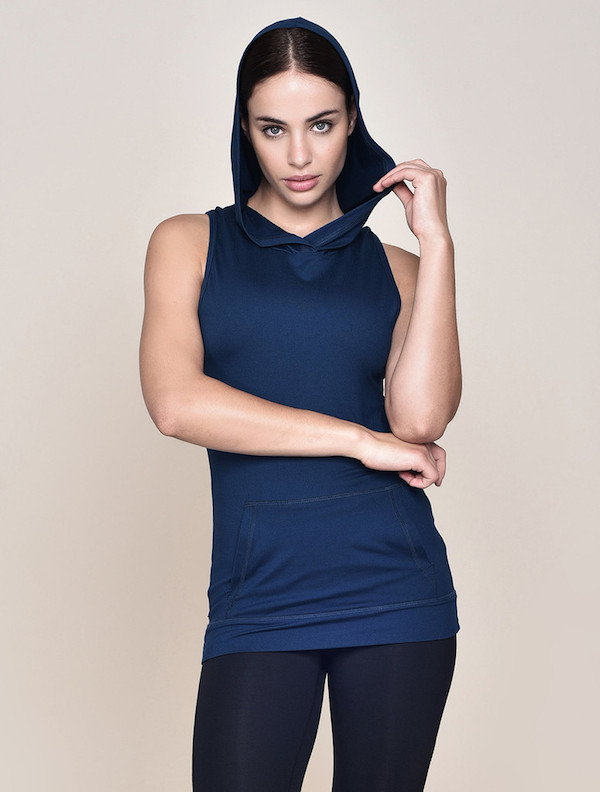 The twist back tank was released in black for the first fall product drop, and now comes in poseidon too.  This is another piece I ordered to try.  My tank collection has felt pretty plain lately, and this will double as a sort of vest to wear over long sleeves for some added style in colder weather.  Besides this and the fractal tee, I also snagged their beanie to add some cohesion with the other Alala pieces I already have.
The new blanket jacket is definitely a serious athleisure style statement.  Besides exuding cool girl vibes, it looks hella cozy, and the butt-covering length is good for transitioning out of the gym.  Sadly this one's out of my price range for now.
The slice pullover is another new fall layer with a funnel neck, loose fit, and mesh arm accents.  It's made of promodal, the same material on the rolldown sweats I have, which is a heavier fabric that works well for cooler weather.  It's listed as having thumbholes, though the model isn't using them in the pics.  Alala's transitional layers are one of the strongest aspects of their collection–this is another one I'd wear.
Besides solid poseidon, blue leopard is a new print for this drop.  This is different from black leopard, which was released in the last upload, though they're obviously very similar.  Also, I'm pleased to see that the cut bra is now made with slots for cups!  I'm not sure whether that's also the case for their other bra styles.
You can check out all the newly dropped items on Alala's site.  If you order, don't forget to enter the Agent Athletica deal at checkout, AA15, for 15% off!  You can also find some of these new releases on Carbon38.