Sharp-eyed commenter Kathy pointed out today that there's a new down pullover in the pics of the hyperstripe run with me ear warmer (currently in the UK).  It looks like the cut and zipper details are similar to the om and roam pullover.  No idea what the name is or when it'll be coming, but there you go.
New wrap it up sweater: merino wool and priced at $168.  This is black grape.  The elbow patches are apparently black, not green like the lighting here makes it appear.  This is the best sweater of the year so far if you ask me.
Heathered black grape skinny will pants were also spotted in stores today.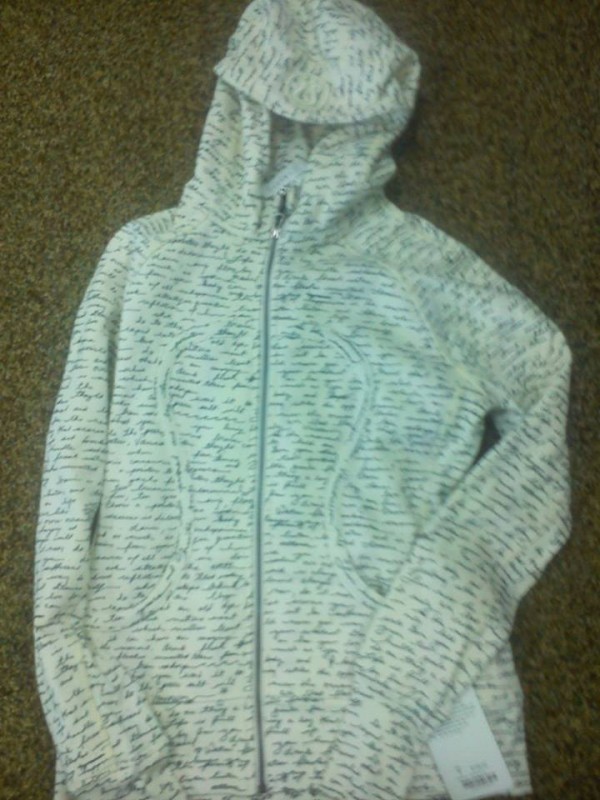 Two new scubas spotted in a strategic partner store: manifesto script and rocky road.
Thanks to all 3 of the lovely ladies who let me yoink their pics. :)
As for some store pics:
White ravi tank. [Lululemon Southpark]
Heathered inkwell weekend long sleeve tee. [Lululemon Southpark]
Black wee stripe weekend long sleeve tee. [Lululemon Burlingame]
Bordeaux drama inky floral rebel runner crops and the almost pear swiftly tech tank.  These were originally only uploaded in size 6 and up, but apparently they are in stores in 2-12 now.  Size 2 and 4 were just late for whatever reason. [Lululemon Westchester]