It's time for this week's edition of what we love previews!  Katelin notes that this week will be a particularly large product drop.  Perhaps they're trying to get a lot of things in before we move into summer collections for May?  She notes there will be lots of patterns–perhaps rounding out the iridescent and pigment wave items we've been waiting to upload?
Tencel will be a big feature this week, including the boolux/tencel mix cardi in the front.  This is already in Australia.  How many cardi/party puns will they come up with…?
More tencel!  These two pieces look like a portion of a new wake and flow capsule, a tencel collection designed for yoga.  The tank could be workable but the fit of the shorts looks pretty tragic.  Based on the descriptions and the look, this collection seems pajama/lounge-inspired.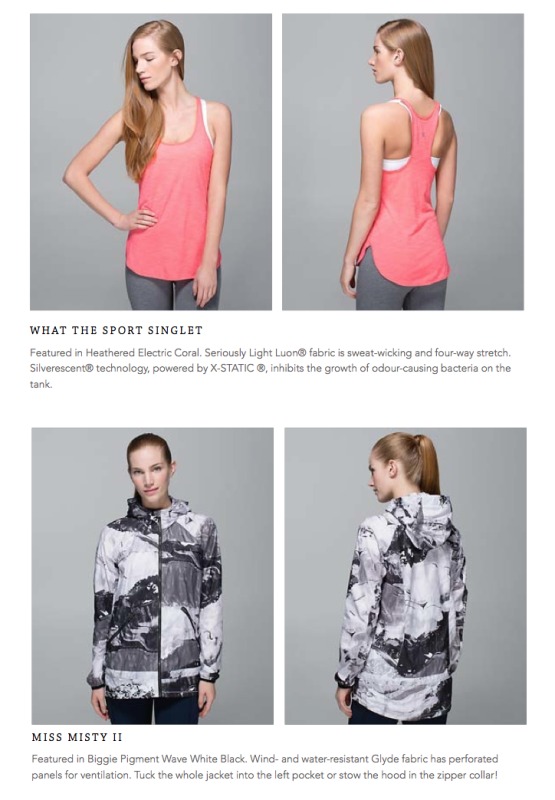 Two more things coming that were on international previews: electric coral what the sport singlet (seen in Aus) and the pigment wave black/white miss misty.  I can't remember if it was me or a commenter who first pointed out that this miss misty looks like Nike/Under Armour styling, but I still think that.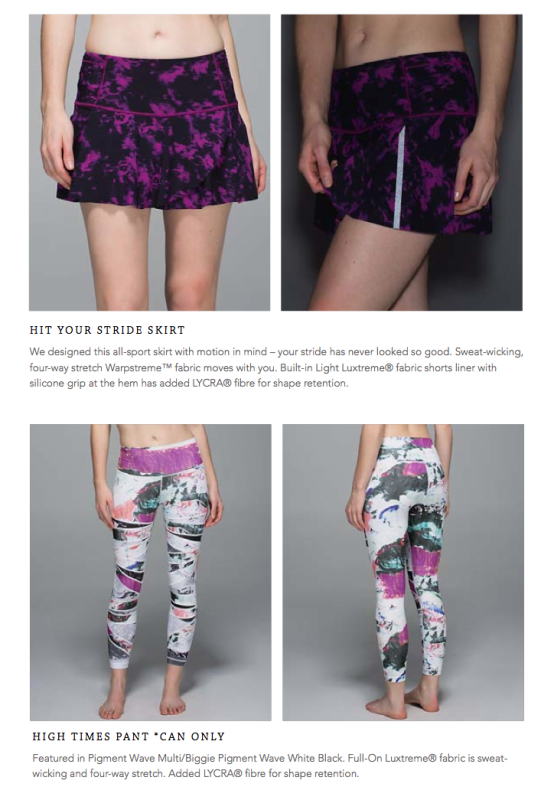 More goodies coming in that we saw sneak peeks of already.  Breezie regal plum hit your stride skirt (wonder if the pigment wave will be coming too?), although this has already been in some stores, and the tech high times pants in pigment wave.  These high times already seem to be pretty popular.  Note the description states they are luxtreme.
Yoga gear coming: the in the flow tanks we've seen in stores, and the straight up bra that's been on a couple international sites.  The straight up bra is cute, especially in ghost weave (as shown here), but the lack of adjustable straps could lead to shoulder slippage issues.
Lastly, yet *more* arrivals to North America that we've seen overseas.  Canada is going to get more circle geo wunder unders–I'm glad this print hasn't been heavily featured because I still don't like it.  Also, the electric coral pace rival skirt is coming, too.
Overall, nothing tempting for me in this preview, but I'm curious to see what all this "big drop" will entail and if it will include the things I do have on my list…