This week's what we love was back to a Thursday post.  Katelin mentioned they haven't nailed down whether these will be on Thursdays or Fridays going forward.  The vote was pretty close!  We'll see soon.
Also, slight aside: SeaWheeze is this weekend!  Look for a recap post of this year's SeaWheeze exclusive collection tomorrow afternoon.  If you're in Vancouver for the festivities and would like to share your SW haul pics for tomorrow's post, feel free to email them to me!
Back to what's coming on next week's lulu upload:
There are a couple new prints that appeared this week, like digi pixie here.  This looks a little bit like ziggy.
Another dose of butterfly coming our way via the fatigue so fly butterfly cool racerback.  Also, we're going to be seeing the go the distance capsule this week, which was starting to really shape up this week on the overseas sites.  It looks like most of this week will be run-focused.
Here's some more go the distance and some more butterflies.  Both of these were overseas, so I don't have a lot of additional commentary here.  The jacket looks pretty nice in static.  Butterflies still aren't for me, so this look like another week of speeds I can pass on.  My wallet is grateful.
Rounding out the go the distance previews, we've got the caspian blue go the distance 1/2 zip.  The sapphire blue contrast zipper looks really pretty without being too loud.  Also, the crew love pullover is back.  Not sure if there have been any changes since the last iteration from this past winter.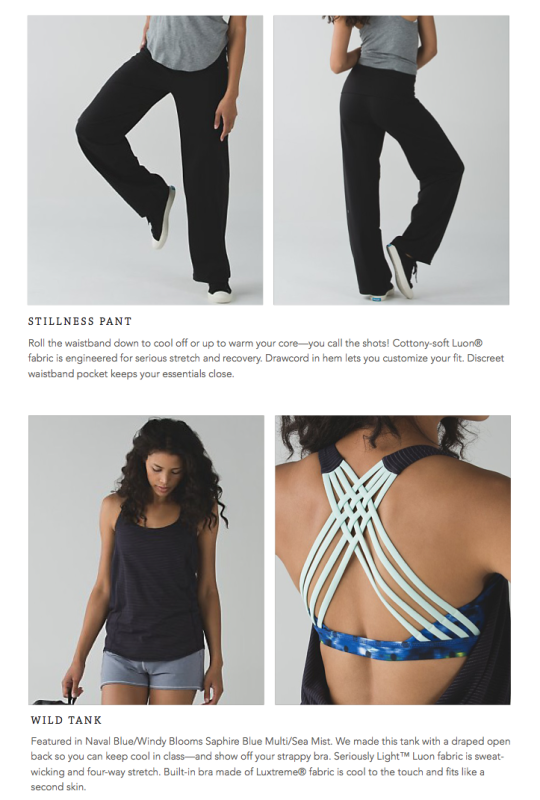 The stillness pants are yet another piece that snuck into an overseas upload.  As I mentioned when I posted about them before, these are a redux of the old still pants.  The waistband is a long rolldown situation (somewhere in the middle of rolldown WUP and the dance edition WUP), and the hems can now be cinched via drawcord.  Also, there's a tiny hint of another new print on the bra of this wild tank: windy blooms sapphire blue.
Cold weather goods are coming at us fast, it seems.  The first of the down items will be the fluffiest vest and fluffin' awesome jacket, both just in Canada right now (earlier makes sense for them since it's not necessarily as warm up there).  The coast camo print also showed up on some sweatpants in Australia this week, so this might shape up to be a common motif in the coming weeks.