This week's what we love preview is a preview of the next swim drop.  Sadly there aren't any hints about other "regular" clothes, just swim!  I was hoping to see a heathered jeweled magenta CRB in the previews.  Ah well!
New salty swim racer top.  This is advertised for larger-cupped ladies, and indeed it does have a lot more coverage than most of lulu's swim tops.  It's nice that it ties in the back since the ones that don't can cause problems with fit through the rib cage.  The back also reminds me of the pace bra from a couple years ago.  Also, looks like stripes will be a prominent feature for this next swim drop.
Another salty swim top that reminds me of a bra: this one looks like the arise bra.  This one is advertised for C's, but that might be a little ambitious because of the mesh, which effectively lowers the coverage by quite a bit.  Looks like this is the crosscourt petal pow pink print.  Surf to sand is coming back too with current colors like heathered jeweled magenta.
The surf to sand one piece looks like the surf to sand sport top in the back, though the addition of the adjustable ties is nice.  The coverage of a one piece is balanced out by super-low coverage in the bust and butt.  This model is bustier than most of lulu's models and I swear she is about 1/8″ away from a major wardrobe malfuction.  I'm surprised they used her for this piece, but not for either of the pieces intentionally designed for bustier ladies?
High waist swim bottoms are making their debut.  With high waists trending sooo hard right now, this seems like a logical move.  Of course, in typical lulu swim fashion, it's not going to offer much coverage through the bum.  The salty swim hipster looks similar in coverage to the surf to sand hipster, but has a slightly simpler design.
The surf to sand bikini looks largely unchanged from the colors already out, except that they dumped the contrast trim.

Two swim tops coming, one for each country for now: a sleeveless rashguard for Canada (I think that's crosscourt petal clarity yellow, but hard to tell) and the sun runner LS for the US.  Note the shorts in the sun runner pic.  I think they're the shorts right under this, and it looks like a new print similar to heat wave.  While the rest of the items up to this point is lulu's new aquelu swim fabric, these are warpstreme, lulu's other favorite new fabric.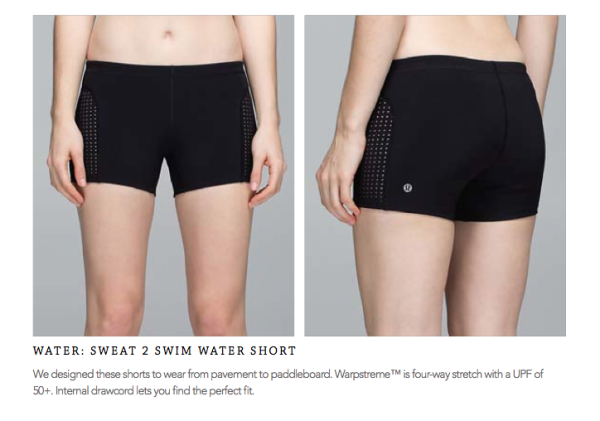 Lastly, one more thing in warpstreme: sweat 2 swim water shorts.  These also incorporate another of lulu's favorite things: laser-cut perforation.  The length on these looks a little longer than previous shorts like the water bound shorts and certainly the surf to sand boyshorts.