This week's what we love preview is mostly things we've seen sneak peeks of via uploads around the world, so it might be a little underwhelming if you've followed those posts.  Not surprising, though, considering how much we have to catch up on here in North America.
Btw, Katelin has also announced on a separate thread here that she's officially moving what we love to Fridays!
First up, the ta ta tamer has gotten a bit of a facelift.  The changes are mostly functional, meant to improve both comfort and support.  Katelin details them in the beginning of her post.
The sunset salutation collection is on its way, though these pieces just in Canada.  The cranberry color of the sunset salutation tank is new–that one wasn't overseas.  I'll be interested to see try-on pics (and the price tag) of the sunset salutation long sleeve.  It looks like it could be nice.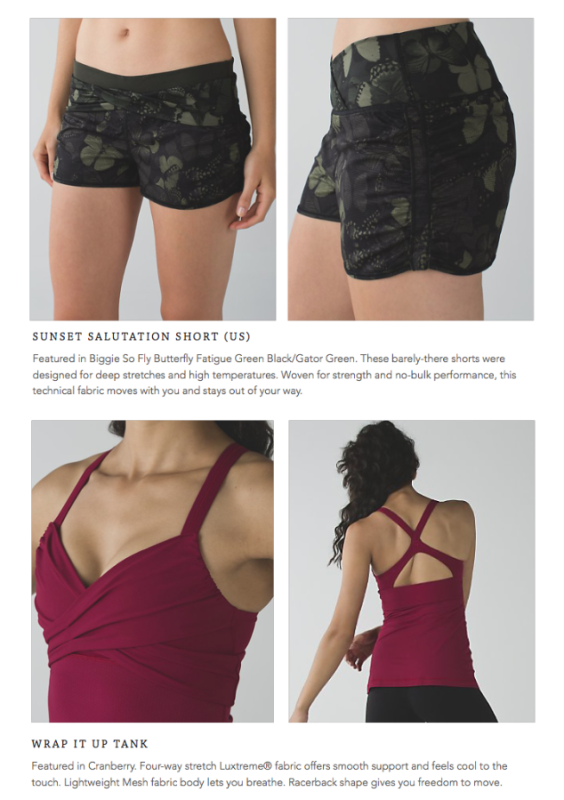 The sunset salutation shorts are already on the Canada site, but will be making their way to the US this week.  Continuing with the yoga theme, the cranberry version of the wrap it up tank is pretty.
For even more yoga, Canadians will be lucky enough to get the pretty sapphire blue wunder under pants.  To balance the scales a little bit, the tie dye wine berry in the flow crops are coming to the US.  Not sure if this means we can expect the coordinating blue in the flows and/or the blue and red tie dye ebb to street pants as well.
Finishing off the list, some basic wunder under pants in espresso, a nice deep color for fans of earthy tones.  Note that these are cotton, not luon.