I've been wanting to try out and review Olympia Activewear ever since I discovered their first collection last year.  I was really drawn to the minimalist design motifs and neutral color palette.  Olympia strives to create modern, stylish pieces that range from loungewear to workout wear to casual wear.  Along the spectrum of fashionable fitness wear, Olympia finds its niche more on the athleisure and fitness lifestyle side of things, which is underscored by the use of cotton and silk on some pieces.
The photos in this post were taken by my wonderful quilter/crafter/blogger friend, Maggie.
Disclosure: Olympia sent me these complimentary products to share with Agent Athletica readers.  The thoughts in this post are all my own original, honest opinions.
One of my favorite pieces from the 2015 collection is the moto legging.  I love the pleated knee accent.  I got the motos in iron, a new steel grey Olympia introduced this year.  I typically wear an XXS/XS or a size 2 in lululemon, and I got these in size P (i.e., XS).  I thought these fit similar to other bottoms I have in XS, so I recommend sticking with your usual size.
Olympia's technical fabric is a poly/spandex blend that's really quite unique.  It's extremely lightweight, which makes these full-length leggings an excellent match for warm climates.  The finish of the fabric is smooth rather than cottony, so it will not pill.  It has a really interesting shine finish that gives it a luxe vibe reminiscent of silk.  And indeed, the fabric has a much more silky feel than other poly blends I've encountered.
(P.S. The slick finish also means it repels pet hair.  Major bonus for me!!)
All of Olympia's gear uses elastic bands, a signature of theirs, often in interesting patterns to accent the design.  The elastic is very soft and didn't cut in on me at all.
As far as coverage goes, a bright colored pair of undies might show through, but I couldn't detect any skin color or anything else that shouldn't be seen in the obligatory squat/bend test.  That said, I did notice the lightweight fabric is particularly prone to showing VPL, so be sure you have something seamless.  I'm guessing that this won't be as noticeable in darker colors.
Hardcore activewear connoisseurs might notice that Olympia does not use flatlocked seams.  I believe the technique they use instead is a form of overlocking.  Flatlocking is usually used to prevent chafing, but let it be known that I hiked 6 miles in these pants and was very comfortable, so I don't consider this a downside at all, just something to note.
The petra tank is a racerback style with generously cut armholes and a high neck.  Petra tanks come in both cotton and mesh, and I got one of each: jet in cotton and nude in mesh.
The easy fit of the petra tank makes sizing a piece of cake.  My petras are both size P and the fit is loose and breezy without being too oversized.  I bet it would also look great with a slightly less loose fit, too.  The length is hip-length, close to booty-covering.  The seams are finished at the neck and armholes, but raw at the hem.
The nude mesh is a warm tone of nude with pink undertones.  The micro-mesh seems sturdy, but I will still have to take care not to snag the material.  As you might expect, the mesh feels like wearing nothing at all, but it obscures things just enough if you want more than just a sports bra.  This would also look great worn as a beach coverup, plus it could be styled casually with a cami or cute bra underneath.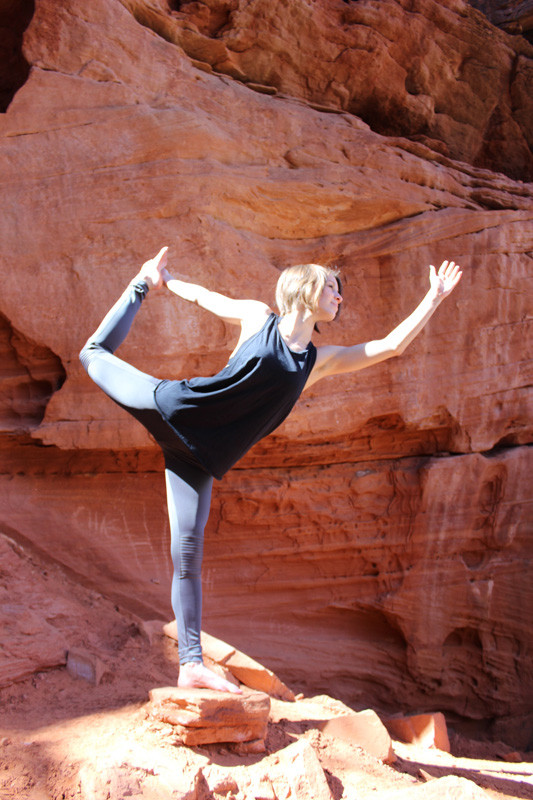 The jet petra is a fairly light weight cotton, but thick enough to be opaque.  I'll wear this in many of the same ways as the mesh petra.  Skinnies, heels, and some jewelry would dress this right up.
The T bra is a low-coverage, low-support style with the same poly fabric on the cups and T back.  The band looked quite small when I pulled it out of the package, but not to worry, the elastic relaxes quite a lot.  Happily, the cups did not cut in at all, which is always a concern of mine.  My T bra is bone, an ivory color, but since the fabric on the cups is double-layered, I didn't find the color to be see-through.  Again, this is a size P.  I'm roughly a 28-30D, and would recommend this size for a 30-32 band.  It will probably work best for A and B cups, but could also be worn casually for C's or even some small D's.
Take note there are no slots for removable cups, so if you can't live without them, you'll need to sew some in.  For these pics, I slid in some cups I had borrowed from another bra (they are not attached in any way but stayed in place reasonably well).
This bra was tremendously comfortable and did not cut in anywhere.  It wasn't particularly supportive/compressive on me, so I wouldn't be able to wear this for burpees or box jumps, but I'd certainly wear it for casual and lower-impact occasions, like this hike.
Overall, I'm really pleased with all of my new Olympia additions.  I have my eye on a few more things in their current collection and will be keeping my eye on their future releases.  Despite the abundance of fitness wear options out there, Olympia stands out as something unique.
---
In this post:
Moto legging in iron / Petra tank in jet / Petra tank in nude mesh / T bra in bone
More of my favorites from Collection 2015:
Naxos crop in jet / Sion tee in nude / Bronte bra in bone/jet / Calypso shorts in jet
More colors and styles from Olympia Activewear:
If what you're looking for isn't in stock on Olympia's site, the 2015 collection is also available on Carbon38, Revolve, and Free People.
Photos: Maggie of Pretty and Prickly
Location: Devil's Bridge trail, Sedona, AZ