I don't believe in paying to check bags.  Flying is expensive already, and forking over another $50 for luggage just adds insult to injury.  Anytime I travel, I cut corners ruthlessly to make sure everything I need can fit in a carry-on.  I just took a 12-day trip–which included a wedding in which I was a bridesmaid–and yup, I still didn't check a bag!  Here's how I did it…
First, my bags: I packed everything into lululemon's weekend warrior bag (deep zinfandel–swoon!) and my black sweat once a day bag.
The weekend warrior bag is actually a little smaller than most airline's maximum allowed carry-on size.  I like to use it anyway because 1) it's just pretty and I like to use it at every opportunity, and 2) I'm less likely to give someone a concussion while trying to hoist it into the overhead compartment.
The weekend warrior bag has 2052 cubic inches of space, while most carry-on maximums are 2772 cubic inches, which means the WW only has 75% of the capacity of a rolling case.  In other words, if you pack only 75% as spartan as me, you'll be good to go in a rolling case.  Ok, math nerding done, let's move on.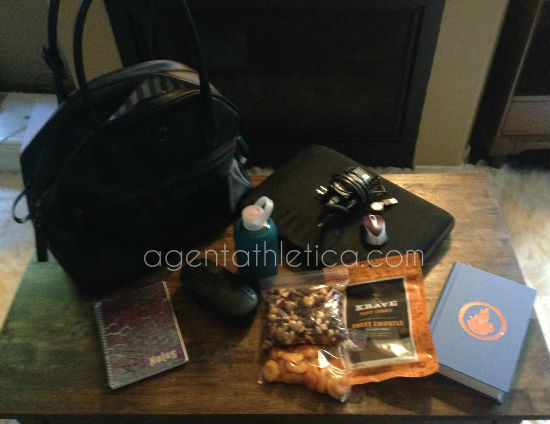 First, my "personal item", aka biggest purse ever known to man, aka sweat once a day bag.  I use this bag because it has lots of zippered compartments and zips fully closed at the top, both important for travel.  It keeps me organized and prevents things from falling out.
Essentials for my purse:
1) Laptop because I had to entertain you fine folks with this fine blog, but I normally don't take my laptop for traveling–my smart phone or a tablet usually suffices. (Also, I really need a lighter laptop, because holy crap.)
2) Snacks (dried apricots, homemade trail mix*, jerky) because I had 12 hours of travel time in front of me and airport food is vile and overpriced.
3) Book.  Obviously.  I could've chosen a smaller or softcover book for weight/space reasons, but I really wanted to bring THIS book, so I stubbornly stuffed it in anyway.  I finally got around to reading "Divergent"–part of my brain is apparently still stuck at 13 years old because I devour young adult fiction.  No shame here.  Haters gonna hate.
4) Notebook, sunglasses, and my trusty bkr glass water bottle.  There's also miscellany that's not pictured like lip balm, tissues, and my phone charger.
*Dried cranberries, dried cherries, peanuts, almonds, and chocolate chips.  You can thank me later. ;)
I was a little nervous about the bag not fitting under the seat, but after asking around, I decided to chance it.  Success!!  As you can see, I had to squish the handles around, but it didn't crease them or anything, thankfully.
Next, what I packed in my weekend warrior:
Here's everything I packed! (Except my socks and undies…) The bridesmaid dress is in the seahorse bag, and I put my bridesmaid shoes and my sandals in the pink drawstring bag to keep them from getting my other stuff dirty.
My outfit for the plane: I make sure to wear my biggest and bulkiest stuff on the plane to conserve space in my bag.  Plus, planes are hella cold, and I can count on my lulu to be comfortable for long flights.
I actually ended up stuffing a second vinyasa scarf into my purse that didn't make it into the pic.  I wore one around my neck and unsnapped the other one and used it as a blanket.
For cosmetics and toiletries, I simplified my routine to basics, even though I normally use more at home.  For makeup, I could add a little variety with the many options in my Urban Decay Naked3 palette, a couple different blush colors, and a couple lip colors.
Remember that samples are your friend!  I had a sample lying around of Urban Decay primer potion, and a sample size of some blotting papers for the heat and humidity that were perfect.  I've also held onto some empty sample bottles that I transfer small amounts of cleanser, toner, and moisturizer into for travel purposes.  The small silver cosmetics bag has cotton balls, segregated to keep them clean and easy to grab.
I had tons of extra room in my quart bag, and everything (including the quart bag!) fit in the white/pink bag easily.
For clothes, I brought mostly lulu because, for one thing, I find it performs really well in hot weather.  I was going to the east coast where the heat index easily breaks 100 degrees on the regular this time of year, so light, heat-appropriate layers were crucial.  I also did some working out while I was there anyway, plus I was sure to include some crops for yoga since I didn't want to flash anyone during 3-legged dog in my speeds.
I intentionally chose a combination of pieces where almost everything could be worn with anything else.  I always avoid packing things that can only be worn one way!
If I had been feeling extra spartan, I could've cut the love red and extra pair of crops, because what I would've been left with can really be worn with literally anything else.  All the tones complement each other.  This would be a good selection for a shorter trip.
I intentionally chose neutrals for my non-lulu.  This way, I could wear these pieces with my lulu or on their own in most any combination.  The knit skirt (T by Alexander Wang) is a very versatile option that I dressed up for the rehearsal dinner.  My nude sandals ("Archer", from DV by Dolce Vita) were an absolute must, they match everything!  My black cardigan was the last crucial piece: it went with everything and also helped to make my activewear appear more like streetwear.
All told, I brought 8 different tops (plus cardigan) and 7 different bottoms.  For 12 days, this meant the amount of repeating I had to do was really minimal, and the number of possible combinations was way more than enough to avoid repeating outfits (>50, if you wanted to know).  It's important to note that I intentionally chose some of my favorite pieces.  If you bring things that you like to wear and tend to reach for anyway, having to wear something twice won't seem like a burden.
You can see a selection of how I ended up wearing all this in my "what I wore" roundups from week 1 and week 2.
Everything fit easily!  I had a teensy bit of extra room so that if I ended up coming home with one or two things, I could've found a way to squeeze them in.  Generally speaking, I don't recommend going on a trip with your bag already stuffed to the max, because trips often have a way of loading you up with more stuff than when you started. :)
I hope this helps give you some inspiration for your own packing and traveling endeavors!